The content has been updated in April, 2021
A refurbished Apple watch offers plenty of features to simplify your life and optimize your time. The watches are fully functional devices available for a fraction of the price. From wellness trackers, timepieces, and Apple Pay all the way to talk and text capabilities, the Apple Watch has everything you need and most of what you want.
Basically, the Apple Watch is a computer for your wrist. It brings plenty of iPhone functionality right to your arm and helps you to stay on top of managing your busy life. And buying a refurbished Apple watch may ease some of the guilt that you might feel over splurging on this typically pricey accessory.
Each generation of the Apple Watch has more features than the last. The most recent ones (generation 4 and beyond) have an abundance of health tracking features with an integrated heart rate tracker. Grab a refurbished Apple watch to put these features even closer to your fingertips:
Keep track of time
The first reason to buy a refurbished Apple watch is to keep track of time. It is, after all, a timepiece. When you turn your wrist to check the time, the screen lights up with the date and time. The Apple watch offers plenty of faces and options to choose from. You can also program it for additional information to show up here, too. Set up world clocks, stock quotes, activity levels, sports scores, notifications, and more. Since the Apple Watch is completely digital, feel free to add a custom monogram or fun watch face.
Stay on top of your notifications
The Apple Watch lets you receive notifications from your iPhone on the go. As notifications come in, you'll see brief notices about incoming calls, texts, or alerts from your iPhone apps. Messaging apps send you a snippet of what you'd see on your phone. From there, decide if you want to respond or tend to it later. Many apps are available in abbreviated form for the Apple Watch. For instance, Maps will even send directions to your watch. Having this convenient, immediate, shorthand information can save you time by having everything that you need right in front of you.
Control your other Apple Devices
The Apple Watch syncs seamlessly with your other Apple devices, like your iPhone and even your Apple TV. If you have HomeKit integration or other smart-home features, you can control them with your Apple Watch. Yep, adjust the lights or the thermostat in your home with just your Apple watch.
Track your fitness
Another reason to buy an Apple watch is that each one includes several health and fitness trackers. You can increase functionality by pairing it with more apps on your iPhone to count steps or, in the latest versions, track your activity (calories burned, for example) and heart rate. The Apple Watch syncs to your iPhone. This allows you to track your fitness over time and share your results with friends.
Apple watch series 4 even include an electrocardiograph (ECG). This helps to keep you safe. By tracking what your normal heart rate looks like, the Apple watch can call 911 for you if you fall or enter into cardiac arrest. This feature makes the Apple watch a great alternative to Life Alert for seniors. Regardless of your age, the Apple watch features can help to keep you safe.
The Apple Watch can also track your sleep and remind you to get up and move at regular intervals. It has all of the functionality of a Fitbit, like the one recommended for college students here, and then some.
Use your refurbished Apple watch like an auxiliary iPhone
In many ways, the Apple watch functions sort of like an iPhone. Here are some ways it does that:
Purchase with Apple Pay. With a refurbished Apple watch, you no longer need your iPhone for Apple Pay. Just press a button and hold your wrist against any terminal that accepts Apple Pay and you're good to go. If the device loses contact with your skin (thanks to that heart rate monitor that we mentioned) at any point, Apple Pay is automatically disabled. For extra comfort and peace of mind, it never reveals your credit or debit card numbers or other pieces of personal information. As tap-to-pay continues to roll out in the US, there will be even more opportunities to use your refurbished Apple watch to pay.
Talk and Text. The Apple Watch really is a tiny phone/computer on your wrist. You can use basic talk and text messaging features right from the watch. When a call or text notification comes in, you can take the call or send a short reply right away. If you want to start a longer conversation better suited for your phone, you can seamlessly transition the call to continue it on your phone.
The 4th Generation GPS+ Cellular Apple Watch doesn't need you to keep your phone nearby. It offers the ultimate freedom. You can call or text without being close to your phone at all. It's perfect for the avid outdoorsman.
At the end of the day, there are many ways to become a more efficient iPhone user, but buying an Apple Watch is the best one yet. It elevates the Apple experience to the pinnacle of freedom, which is the point of technology.
If you're reading this article, you're likely considering an Apple watch, but you might not be able to justify the full cost of a brand-new device. Still, an Apple watch may be exactly what you need to round out your Apple suite of seamlessly integrated devices. Buying a refurbished Apple watch may be the answer. A refurbished Apple watch costs significantly less than a new one, but still works just as well.
Why buy a refurbished Apple Watch?
It's 100% functional. All certified refurbished Apple products, including those listed here on RefurbMe, function like new. Refurbishers take apple watches from several sources: trade-ins, store returns, display models, etc. Some refurbished apple watches have small flaws or other defects. Refurbishers test the apple watches first. Then, they fix any mechanisms or components that need to be repaired. Afterward, each watch is tested again. When they pass these rigorous tests, refurbishers will then clean and inspect each watch.
Next, refurbishers restore the apple watches to factory settings. They wipe all personal data from the device and install the original operating system. When you open a refurbished device, it should boot up like a brand-new Apple watch. After a final pass through Quality Assurance testing, Apple watches are packaged and listed for sale.
It's important to mention that refurbished apple watches are not the same as used Apple watches. Though both are pre-owned, certified refurbished watches are held to a defined standard. All of the certified refurbished Apple sellers on RefurbMe, for example, offer at least a 90-day product warranty. Each device is tested. Each device comes with a simple guarantee: it will work when you open it. And you can rest easy knowing that each seller stands behind their product for at least 90 days—some even longer. Better yet, some are so confident in their products that they'll allow you to purchase warranty extensions.
It's the best choice for the environment. Each refurbished device is one that doesn't wind up in a landfill, so it doesn't contribute to e-waste, as discussed here. Buying refurbished means that the rare earth metals that make up individual device components are spared. Better still, refurbished devices cost a fraction of the labor and the carbon footprint required to make a new device. Further, refurbished devices don't contribute to toxic seepage that can contaminate soil and water near landfills. These attributes all add up to a very eco-friendly proposition, among the other pros discussed here.
It's a great deal. Refurbished Apple watches offer original quality at a great price point. Sure, there may be some cosmetic imperfections depending on the watch you choose. But it will work as well as a new Apple watch of the same model and size would. Buying refurbished means that you won't pay top dollar. The price difference between a new and refurbished device may allow you to find room in your budget for what might otherwise be considered a splurge. You can save hundreds of dollars on a refurbished Apple watch if you do your homework. As a price comparator, RefurbMe can help you find the best deal. Just make your selections and sift through the certified refurbished options listed on our site.
It's a sound investment. As long as you treat your device well, an Apple product holds its value. The demand for Apple watches is consistent. If you find yourself in a position to upgrade, you can trade your device in or resell it to recoup some of your initial investment. Regardless, any Apple product that you purchase is of high initial quality, and plenty of people are willing to acquire your device when you decide to move on from it.
How to Buy a Refurbished Apple Watch
Buying a refurbished Apple watch can be a simple, satisfying experience. At RefurbMe, we've streamlined the selection process. Once you decide what you're looking for, select your criteria. If we don't have inventory that meets your requirements, set up an alert, and we'll let you know when something becomes available.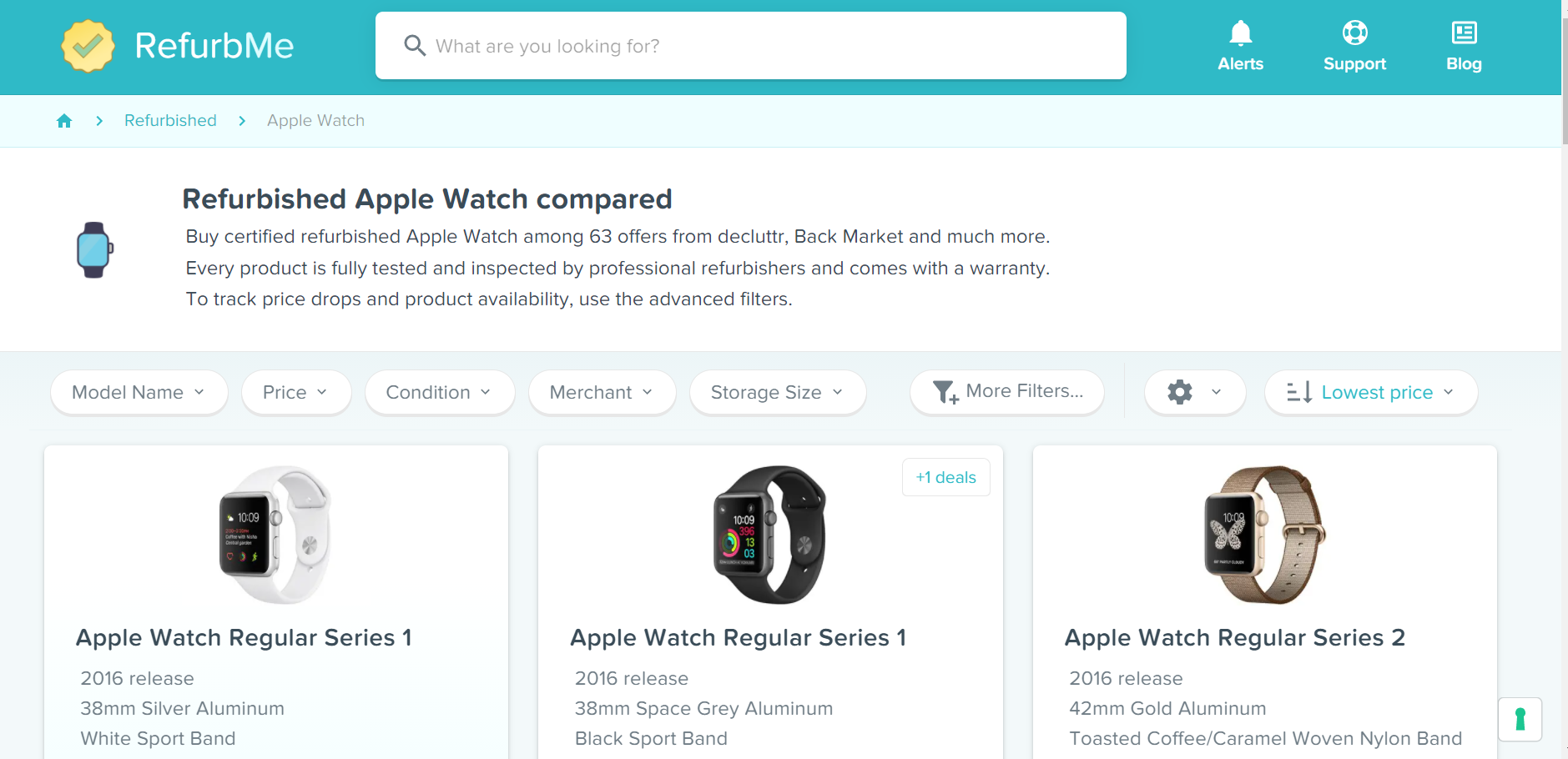 So what criteria should you look for? Here are a few questions you should ask:
Which Apple Watch do I want?
Apple has made five generations of Apple watches so far. Obviously, the newer models are more expensive. The main distinction is the health features available, which start with the Apple watch series 4.
The heart rate monitor means increased health and fitness functionality. Depending on how you plan to use your refurbished Apple watch, this may be an important consideration.
The second factor to consider is whether you need a wi-fi enabled or cellular version. The GPS + cellular Apple watch relies on your cell phone provider and allows you to use all of the Apple Watch features independent of wi-fi.
A cellular Apple Watch may cost more since it has additional functionality. Keep in mind that a cellular Apple watch may also require a separate data line on your cell phone plan as you make your selection. Last but not least, determine the color of the Apple watch that you want. The watch face is available in black and white with gray, gold, silver or rose gold metal finishes on the back depending on what matches your look. You can change the watch strap to something more sporty or fancy depending on what suits your needs.
What type of warranty do I want?
All of the certified refurbished sellers listed on RefurbMe offer at least a 90-day warranty. Longer warranties are available, depending on what you decide you need, but that may also impact your final price.
What condition do I want my Apple watch to be in?
Certified refurbishers generally sort devices into three categories: excellent, good and fair. They'll each state how they determine each device's grade. Keep in mind that light scratches and dings are par for the course. The better the grade, the higher the price. Refurbished Apple watches in excellent condition, for example, should be hard to distinguish from a brand-new Apple watch.
Since refurbishers' categories vary, RefurbMe assigns its own ratings to refurbished Apple products: Excellent, Good or Fair. That way you can be sure you're comparing Apples to Apples.
Conclusion
Each of these factors will play into the final cost of your refurbished Apple watch. Still, you'll save money over buying a brand-new watch from the Apple Store. Why not splurge on this handy device and manage not to break the budget. You'll enjoy a very smartwatch that you can use to call, text, pay, play and live with.
It truly is the best of all worlds. Refurbished Apple watches are good for you (thanks to all of the increased productivity and health management features), your wallet and the environment. Take a look at the refurbished Apple watch availability on RefurbMe and complete your Apple collection while saving money in the process.
To know more about where you can buy a refurbished apple wacth read the below article.
Apple Watch