Apple's latest streaming device, the second generation of the Apple TV 4K, is finally here. The most notable improvements on the newest release are a faster processor and a revamped Siri remote. The remote is indeed a big upgrade for prior users compared to the previous, trackpad-driven controller. This is much welcomed by longtime Apple TV fans. The black glass remote bundled with the older Apple TV (2017 release) had a sleek-looking design, but a slippery, imprecise trackpad was its downfall. Previously, users constantly found themselves struggling with basic navigation tasks using the older remote. But is the remote enough reason to upgrade to the 2021 release if you already have the previous version? RefurbMe puts forward this article to help you understand the differences between Apple TV 4K 2021 release vs the 2017 release and if you need an upgrade.
Apple TV 4K 2021 vs 2017
To understand the difference we need to compare different factors and specifications between the two releases. 
Apple TV 4K 2021 release
Apple TV 4K 2017 release
Processor 
A12 Bionic chipset
A10 Bionic chipset
Dolby Atmos
Yes
Yes
Dolby Vision HDR
Yes
Yes
Apple AirPlay (for casting from other iOS devices)
Yes
Yes
Apple HomeKit (for smart home connectivity)
Yes
Yes
Siri voice assistant
Yes
Yes
Siri remote
2nd generation, improved functionality, visually clearer about the function and utilization of its inputs.
contentious touch interface, fiddly to operate
Price
New – Starting at $179
New – Starting at $179
Refurbished – Starting at
The A12 offers an upgrade to processing speeds to the 2021 release. Overall, it means that everything from 4K upscaling to motion control is improved. Also, one of the major changes is the ability to "automatically tailor color balance" of your smart TV using your iPhone. If you have a compatible iPhone (this might be limited to more recent models) you'll be able to use it to measure the color output on your TV screen and then calibrate the video output of the Apple TV 4K. 
Do you need to upgrade to the Apple TV 4K 2021 release from 2017 release?
Compared to the 2017 release ‌of Apple TV ‌4K, there are no design changes to the second-generation ‌Apple TV 4K with just one peripheral exception, the Siri Remote. As it happens, the ‌Siri‌ Remote has been overhauled with a new clickpad and updated buttons that make it more intuitive to use. And without a doubt, this remote is a major upgrade that's worth it. But you don't need a whole new ‌Apple TV‌ just for the remote. Apple is selling it on a standalone basis also. So, if you're fed up with the current remote and want something better, it's worth considering.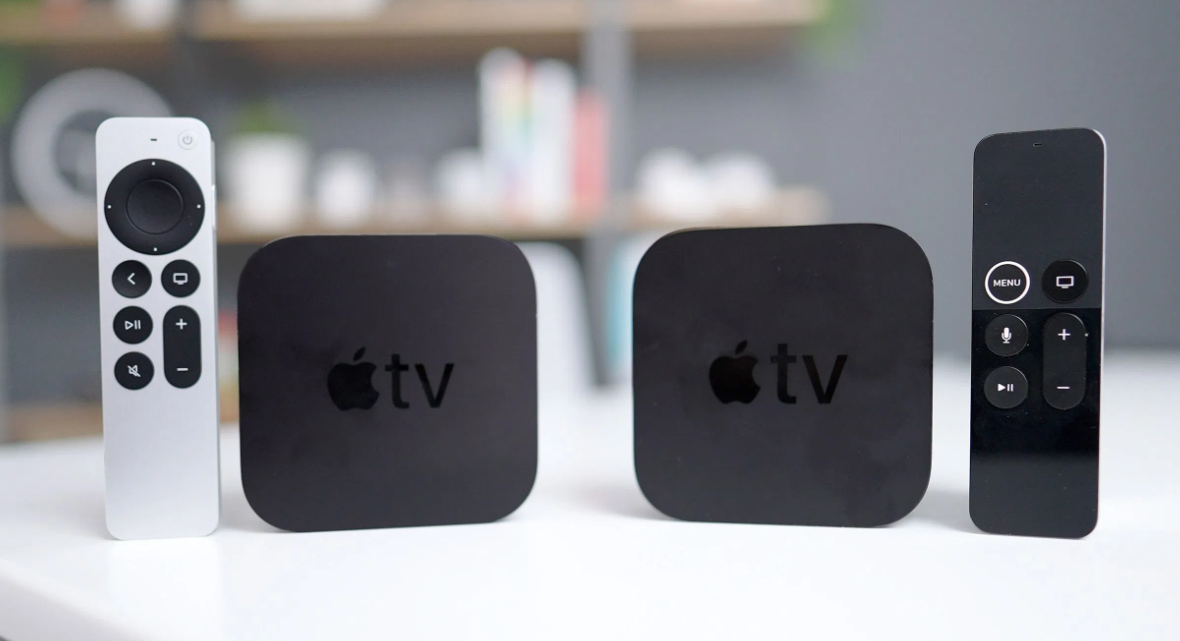 As for the rest of the ‌Apple TV, there's not really anything here to make the 2021 model a must-buy compared to its 2017 predecessor. Certainly, if you have the older model, there's little incentive to upgrade beyond an uptick in processing speeds. But if you still want to upgrade to the Apple TV 4K 2021 release then you can go the refurbished route. Significantly, it will cost you less and you get the same product.
Refurbished Apple TV 4K 2021 and 2017 release
A Refurbished Apple TV is 100% functional. Refurbished products aren't the same as 'used' products. Consequently, from the screen of an iPhone to the battery of an iPad, or the charger of an Apple Watch, refurbished Apple products will always have 100% of their parts in full working condition like their brand-new counterparts do. Furthermore, they go through a full test which includes hardware and software tests, and a thorough checking of all components. At RefurbMe through our list of refurbishers, we bring you the best deals on the market. In fact, to maintain transparency about each third-party seller or even Apple Store, we give the full specs on each. You can decide which seller has the best warranty, shipping, and return policy, and many more before you make a purchase. 
Not refurbished yet
Apple TV
5th generation 4K 2021
2021 release
32GB storage
Not refurbished yet
Apple TV
5th generation 4K 2021
2021 release
64GB storage
At the moment Apple has not come out with a refurbished version of the 2021 release of Apple TV 4K. Although you can set an alert on RefurbMe's website. However, if you do not want to upgrade to the 2021 release you can opt for the 2017 refurbished Apple TV 4K. 
+1 deals
Apple TV
5th generation 4K
2017 release
64GB storage
Fair condition, by Back Market
+1 deals
Apple TV
5th generation 4K
2017 release
32GB storage
Excellent condition, by Back Market
Take Away
To sum up, if you have a 2017 ‌Apple TV‌ 4K, there's generally no reason to upgrade at this time unless one of the included features is particularly appealing to you. But still, if you are considering an Apple TV purchase for the first time, the new 2021 model is a good fit for you. If you wait for a few more months until the refurbished version is available, you might score the best deal available for Apple TV.
Apple TV 4k 2017