Apple products are state-of-the-art devices. They are relatively expensive and do undergo depreciation for the time of their use. New releases also impact the value of your device so if you are planning to upgrade, it's important to trade in your old used device as soon as possible, rather than hanging on to it. Although thanks to the high-quality design and build, if you sell your iPhone or any other Apple device to a reputable dealer that offers an Apple Trade-In/ Sell Back Program, you can expect a good value for it. 
If you take good care of your product, you can garner a good trade-in price. This can act as an advantage while buying a new Apple device as you can utilize it here. But, trade-ins also prevent unnecessary waste and ensure that we recycle much of the expensive tech products. Furthermore, there are a lot of third-party sellers who offer trade-in/sell-back programs. Apple themselves have a trade-in program. As a result, RefurbMe in this article brings forward one such trade-in/sell-back program by Decluttr for our readers.
Circular Economy of Used Tech
A circular economy aims to tackle global challenges like climate change, loss of biodiversity, accumulation of waste, and excessive pollution. The exact definition on Wikipedia is "A circular economy is a model of production and consumption, which involves sharing, leasing, reusing, repairing, refurbishing and recycling existing materials and products as long as possible". When you sell your iPhone or Apple device through a trade-in/sell-back program, you are contributing to the circular economy. 
The basic contribution as a consumer that you can do is by not leaving your unused tech in the back of a drawer collecting dust. Instead, go for a Trade-in/ sell-back program for your unused electronic devices. Conversely, if you don't want to do that, go to responsible recycling programs available in your area or just repair your broken device. Another way you can contribute is by buying refurbished devices instead of new ones. RefurbMe completely stands for the right to repair movement, as not only you are saving the environment but also saving money! 
RefurbMe is exclusively partnering with Decluttr
Decluttr is a fast, easy, and totally free way to sell or trade in your iPhone or Apple Devices for cash. On their website, you can clearly see the valuation of your device by giving in certain details like the model, the screen size, the processor, and memory. Once you agree on a particular value you can ship your items to their warehouse for free from your closest UPS shipping location and you'll get paid the day after your items arrive by direct deposit or PayPal or even donate to charity. Furthermore, RefurbMe's exclusive partnership with Decluttr has a special offer in store for all RefurbMe readers. As a result, the code REFURBME has been set up to offer 10% extra on tech trade-ins (capped at $30 extra per category).
Decluttr pays up to 33% more than certain carrier buyback programs. Plus you'll get cash to spend however you like instead of credit (like what Apple does). Moreover, if you have a concern about the cosmetic condition of your Apple device, here is some good news. As long as your Apple Device is fully functional, you can get cash value. Otherwise, you can still send it for recycling. Once you've got your valuation, you'll get 28 days to ship your items to them. This helps beat the device depreciation and gives you plenty of time to get your next one. 
A Fair Comparison
Similar to a new car that starts to lose its value the second you drive it out of the showroom, electronic devices also start to depreciate or lose their value as soon as you take them out of the box. The depreciation varies though from one model to the other. Decluttr's Annual Phone Depreciation Report uses its own trade-in data to compare the values of some popular mobile phones for three years from the date the device was launched.
So, on average, iPhones lose 49% of their value in the 12 months after they are released and 66% by the end of a standard 24-month contract period. The good news for iPhone fans is that Apple products retain their value the best compared to Samsung and Google. So, if you have been using an iPhone since its launch, it will hold its value. Any you can get a good value if you sell your iPhone.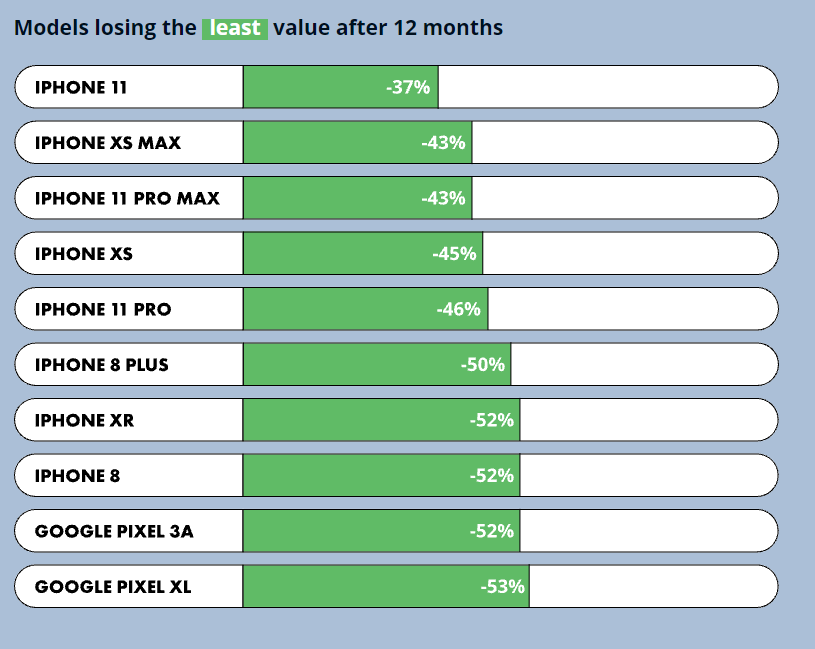 To fully comprehend the trade-in program by Decluttr, we did a comparison of their trade-in program to Apple's trade-in program and another third-party seller, Gazelle. The devices compared are in good condition are the following:
We compare them on trade-in value, the payment method, the time period of shipping of the used tech, and the accessories recycling condition.
| | | | |
| --- | --- | --- | --- |
| | Decluttr Trade-In | Apple Trade-In (Upgrade) | Gazelle Trade-In |
| iPhone X 256GB | $221 | $200 | $198 |
| iPhone 11 Pro 512GB | $518 | $400 | $428 |
| MacBook Air 13-inch 2019 | $450 | $550 | $240 |
| Store credits | N/A | Yes | N/A |
| Cash Direct Deposit | Yes | No | Yes |
| PayPal | Yes | No | Yes |
| Charity donation | Yes | No | No |
| Gift Card | No | Store credits only | Amazon Gift Card |
| Accessories recycled | Available  | N/A | N/A |
| Shipping time period | 28 days | 14 days | 30 days |
| Payment delay | Next day | Store credits only | Next day |
Please note the price values can differ based on the quality test conducted by Decluttr and how well your devices fair up. The prices are based on the time of writing this article (November 2021). It can vary depending on the time of purchase.
With the MacBooks, Decluttr prices are much better than Gazelle's but not currently as strong as the Apple Trade-in program – it's worth bearing in mind though that the Apple price is store credit whereas the others are cash.
How does Decluttr Trade-In work
After Decluttr receives your Apple device at their warehouse, the devices go through a Quality Assessment Process. During this process, the quality control team checks that your items match the description provided. Each iPhone or Apple device you sell should accurately reflect the details you provided while filling in all the details on Decluttr's website. The devices will automatically fail the Quality Assessment if they do not reflect the description provided on the website, either in terms of model, size, color, or condition. 
The working/cosmetic condition you provide of your device directly influences the price offered for it. As a result, if Decluttr determines that your device is not similar to the condition you have mentioned during the valuation process, they may offer a revised valuation. The revised price will be sent to you by email and you will be given a period of 14 days to either "accept" or "reject". If you reject the new quoted price then Decluttr sends you your device back free of charge. If you do not respond to the email then it will be taken as accepted and you will receive the new price value only. 
Before you sell your iPhone or any other device, it is advisable to remove all personal data and information present in them. And it comes without a doubt that if Decluttr finds out that your device has been registered or reported lost, stolen, blocked, or barred, you will be sent an email and your device will be quarantined and relevant authorities will be contacted.
Decluttr's Stand Against e-waste
Around 50 million tons of e-waste are produced each year, a figure expected to double to 100 million by 2050. It's more important than ever to recycle your unwanted electronic devices. And Decluttr makes it super easy. 95% of the items sold to Decluttr are repaired, refurbished, and sold on to a new home, reducing e-waste, CO2 emissions, and natural resource usage. The other 5% is used for parts to refurbish other items, or recycled responsibly. 
​​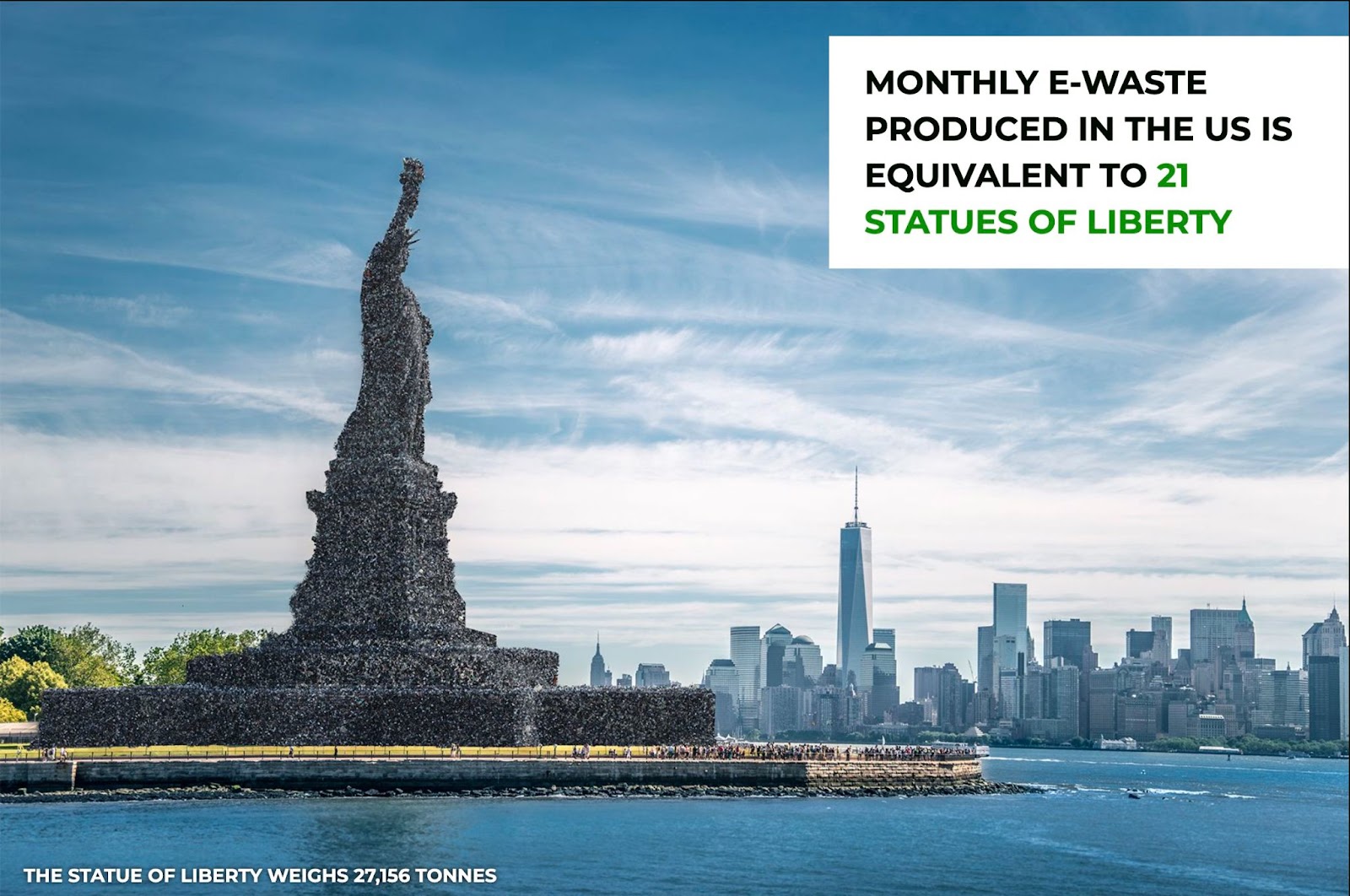 Decluttr also has a page that is dedicated to making the consumers aware of the existing e-waste crisis. They describe to you the amount of waste produced in comparison to how much certain US landmarks weigh for easy visualization by the consumer. They also have an active campaign as a part of a wider educational initiative by Decluttr and its UK brand, musicMagpie, which aims to raise awareness around the issue of e-waste and encourage consumers and leaders to take action. Decluttr's initiative in a year gives nearly half a million consumer tech items a second life.
Take Away
A refurbished Apple device lies somewhere in between used and new. In particular, they may be units that were returned shortly after the sale. Or they may be used items that undergo maintenance before being resold. They have been tested, verified, and restored to their best condition before making them available for sale. Furthermore, a refurbished Apple device is a great way to save some money. This is as long as you choose a reputable seller with a professional restoring process. Here is where RefurbMe comes into play to help you understand which seller has the best deal. With our list of refurbishers, we give you a detailed idea of what you can expect from each concerning warranty, shipping, and return policy. 
Furthermore, if you go with a trade-in program you can even save more on your purchase. So to provide this benefit to our readers, we are partnering exclusively with Decluttr. Among the third-party sellers, they offer the highest price for your old Apple device and hold on to their value. And unlike the Apple trade-in, you get the cash deposit directly in the account instead of a credit score or a gift card. With Decluttr's Tech Price Promise, you're guaranteed to get the first price their consumer's offer or you can request your item back for free. So you can sell your iPhone without any worry. Furthermore, they are committed to the circular economy ecosystem and voluntarily take action to make consumers aware of the e-waste issues. While encouraging people to buy refurbished or recycled products over new products. 
Apple Refurbished