Buying a refurbished device is the best way to save money and boost the circular economy while getting a perfectly working gadget. Although the advantages are clear, some potential customers can be concerned about the batteries of refurbished products. Sometimes, aspects like battery life, battery health, or condition are not so clear.
Since a battery is the heart of your new smartphone or laptop, we wanted to curate this article to answer all your questions before deciding on your next purchase. If you want to address more questions, don't hesitate to contact us.
Are the Batteries of A Refurbished Phone New?
A professional refurbisher generally sells phones with at least 80% of the battery life for the handset to be sold. Some sellers replace the battery if it doesn't meet this standard in order to ensure a pristine condition and performance. We have a complete article about refurbished grades or cosmetic conditions to clear any doubts you may have in this matter.
Does Apple Replace the Batteries of Refurbished iPhones?
An iPhone is thoroughly tested to find any faulty components as part of the refurbishing process. If the battery still had above 80% capacity left before this process, you can almost certainly say that the battery has not been replaced before being sold again. However, this is not the case with Apple Certified Refurbished: iPhones refurbished by Apple come with new batteries and outer shells.
iPhone 12
Unlocked
64GB storage
Black
Excellent condition, by Apple Store
iPhone 11 Pro
Unlocked
256GB storage
Gold
Excellent condition, by Apple Store
iPhone 12 Pro
Unlocked
256GB storage
Graphite
Excellent condition, by Apple Store
Does Apple Replace the Batteries of Refurbished MacBooks?
Conversely, Apple-refurbished MacBooks don't usually come with new batteries; they are replaced only if a defect is detected. Just iOS devices, such as the iPhone and the iPad, get a new battery if Apple refurbishes them.
Like any other laptop, MacBooks need to go through a more significant amount of charge-discharge cycles in order to degrade (a cycle is the number of times a battery has been fully depleted). Their durability allows for a longer lifecycle, but it highly depends on the previous usage of the owner.
Some manufacturers don't need to replace a MacBook battery since they are above the 80% minimum of battery health allowed to be sold again.
What Is the Difference Between Battery Life and Battery Health?
When learning about batteries of refurbished products, two terms can be used interchangeably that refer to different things depending on the site: battery life and battery health or capacity.
Battery life refers to how long a single battery charge will last. In contrast, battery health—or battery capacity—is the period of time the battery will function before deteriorating throughout its life.
How to Check a Phone's Battery Health?
If you already own a refurbished iPhone or are simply curious, you may want to check its battery health from the phone's settings and tap on Battery Health. The iPhone will display additional information about your battery's capacity, peak performance, and whether your battery needs to be inspected.
On an Android phone, you will need a specific third-party app that allows you to know the handset's battery health, like AccuBattery. If you have a Samsung phone, go to Get Help > Interactive checks > Battery.
Why Should You Favor Certified Refurbished Products?
When it comes to the batteries of refurbished products (also called recertified, although it's an outdated term), one of the most important things you should consider is to buy devices from certified merchants.
In the AARP interview about how to get good deals on refurbished products, the following was stated:
The premium you'll likely pay for a "certified" refurb is worth it, especially if you're concerned about battery life and appearance. Certifications usually promise that batteries have been replaced if their full charge is below 80 percent of their original capacity, Elalj says. But he advises steering clear of refurbed portable battery chargers — printers, too, partly because their ink is a bigger long-term expense than the hardware. ​

Lisa Lee Freeman, quoting Simo Elalj
How to Compare the Battery Condition Between Certified Refurbishers?
You can use a comparator. On RefurbMe, we compare hundreds and hundreds of refurbished Apple products from different merchants. We only list certified refurbishers who undergo a professional testing and repair process to avoid surprises and guarantee the best quality possible.
Since we compare hundreds and hundreds of refurbished Apple products from different merchants, we also have a refurbishers comparison so you can easily spot any differences, including the battery condition comparison between certified refurbishers.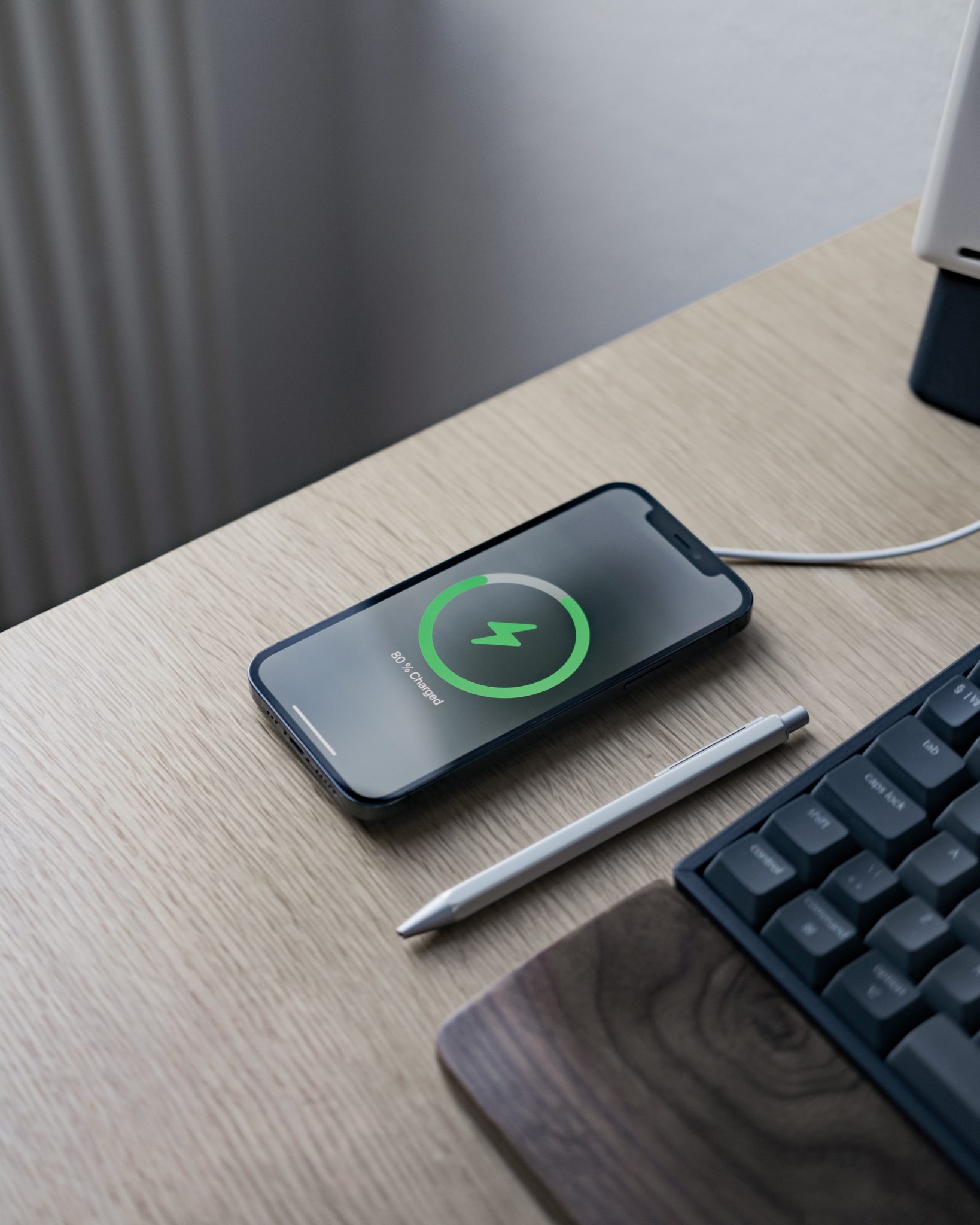 For instance, one of the best-known refurbishers out there and our partner, Back Market, shares that every battery is required to be at least 85% at the moment of purchase. If this does not occur, they urge you to reach out to replace the battery or the device.
Another of our partners, Decluttr, states that they fully test battery health with an industry-leading software called PhoneCheck. This test enables them to determine the remaining battery life and check for other potential faults, such as a cycle count, temperature, resistance, and full charge capacity.
How Much Can a Product's Battery Degrade?
Generally, battery manufacturers state that a phone battery's capacity will degrade by 20% after about 400 cycles. For instance, if your phone's battery drains all of its battery once per day, and you recharge it every day, that mounts up to one complete charge cycle.
Regarding Apple MacBooks, Apple claims that its batteries lose 20% after 1000 charge cycles by the end of five years of typical usage, which can range from 6 to 8 hours a day. If you use an M1-powered MacBook Air, you will get 13 hours of use instead of 16 hours with one charge after two years.
This is approximated data and should be taken with a pinch of salt. More factors can contribute to a battery's degradation, such as allowing a phone or MacBook to get excessively hot often or charging your phone overnight.
In any case, these numbers allow you to have a rough idea about the state of batteries of refurbished products when you purchase them, as we've seen in this article.
To Sum Up
The condition of the batteries of refurbished products is primarily based on the merchant or refurbisher. Typically, a refurbisher will replace the batteries of a previously used device if its health is below 80%. Nonetheless, Apple will always replace old batteries of the iOS devices, such as the iPhone and the iPad, but not those of a MacBook.
We hope this article has helped you clear your doubts. If you want to know more, head on to RefurbMe and start comparing the best refurbished Apple product deals. We only list devices from professional refurbishers with a warranty and fully functional batteries.
Apple Refurbished