Yes, AirPods work for Android, and they are not limited to iPhones and the Apple ecosystem. Same as with any other Bluetooth earbuds or headphones. But, there's a catch! Some features, like quick pairing and active noise cancellation, may work, whereas some, like Siri, will not be available. In this post, we'll show you features of the AirPods that do and do not work with Android and how to pair your AirPods with Android devices.
AirPods features that WILL work on Android
The functionality of the AirPods on Android devices is more limited than in Apple's ecosystem. However, certain features can work properly, for example, the double-tap feature and the Active Noise Cancellation. One of the main benefits of using the AirPods on Android smartphones and tablets over other brands is that AirPods generally have a much longer Bluetooth range than other Bluetooth-enabled headphones.
👉 Related: Beats Studio 3 vs. AirPods Max: A Guide to the Best Headphones
Double-tap for pause or play
Even with the limited functionality of AirPods for Android, the double-tap feature remains. With it, you have a convenient command to play and stop your music. Simply double-tap on either earbud, and the music will stop or resume—no need to reach out to your smartphone to command this simple task.
Solid connectivity and a good range
AirPods' superior connectivity isn't lost when used with Android devices. The connection made between the two devices is reliable and devoid of disconnection issues present in other earbuds.
You can get up to 33ft (or around 10 meters) away from your audio source when using AirPods. In addition, a few Android apps are designed to restore some native functionalities.
Automatic switching
AirPods are linked to an iCloud account for Apple users, which allows them to easily switch between using the AirPods with an iPhone, iPad, Apple Watch, MacBook, or iMac. The automatic switching is also available for other Android devices, such as the Pixel Buds Pro, Sony, and JBL. With this feature, the AirPods will automatically switch between devices, for example, if you are using them with an Android tablet and you need to take a call on your iPhone.
Active Noise Cancellation and Transparency Mode
The Active Noise Cancellation of the AirPods Pro and AirPods Max will also work with Android since they don't need an Apple device to toggle this function. You can simply activate ANC by pressing and holding the force sensor until you hear a little chime. From then on, the AirPods will isolate you from external sound.
You can also switch to Transparency Mode if you want to hear your surroundings while using your AirPods by pressing and holding the force sensor again. Pressing it again will disable both active noise cancellation and Ambient mode.
Single AirPod listening
It is possible to use a single AirPod with an iOS device without any issues. The AirPods connect to the device individually, allowing each earbud to operate independently. To achieve this, navigate to the 'Accessibility' section under 'Settings' and change the sound output from stereo to mono audio.
Using a single AirPod with an Android device is also possible and straightforward to configure. However, older AirPods models that use older Bluetooth versions may encounter some difficulties. In some rare cases, it may be necessary to forget and re-pair the AirPods or to remove and replace them in the charging case to get them to function properly.
Microphone functionality
The AirPods have a built-in microphone that can be used for making and receiving phone calls on Android devices.
Automatic pause and resume
While the automatic ear detection feature is not available on Android devices, AirPods can still pause and resume music playback when you remove and reinsert them into your ear manually.
AirPods features that WILL NOT work on Android
When paired with an iPhone, iPad, Apple Watch, or Mac, the AirPods offer a rich set of features. This is thanks to the accelerometer, other sensors, and deep integration with Apple's devices. There are certain features you might find inaccessible using Android devices.
Siri integration
On the iPhone, you can tap to access Apple's voice assistant, Siri, to change songs, adjust the volume, or just ask simple questions. If you have AirPods 2 or greater, you can also use the "Hey Siri" command to activate it. Siri is a feature you will not find using your AirPods with Android devices.
Customizing double tap
You can change what the double-tap gesture does in Settings using an iOS device. Options include accessing Siri, Play/Pause, Next Track, and Previous Track. On the iPhone, when you remove an AirPod from your ear, it pauses whatever you're listening to until you put it back.
Battery life indicator
On the iPhone and Apple Watch, you can ask Siri about the AirPods battery life or check it from the Control Center. Luckily, there is a way to replace this functionality on Android with the MaterialPods or AndroPods apps or another third-party app with the same functionality.
Spatial audio
The much-welcomed Apple's Spatial Audio has not yet translated over to all Android devices. Still, it is possible to activate it on the Apple Music app on Android. This lets you use AirPods 3, AirPods Pro, or AirPods Max to listen to thousands of tracks on Apple's streaming service in a 360-degree spatial audio effect.
👉 Related article: AirPods 2 vs. AirPods 3: Are They Worth Upgrading?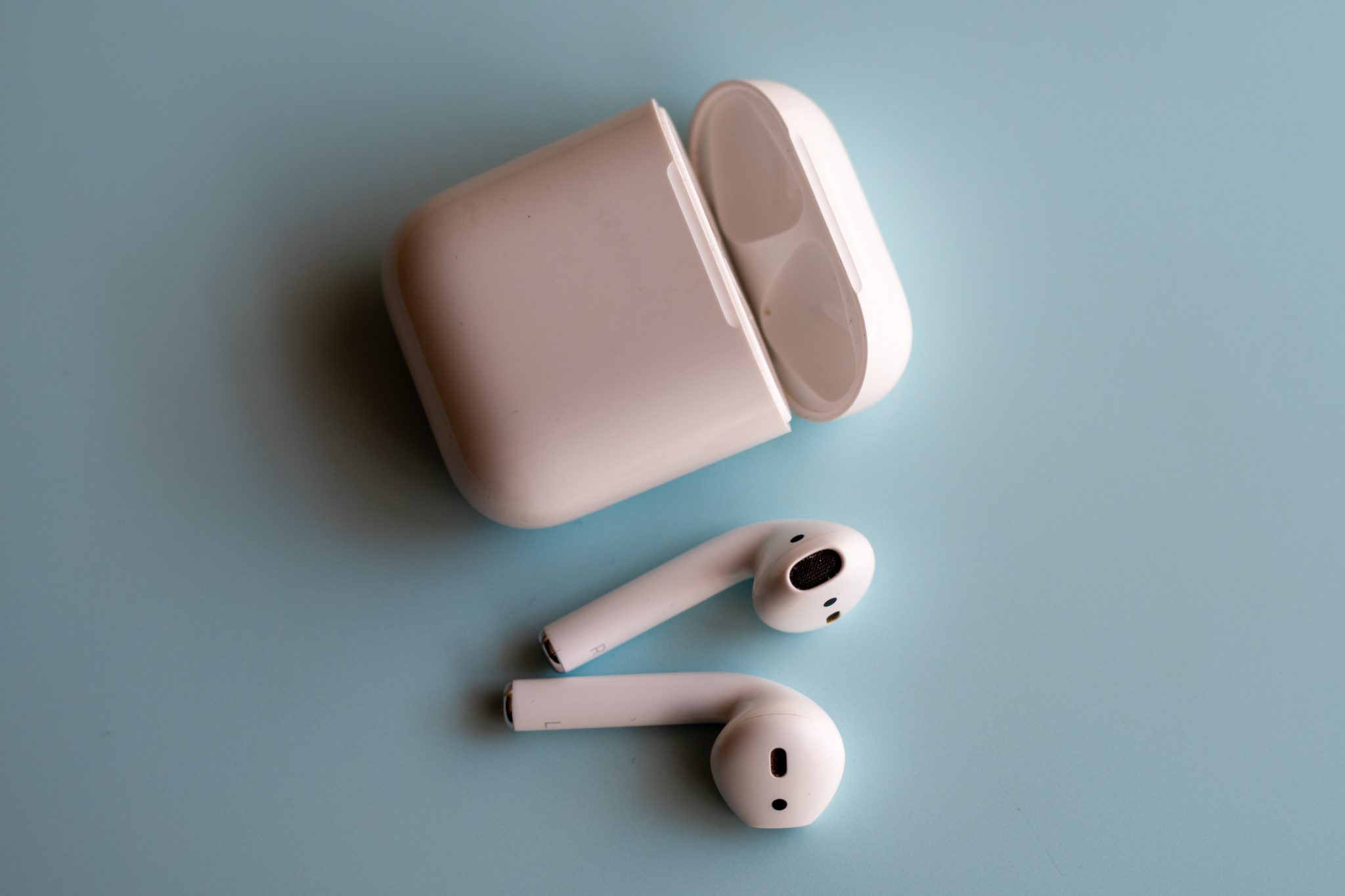 Automatic pairing
The one-step setup is commonly referred to as automatic pairing. When you want to pair your AirPods to your iOS device, you only need to open the case with the earbuds inside and place it near the device. On Android, you need to do the pairing process manually.
Automatic ear detection
The ear detection functionality present on iOS devices won't work on Android. You will need to have them both out of the case to connect and won't be able to use just one. Also, the playback won't automatically pause and resume when you remove and put the AirPod back into your ear.
Live Listen
Live Listen is a feature that turns your AirPods into a hearing aid. When enabled on an Apple device, it uses the microphone on your iPhone or iPad to amplify sound and send it to your AirPods. This feature is not available on Android devices since it requires integration with the Apple ecosystem.
Customizable controls
AirPods have various controls that can be activated using gestures, such as double-tapping or pressing, and some of these controls are customizable on iOS. AirPods 3 and Pro have default playback controls that cannot be customized, but the latter can turn on active noise cancellation and customize the controls.
Customizing controls on AirPods 1, 2, and Pro is easy, but these customizations will revert to their default state when connecting to an Android device.
Ear Tip Fit Test
Apple is famous for making significant improvements to its products with each new release, and this trend is evident in the AirPods Pro. The Ear Tip Fit Test is a unique feature of this model that helps users achieve the best possible seal for their ears. The feature uses microphones built into each AirPod to detect audio leaks and ensure a perfect fit. Unfortunately, this feature is exclusive to iOS and is not available on Android devices.
Conversation Boost
The Conversation Boost feature is specifically designed for individuals with minor hearing impairments. It uses a blend of computational audio and beamforming microphones to enhance the voices of those with whom you are conversing, making them easier to hear. This feature is exclusive to AirPods Pro and requires iOS 15 and the most recent firmware updates. It is unavailable on Android devices.
"Find My" function
When using AirPods with an iOS device, they are automatically registered on the Find My network, which aids in locating them if they are misplaced. Unfortunately, this feature is exclusive to iOS and is not available on Android devices.
Automatic firmware updates
This is something that you might not think about at first, but the AirPods receive firmware updates periodically to improve performance and add new features. On Apple devices, these updates happen automatically when your AirPods are connected to your iOS device. However, on Android, you may need to manually update the firmware using a computer.
👉 Learn more: What to Do with Your Old and Dying AirPods? 4 Options to Save Money
How to pair your AirPods with an Android device
Apple AirPods do not use a unique technology to power their wireless connectivity. Instead, it merely uses the widely available Bluetooth technology. This means you can connect any Bluetooth Android device with it. Follow these steps to connect your AirPods with an Android device:
Make sure your Android device has Bluetooth on.
If it isn't, go to Settings > Connections > Bluetooth to activate it or swipe down from the top of the screen.
To set up your AirPods or AirPods Pro, simply lift the lid and press the setup button located on the back of the AirPods case for approximately five seconds until you see a white flashing light.
To set up AirPods Max, hold down the noise control button for about five seconds until the status light flashes white.
Select your AirPods from the list of Bluetooth devices when they appear.
Final thoughts
The AirPods are basic earbuds with a one-size-fits-all design for Apple users, although they can also be used on Android devices if you consider the limitations we've seen in this article.
If you are an Android owner and still want to use the AirPods (or a new Apple user), we suggest you go the refurbished route. This way, you can get the Apple experience for a fraction of the original price, perfectly functional, and with a warranty. Take a look at our best offers in real time below:
A refurbished device is a product that was either pre-owned or used as a display model and returned to working condition after a thorough inspection and cleaning process. They work just like new AirPods would, and you can get them at a significant discount.
If you want to further enhance your experience with these popular earbuds, read our article about the best AirPods accessories and learn whether the AirPods are worth your money and time.
Happy buying!