We're sorry to hear that. It is almost a guaranteed fact of human existence that we'll each have a phone that will break in our lifetime, and a broken screen is one of the most annoying things. Often, when a phone breaks on us, the main issue is trying to spend as little money as possible to be back with a working phone again—good news to those who have phone insurance.
Writing a step-by-step plan to help you save money seemed like a good idea. Try to follow these steps in order to save the most money—and time—possible. The earlier in the list you find a viable solution, it's likely the less money you'll spend on being back together with a working phone.
1. Google it
First, you want to Google the issue you're having. Maybe the phone is frozen on the lock screen, there is liquid leaking from the charging port, or the flash isn't working.
Googling the issue can often help you find people with similar issues and what they did to fix them. You can take their advice before continuing with this list.
For instance, sites like Quora and Reddit usually appear in Google's search results with the same questions you may have and the solutions other people found in their situation.
You may also be able to find useful information about how to repair a broken cell phone, buy screen protectors, or find a phone repair shop, as we will see next.
2. Take it back to the store
If there is anyone that should be able to give you the correct advice on the issue with your phone, it should be the place you bought it from.
This is most likely if you purchased it directly from the manufacturer. Visit their store, and they should be able to assist you in fixing the problem. For example, Apple has the Genius Bar, where they troubleshoot problems with users' devices.
Wherever you get your phone from, they should be able to give the best advice on the problem and what to do with it. However, don't take their advice blindly as sometimes they won't give you the cheapest solutions to the problem.
A manufacturer may say it is best to get your broken phone screen replaced by them, but it may be cheaper to get it fixed elsewhere if you have the chance.
3. Claim on the insurance
If you had insurance, check if they cover the issue you're having with your phone. If they do, you can claim on the insurance. This is likely to be in the form of a replacement phone or cash.
A broken phone screen may not be covered in some programs, but a defective device that hasn't been rooted or jailbroken should be enough reason to get a new model or a repair for free.
Some manufacturers even offer replacements while your handset is being repaired, but don't think about the most modern phones.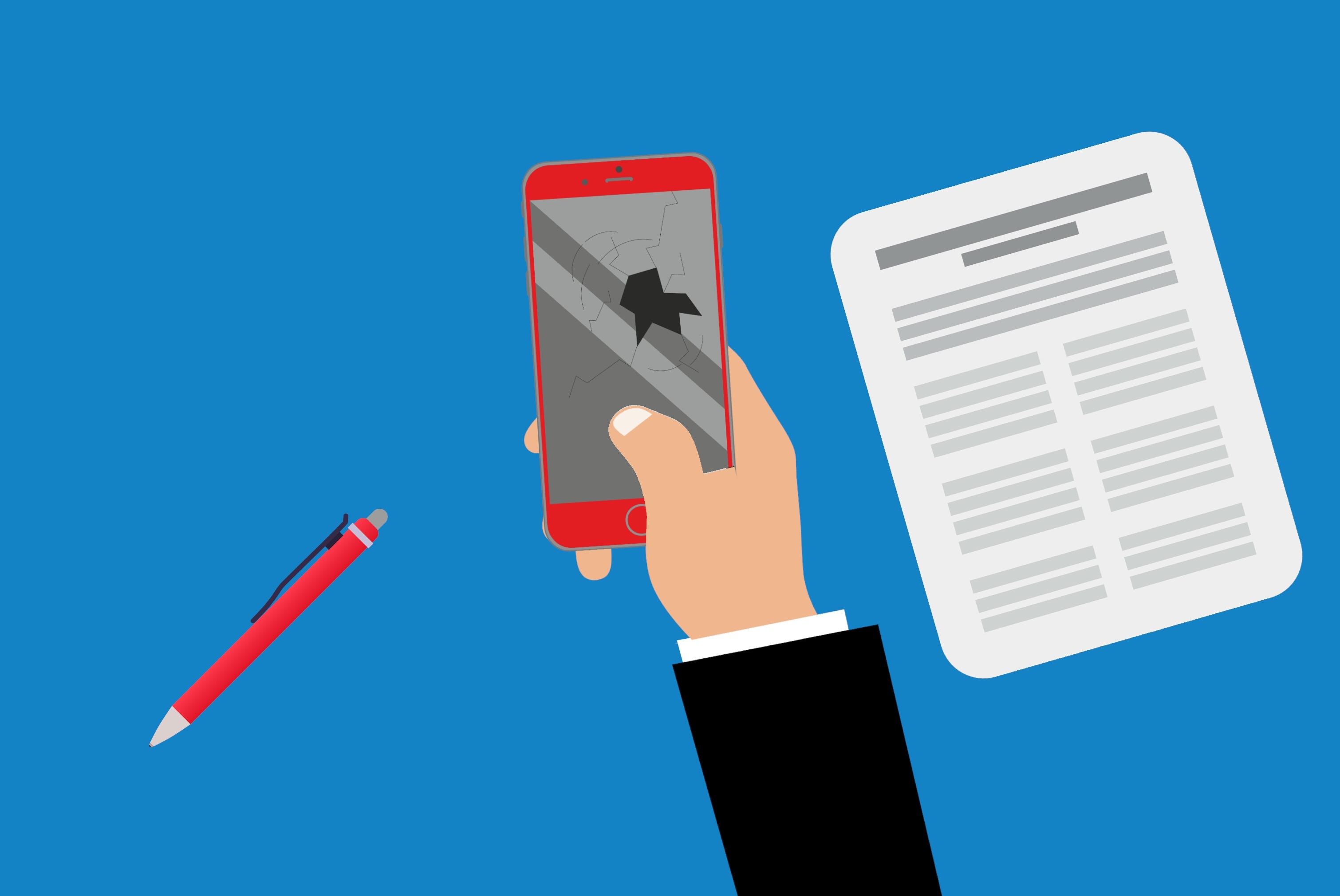 4. Wait for your upgrade
If you are using a broken phone mid-contract with a carrier, try to determine when you are eligible for an upgrade. Then you will be able to determine if you can cope with your broken handset until that date. When you upgrade to your new phone, you can sell your broken device to a company that buys them for money to refurbish them or for other purposes.
5. Repair it yourself
This isn't the easiest option, but it can definitely save you a lot of money if your phone needs repair. We recommend using a website like iFixit to find out how to fix a specific problem.
From then on, you will have to purchase any parts you need for the fix, including specialist tools. You can then go ahead and fix your broken phone.
It's worth noting that, even though this option can save you money, there are many risks with fixing it by yourself—such as accidentally breaking other parts of the phone. If attempted incorrectly, you can end up making the phone worse off than it was in the first place.
If you have an iPhone, you can also check the new Apple's Self Service Repair Program and see if you can save money repairing it yourself.
6. Get a third party to fix it
You can always get a third party to fix your broken phone. We define a third party as a company that offers services for repairing your phone model that isn't the original phone manufacturer. They can be a great option because these companies will often quote significantly lower repair charges than the manufacturer for precisely the same quality fix.
We recommend you check out the business on a reviews website beforehand, such as Yelp, to ensure that they provide quality services to their customers.
7. Get the manufacturer to fix it
Of course, you can always ask the original manufacturer to repair your phone. This is especially a good option if the phone is under warranty and the break was a manufacturing fault. However, you probably wouldn't be this far down on the list if that was the case.
In most broken phone cases, where the phone isn't under warranty, or the warranty doesn't cover the repair, the manufacturer will fix the phone for you for a high price. Still, you can be assured that it will be a high-quality fix and usually come with a warranty period on that part of the phone.
8. Buy a certified refurbished phone
If fixing your phone isn't an option, or if it is looking costly, you are best off looking to buy a refurbished phone. Refurbished phones start at low prices and high discounts.
Thankfully, certified refurbished electronics are of the same functional quality as new products. A refurbished phone you buy will have passed the same or similar quality tests as a new phone, except it will be much cheaper!
On RefurbMe, we compare hundreds of refurbished devices from several reputable sellers. Have a look at some refurbished iPhones below to have a better idea:
iPhone 6s
AT&T
16GB storage
Space Gray
Good condition, by decluttr
+2 deals
iPhone SE
AT&T
16GB storage
Rose Gold
Fair condition, by ItsWorthMore
+2 deals
iPhone SE
Verizon
16GB storage
Space Gray
Fair condition, by ItsWorthMore
If you want to learn more, check the 9 facts you need to know before buying a refurbished Apple product.
9. Buy a new phone
And, of course, you always have the option of buying a brand new phone straight from the manufacturer, a carrier, or a retailer. Obviously, this is the most expensive option, and you need to calculate if it's worth the money for a broken phone screen or minor device damage.
If you have a beautiful working phone with a broken screen, try to stop the crack from spreading. If your device is defective, try to follow the possible solutions of this article in order. Good luck!
Frequently asked questions
Here are the answers to three of the most frequently asked questions about broken phones.
Are broken smartphones worth anything?
Yes. Some companies buy broken phones to refurbish them and put them on sale again for a higher price. These devices can cost a considerable amount of money even if they are defective or their screen is broken, although there's an obvious limit to their condition.
Is it cheaper to repair or replace a phone?
It's usually cheaper to repair a phone, although this is not the case in some situations. The choice between repairing and replacing it highly depends on your smartphone's model and damage. For instance, if most hardware parts are broken and a warranty does not cover you, a brand-new handset could cost you less than the actual shipping costs and repair service.
Does Apple buy broken iPhones?
Apple has a Trade In Program, but a broken iPhone has no value for them, and it can only be recycled for free. In this case, we suggest you look for companies who can actually buy broken phones they later refurbish. If the phone has minor imperfections and everyday usage marks, you could sell it to Apple, although we strongly recommend considering the refurbished alternative.