An iPad is a powerful tablet capable of providing a near-complete experience. It's not just a tablet but a full computer in tablet form. However, the best iPad accessories can enhance your experience even more, providing more comfort, compatibility with other devices, and protection. Take a look at the best ten game-changing iPad accessories and choose the ones that suit you best!
Disclaimer: We earn a commission when you follow links to make a purchase. Click here to learn more about how we make money.
1. Apple Pencil
The Apple Pencil is one of the best iPad accessories for your iPad. It is excellent for navigating iPadOS, drawing, and handwriting and has an imperceptible delay as it moves across the display. If you press harder, the lines will be thicker, the same as a regular pencil. It's also handy for marking up documents or signing them.
These are the iPad models that are currently compatible with the Apple Pencil:
1st generation Apple Pencil

iPad Pro 9.7″
iPad Pro 10.5″
iPad Pro 12.9″ (1st and 2nd generation)
iPad Air 3
iPad 6, 7, 8, and 9
iPad 10 (with USB-C to Apple Pencil adapter)

2nd generation Apple Pencil

iPad Pro 11″ (1st generation and later)
iPad Pro 12.9″ (3rd generation and later)
iPad Air (4th generation and later)
iPad mini (6th generation and later)
You can get a refurbished Apple Pencil on RefurbMe with substantial discounts (warranty included) below:
+1 deals
Apple Pencil
2nd generation
2018 release
Good condition, by plug
Apple Pencil
1st generation
2015 release
Excellent condition, by Apple Store
👉 Learn more: 7 Best Apps for the Apple Pencil
2. AirPods
Apple's AirPods are considered one of the best wireless earbuds. You don't even need an iPad or any other Apple device to use them since the AirPods are also compatible with Android and other gadgets.
The AirPods Pro and AirPods Max have excellent noise cancellation that can improve your experience using the iPad, especially if you enjoy listening to music, editing, playing games, or just want to enjoy superb sound quality.
In addition, they come with several features tailored to Apple devices, like Siri, and the option to automatically switch between an iPhone, iPad, and Mac. Check available refurbished devices for a substantial discount here:
+1 deals
AirPods
2nd generation
2019 release
Good condition, by decluttr
+2 deals
AirPods Max
1st generation
space-gray • 2020 release
Good condition, by decluttr
AirPods Max
1st generation
sky-blue • 2020 release
Good condition, by decluttr
👉 Learn more: Are Apple AirPods Worth Your Money and Time?
3. Logitech Folio Touch Wireless Keyboard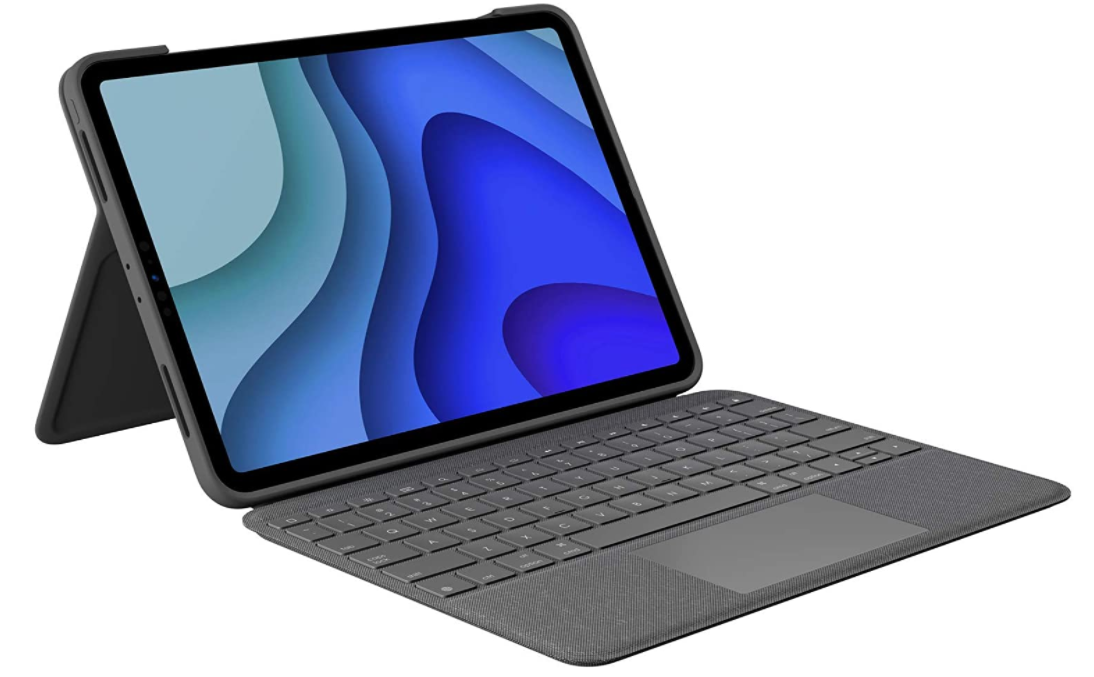 Transform your iPad Pro 11-inch (1st, 2nd, 3rd Gen) experience with the Logitech Folio Touch Keyboard Case. With its high-precision trackpad, indulge in intuitive multi-touch gestures like swipe and pinch. The backlit keys, tailored for the iPadOS, provide a laptop-like typing experience, adjusting to your surroundings. Enjoy the versatility with its four modes: Type, View, Sketch, and Read, each offering unique functionality. Its adjustable 40° kickstand and foldable design ensure optimal viewing and sketching angles, and you can power and pair it via the Smart Connector.
⏩ View Logitech Folio Touch Wireless Keyboard on Amazon
4. Twelve South HoverBar Duo Tablet Stand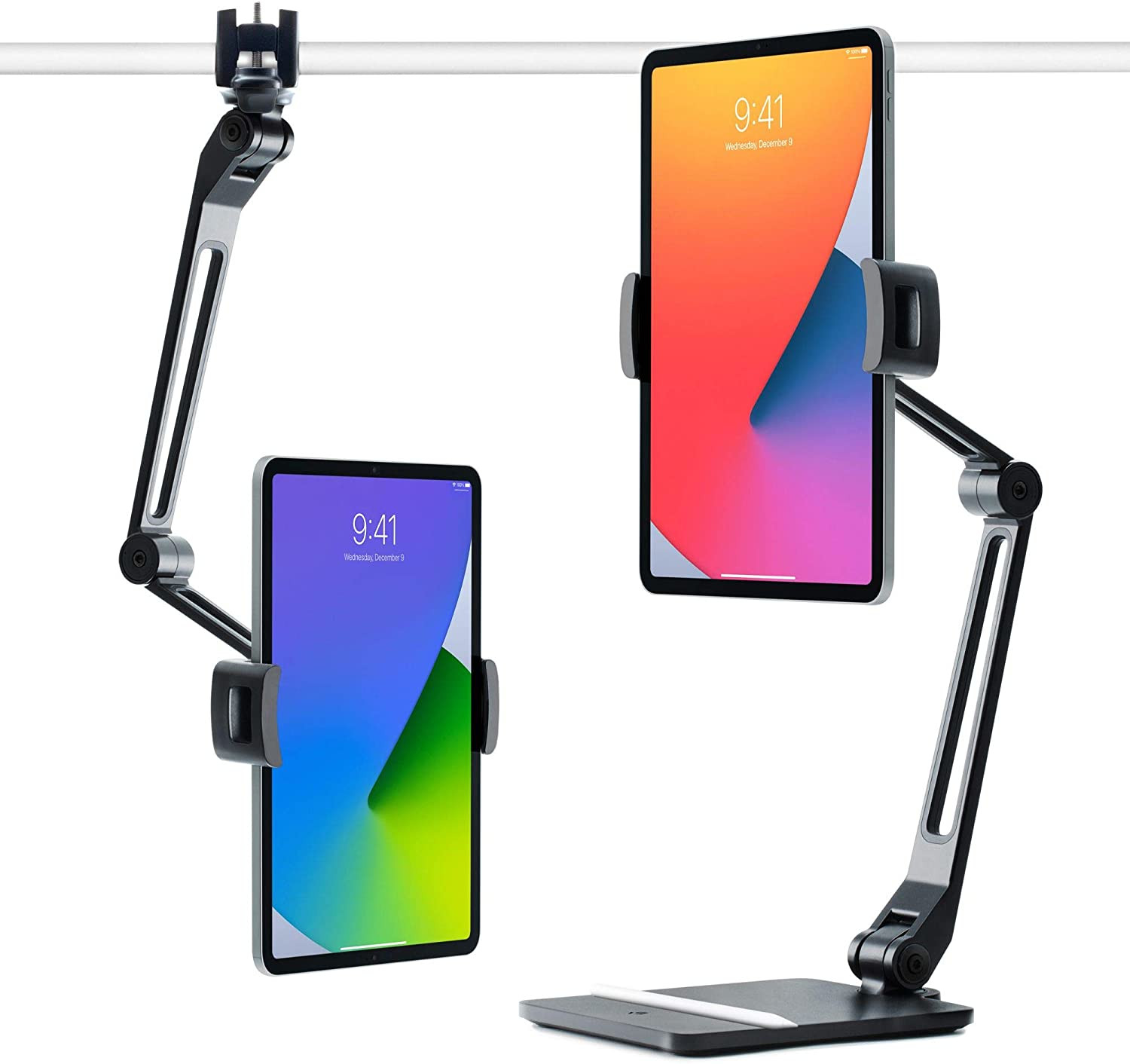 Elevate your iPad experience with the HoverBar Duo, an adaptable and stylish stand designed for the modern multitasker. Whether holding your iPad at eye level for video calls, assisting in the kitchen, or capturing that perfect video angle, the HoverBar Duo promises versatility, integrating effortlessly with your space. Dive into creative projects and video calls, or even use it with new macOS and iOS features, all hands-free.
⏩ View Twelve South HoverBar Duo on Amazon
5. XIRON 2-Pack Screen Protector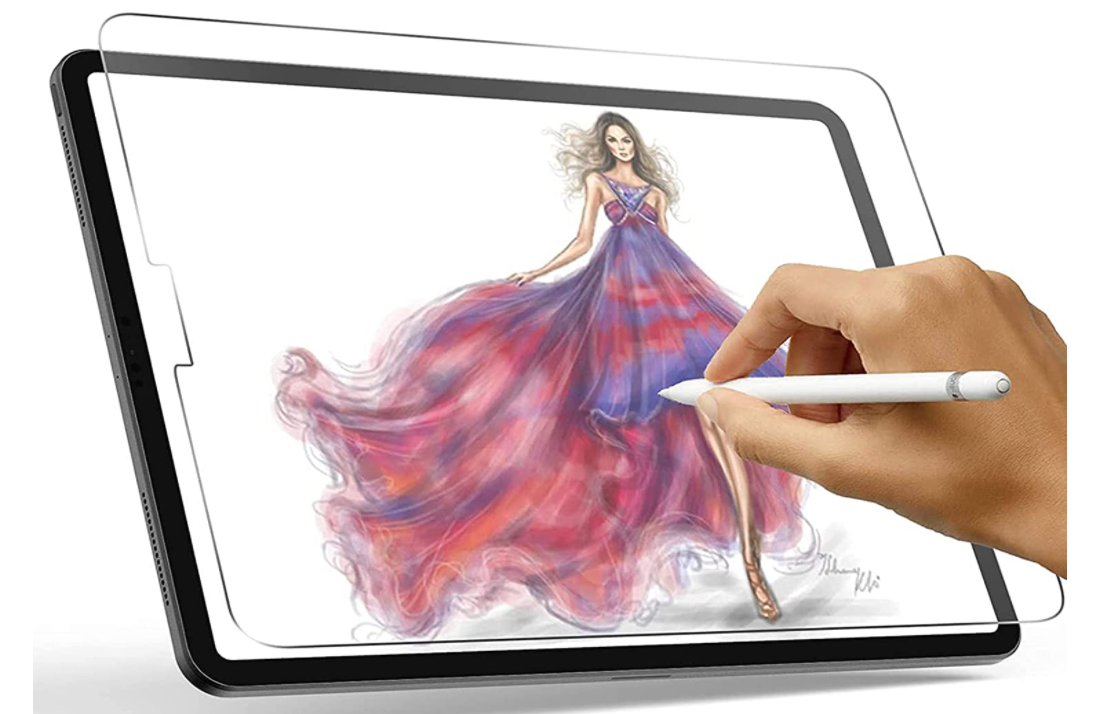 Crafted to emulate the tactile sensation of writing on paper, this screen protector ensures your sketches and notes feel natural and fluid. Besides being an artistic ally, it provides sturdy protection with anti-glare features that harmonize with Face ID. Perfect for styluses like the Apple Pencil, it offers an anti-skid surface for precision. Whether you're an artist, writer, or tech enthusiast, XIRON promises a seamless blend of protection and creativity. Dive into a paper-like writing experience without compromising on-screen clarity.
⏩ View Paperfeel Screen Protector on Amazon
6. Hyphen-X USB-C Charger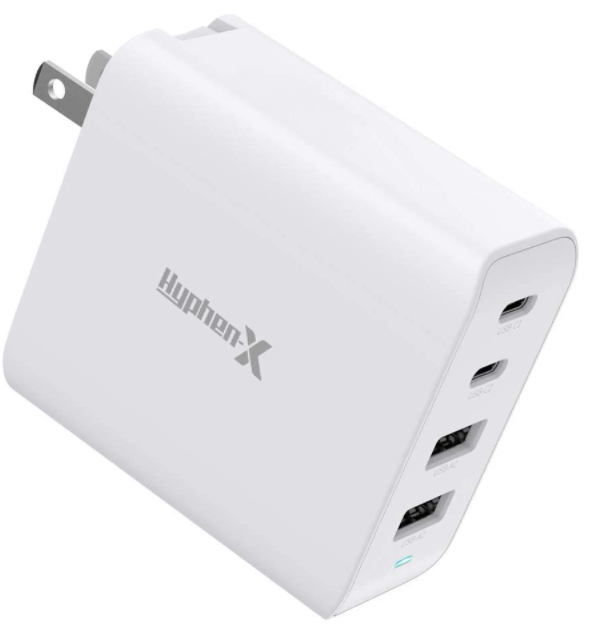 It's not the first time we have talked about the Hyphen-X USB-C, but we can't stress enough how important it can be to have this adapter. It can fast charge four devices simultaneously and at full speed. For instance, if you have an iPhone, you will be able to charge it while you also charge the iPad while using them both. It also has heat dissipation and over-charge, over-voltage, over-current and over-circuit protection.
⏩ View Hyphen-X USB-C Charger on Amazon
7. Twelve South StayGo USB-C Hub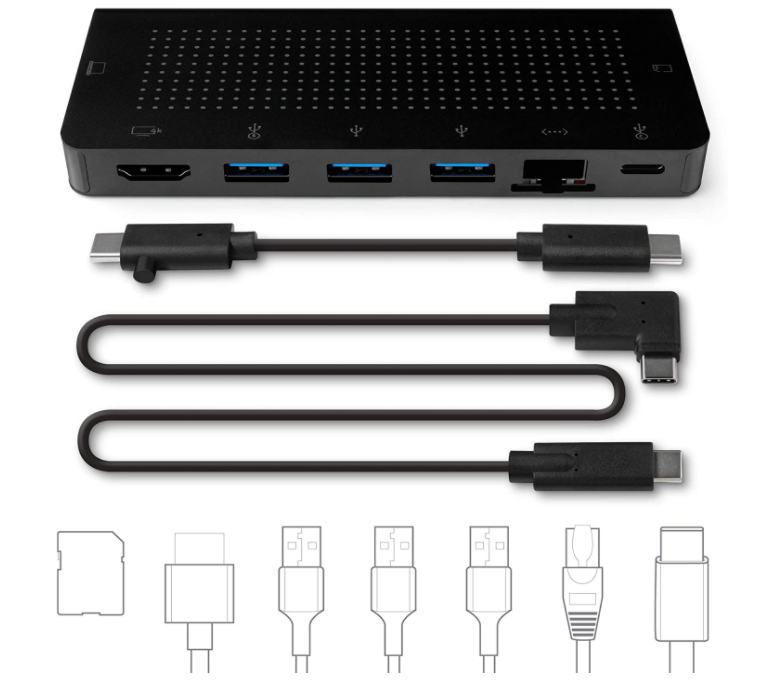 Over the years, Apple has made it easier to connect peripherals such as monitors, USB drives, SD Cards, and cameras to the iPad, but you can now connect a mouse or trackpad to iPads. As we mentioned, you can use the iPad as a desktop computer when you also connect a monitor and keyboard, as it has excellent performance. You need a good USB-C hub if you want to connect a monitor and all the other accessories simultaneously. The TwelveSouth StayGo is a beautifully compact solution that provides all the extra ports. It includes HDMI, USB, SD/MicroSD, and Ethernet connections.
⏩ View Twelve South StayGo USB-C Hub on Amazon
8. JETech Case for iPad 10.2″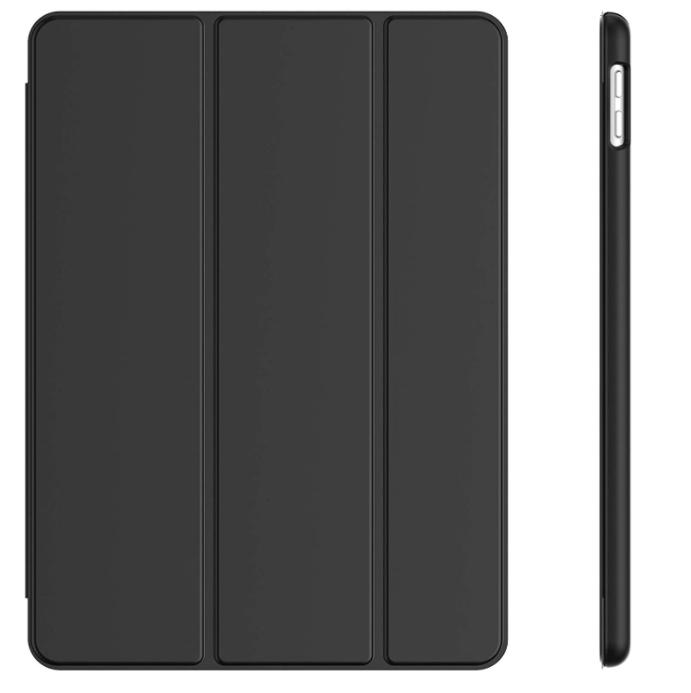 A good iPad case offers good protection and a display cover that can fold into angles, both for working and viewing content. The JETECH budget case surrounds the entire device and, like Apple's cover, folds back into two different heights of stands. There are trendier options in the market, although this is more affordable. It's compatible with the iPad 7, 8, and 9.
⏩ View JETech Case for iPad 10.2″ on Amazon
9. Satechi USB-C Aluminum Stand & Hub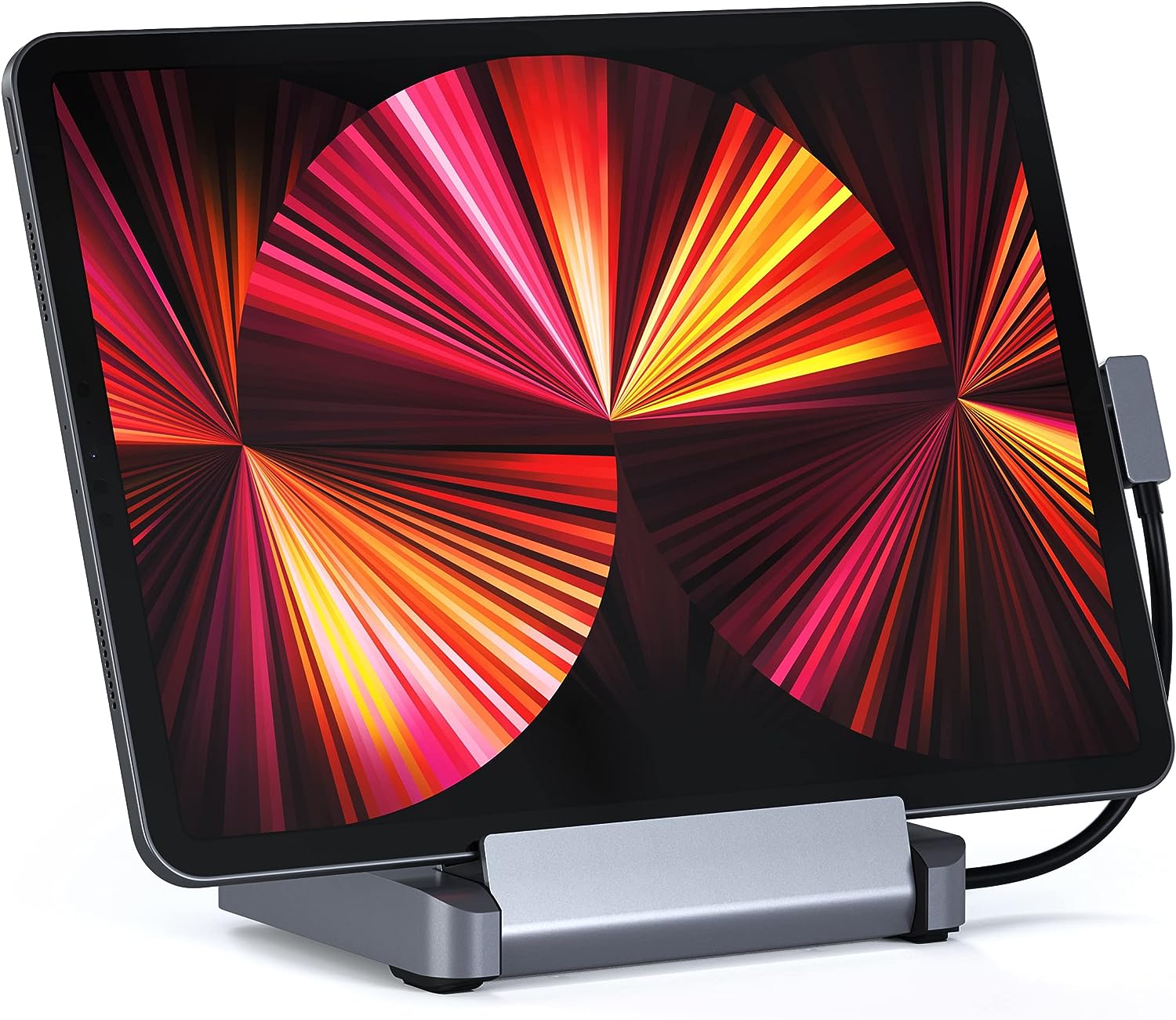 The Satechi USB-C Aluminum Stand & Hub isn't just about holding your iPad; it's about expanding its capabilities. Designed specifically for the Apple iPad Pro (2018 & newer), it comes equipped with features like 4K HDMI for a high-resolution display, USB-C PD charging, and even SD card readers. No more struggling with limited ports – this hub has got you covered. Plus, its adjustable design ensures an optimal viewing angle for tasks like video calls or sketching. Crafted with a sleek aluminum finish, it effortlessly complements your Apple devices. And for those always on the move? Its foldable design ensures it's always ready to go.
⏩ View Satechi USB-C Aluminum Stand & Hub on Amazon
10. Eggtronic Ultra Fast Power Bank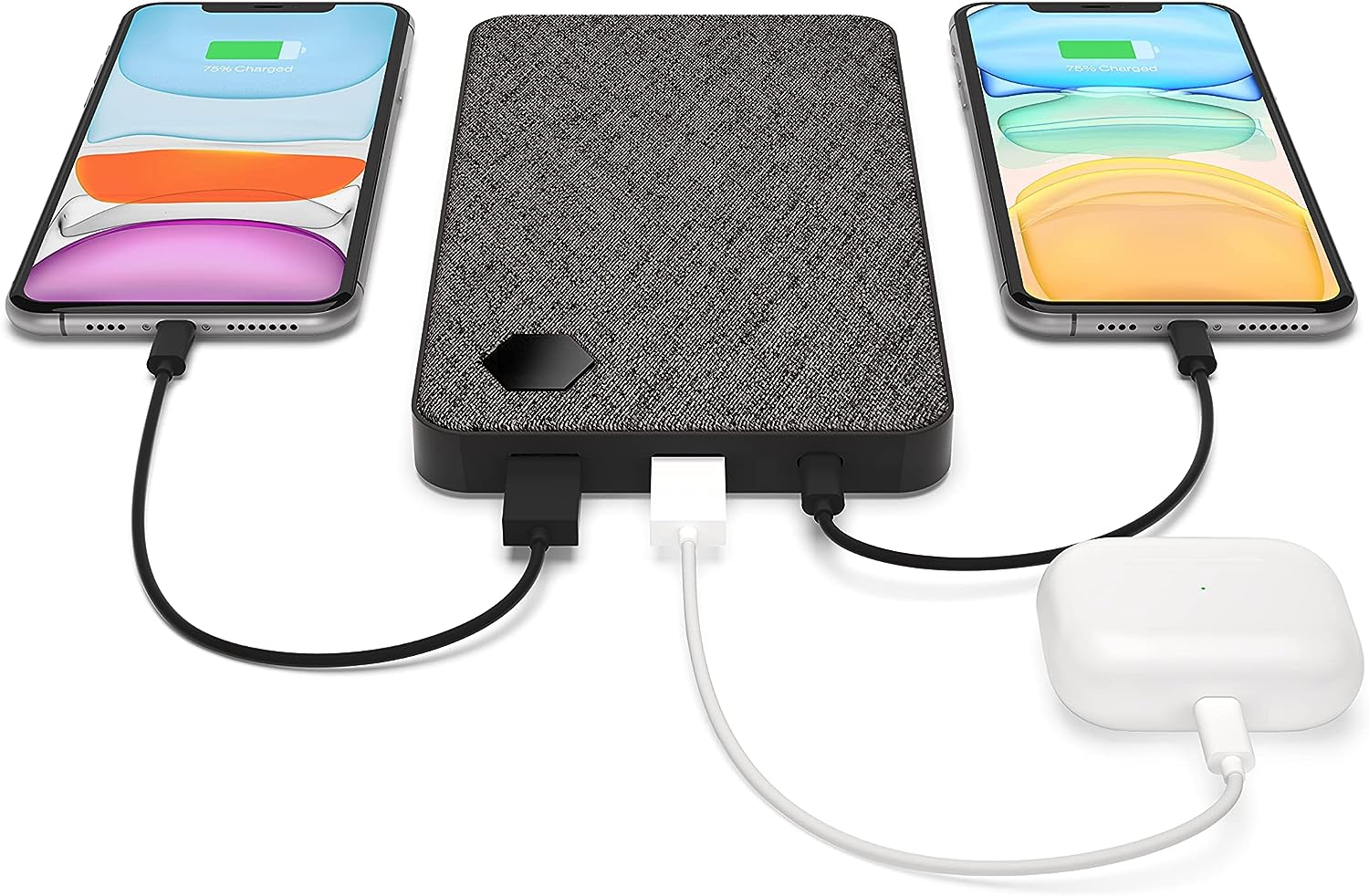 This Italian-designed jewel boasts a robust 20,000mAh capacity, ensuring your iPad remains juiced up whether you're binge-watching, sketching, or catching up on emails. Charging multiple devices? No worries. With a 45W USB-C Power Delivery, USB-A Quick Charge, and a standard USB-A 2.1A, you can power your iPad alongside other essentials. Venture out fearlessly; the water-repellent canvas casing safeguards against unexpected spills. Stay informed with the user-friendly LCD, revealing precise battery levels. Perfectly aligning with the sleek aesthetics of your iPad, the Eggtronic Power Bank is both a functional powerhouse and a style statement.
⏩ View Eggtronic Ultra Fast Power Bank on Amazon
Takeaway
From the Apple Pencil and the AirPods to the Satechi USB-C Aluminum Stand & Hub and Eggtronic Ultra Fast Power Bank, we hope these accessories enhance your experience with your iPad. Don't hesitate also to have a look at the best iPads you can buy in 2023 to get the most out of these accessories. Also, visit us at RefurbMe anytime to find the best deals on refurbished iPads and save money while getting the same factory-new performance with a warranty.