The refurbished phone market is growing as more and more retailers and suppliers start to sell refurbished handsets. Each has its own prices, warranties, product lines, and testing policies. In order to get the best deal when you buy refurbished phones, it's ideal to shop around.
There are now so many places where you can buy refurbished phones—and you may feel overwhelmed by the great number of choices out there. You might be puzzled and perplexed about where to look and about identifying which retailers offer the best deals on refurbished phones.
When you've already researched refurbished phones, figuring out where to buy them can be a hurdle for you to jump over. So, to help make your path to purchase a whole lot easier, we've put together reviews of five places to buy refurbished phones, comparing and reviewing them based on the testing process, warranty, and pricing that they go through.
Apple Refurb Store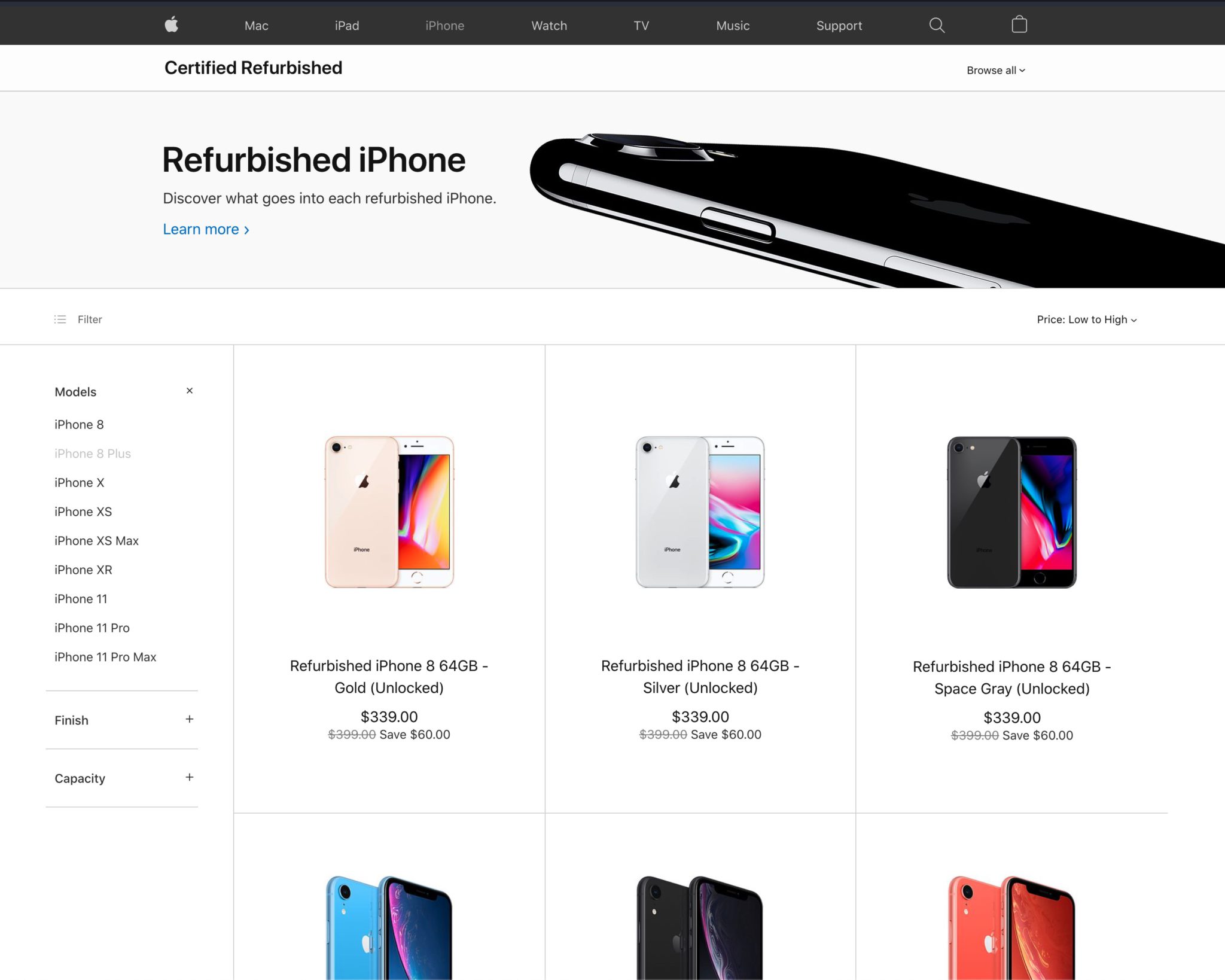 As the maker of the iPhone, Apple is one of the most trusted names in the refurbished phones space. It's understandable why so many people would want to buy a refurbished iPhone from the very people who made the phone in the first place.
Testing process: Apple refurbishes its iPhones through the Apple Certified Refurbished program, which means the devices have been tested, certified, and repaired by Apple itself. They will also come in branded Apple packaging, which includes a brand new battery and outer shell.
Warranty & shipping: One of the big draws towards Apple's refurbished store is that its products come with an excellent warranty deal. You'll get Apple's one-year limited warranty included in the price (there's also the option to extend the AppleCare warranty for a fee), and a 14-day returns policy also covers it. Also, all refurbished products sold by Apple come with free next-day shipping.
Products & pricing:
Amazon Renewed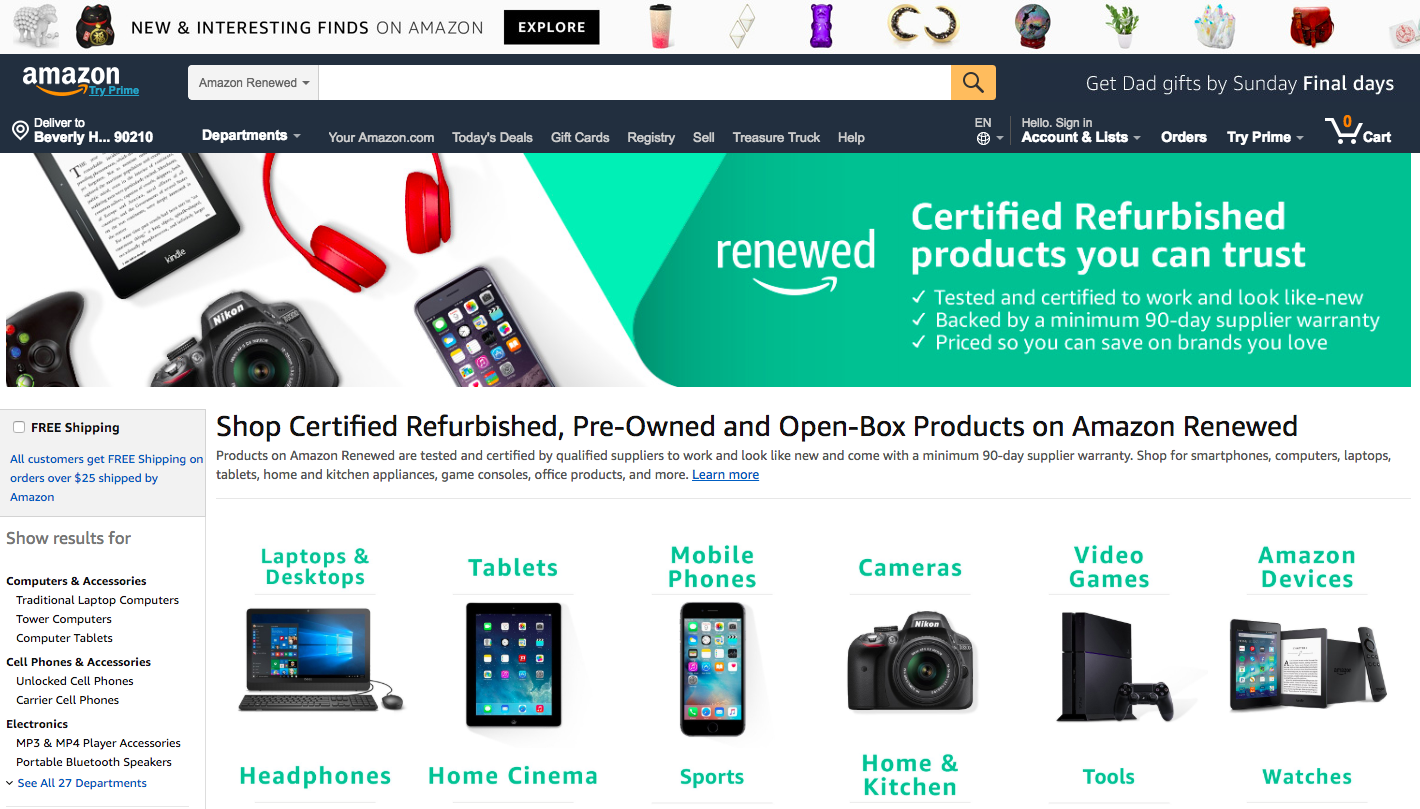 Amazon has been selling refurbished phones for a while, but it recently expanded its efforts as the market has grown significantly. Because so many of us already shop at Amazon (it has more than 300 million active customers, according to Statista), it's no wonder why so many people buy their smartphones from Amazon too.
Testing: Amazon's refurbished phones are certified to work and look like new. They will arrive packaged in a generic box, and it will often include the accessories you'd expect with a new version of the handset —the exceptions are listed on the product page.
Warranty & shipping: Amazon is generally quite good for returns and warranties on other products. There's no difference with its refurbished phones section. Amazon Renewed products are inspected and tested to work and look new and are backed for one year by the Amazon Renewed Guarantee. Most products are eligible for Prime shipping.
Products & pricing:
Mac of All Trades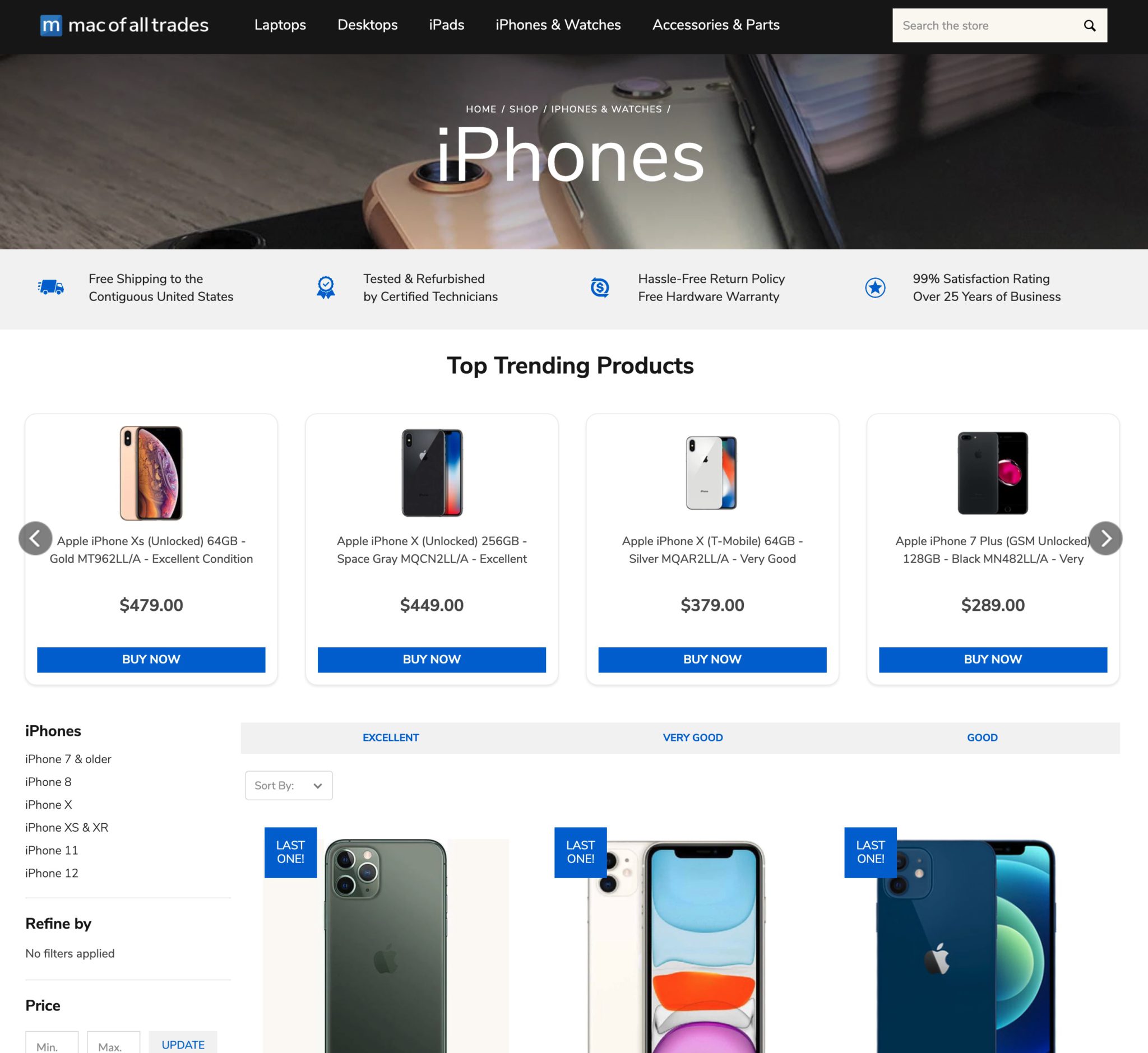 Don't be fooled by the name: Mac of All Trades doesn't just sell refurbished Macbooks and iMacs. This retailer is also regarded as one of the best places to buy refurbished phones. It has been in business for more than 20 years, making it one of the most trusted names in the industry—right up there with Apple itself.
Testing: This retailer prides itself on its rigorous testing process, including full hardware diagnostic testing, immediate replacement of a faulty component, and careful inspection for cosmetic damage (there is also a rating scale: fair, good, excellent). Its devices are cleaned using electronically and environmentally safe cleaning products. Testing is carried about by Apple Certified Technicians.
Warranty & shipping: Refurbished phones come with a 1-year warranty. Its standard warranty begins on the date that the product is delivered. If a hardware fault occurs during this time, Mac of All Trades will attempt to repair the issue or give you an exact replacement or store credit if it's non-repairable. Mac of All Trades offers free shipping on all orders.
Products & pricing:
Gazelle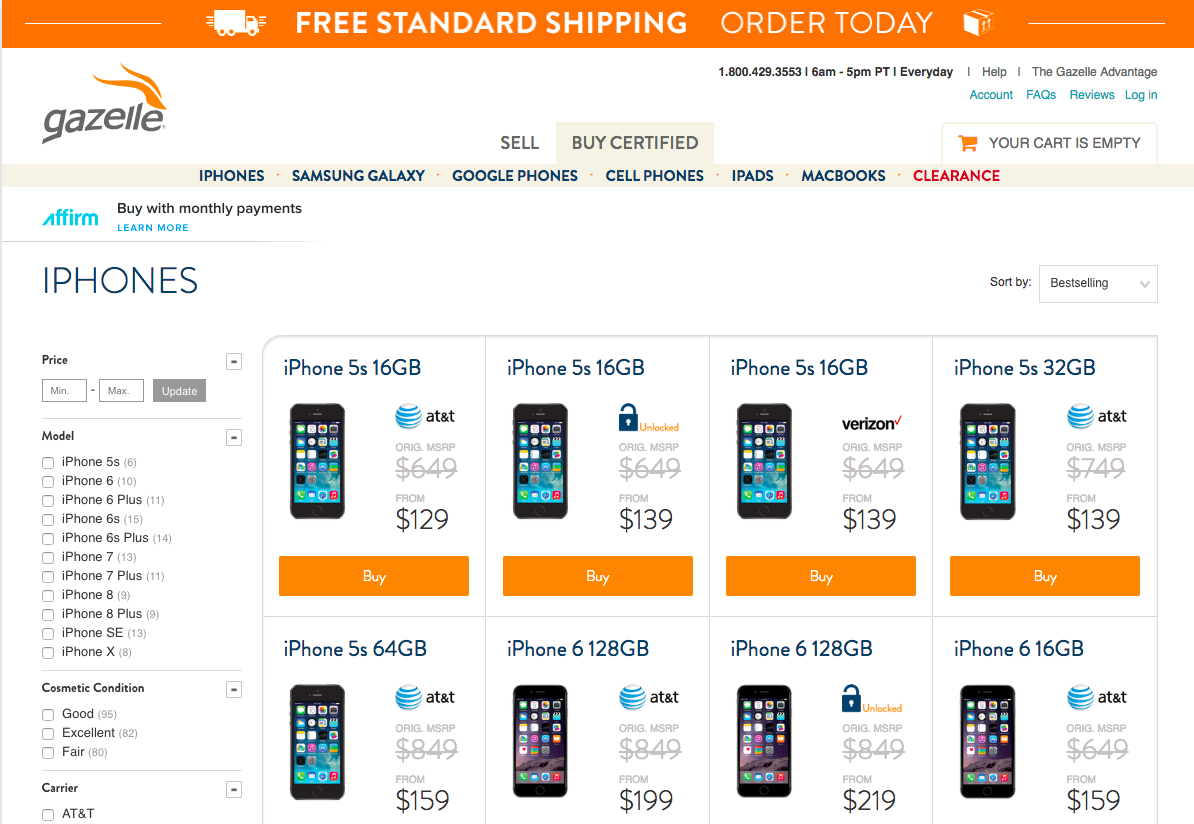 Gazelle has only been selling its Gazelle Certified pre-owned, used, and refurbished phones since 2014. Still, the company has quickly risen to become one of the top names in the refurbished industry. It has a swath of positive reviews from its customers and is renowned for its "no strings attached" policy, which means you can buy a handset with no contract or commitment included.
Testing: A Gazelle Certified device is a device that has gone through its 30-point inspection program. This extensive testing system ensures that the phone is in flawless working order, giving you some extra confidence when you buy a handset through this retailer.
Warranty & shipping: Smartphones from this retailer come with a 30-day warranty and a pretty simple return policy. If you aren't satisfied with your purchase of a Gazelle Certified device, you can return it within 30 days of delivery and receive your money back. Gazelle does also offer free shipping on all its products.
Products & pricing:
RefurbMe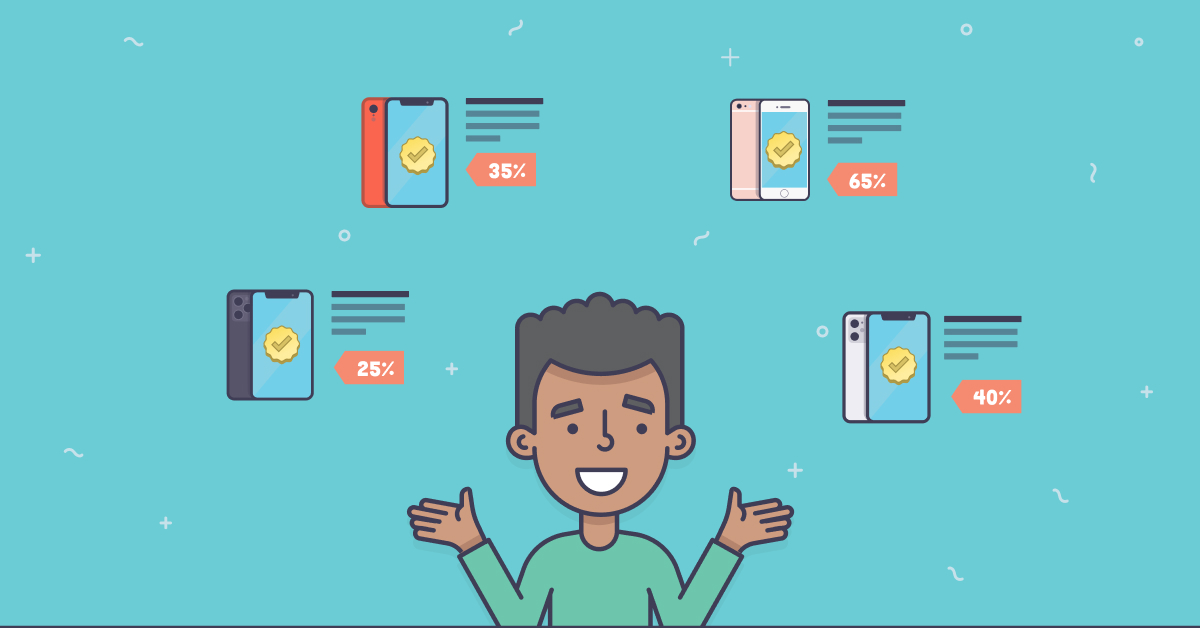 We recognize that going to all of these retailers and comparing prices and deals is a tedious and time-consuming effort, which is why here, at RefurbMe, we do it for you. RefurbMe is a price comparison site for refurbished Apple products that takes the legwork out of finding the best savings on refurbished iPhones.
Testing process
RefurbMe puts every merchant under scrutiny and compares details about their testing process:
Compare testing processes of all merchants at once →
Warranty & shipping
Refurbishers listed on RefurbMe provide a minimum of a 30-day warranty, but most offer a 1-year warranty.
Compare warranties of all refurbishers →
In terms of shipping, all merchants listed provide free shipping.
Products & pricing
Moreover, you can even set up stock and deal alerts, letting you receive an email when the phone you're looking for has come back in stock or has had a price drop (read our blog post for easy instructions on how to set up price alerts)
Conclusion
Buying a refurbished phone doesn't need to be a huge hassle. We believe that trying to save money on the tech you love shouldn't take so much time.
Please share this article if you found it helpful! You can also check out our list of places where you can buy refurbished MacBooks if you're looking to buy a new Apple laptop too.
Sign up to the RefurbMe newsletter below for more blog posts like this, the latest Apple refurbished deals, and price drops.
Buying Guide