The Apple Watch is one of the best smartwatches around. From trying to beautify your watch strap with a striking new look. Or if you just want to protect it from superficial damage, there's an accessory out there that will do the job. The market is full of accessories from Apple themselves as well as many from third-party manufacturers. But it almost goes without saying, that accessorizing an already very personal object like a watch, even a smartwatch, is going to be a matter of personal preference. The strap material, style, and color you choose are going to reflect on your fashion taste, of course, and the kind of storage system you want will depend on how many straps you have. Thus RefurbMe creates a list of a range of Apple Watch accessories that let you customize your Apple Watch experience. 
Apple AirPods
The perfect wireless earbuds for your Apple Watch
The Apple Watch is capable of storing music that you can listen to when you don't have your phone with you, when you're running, for example. The smartwatch can be paired with pretty much any Bluetooth headset, but AirPods have some distinct advantages over the competition. Although you can technically use any set of Bluetooth earphones with the Apple Watch, the beauty of the AirPods is that since they're made by Apple, they not only pair up with your Apple Watch seamlessly, but you can also switch back and forth between your iPhone and Apple Watch without any fuss at all.
In fact, you can even extend that to listening from an iPad, MacBook, or Apple TV. Once you link up the AirPods with one of your Apple devices, they'll be automatically paired with everything else that's signed in to the same iCloud account. RefurbMe also has a selection of new and refurbished AirPods listed from various sellers and Apple Store as well. 
+1 deals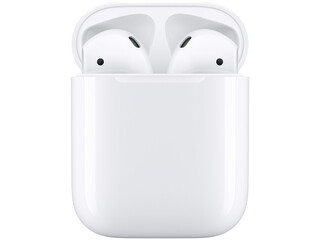 AirPods
1st generation
2016 release
Good condition, by Back Market
+3 deals
AirPods
2nd generation
2019 release
Good condition, by Back Market
+2 deals
AirPods Pro
1st generation
2019 release
Fair condition, by Back Market
OLEBR 3 in 1 Charging Stand
The budget-friendly charging stand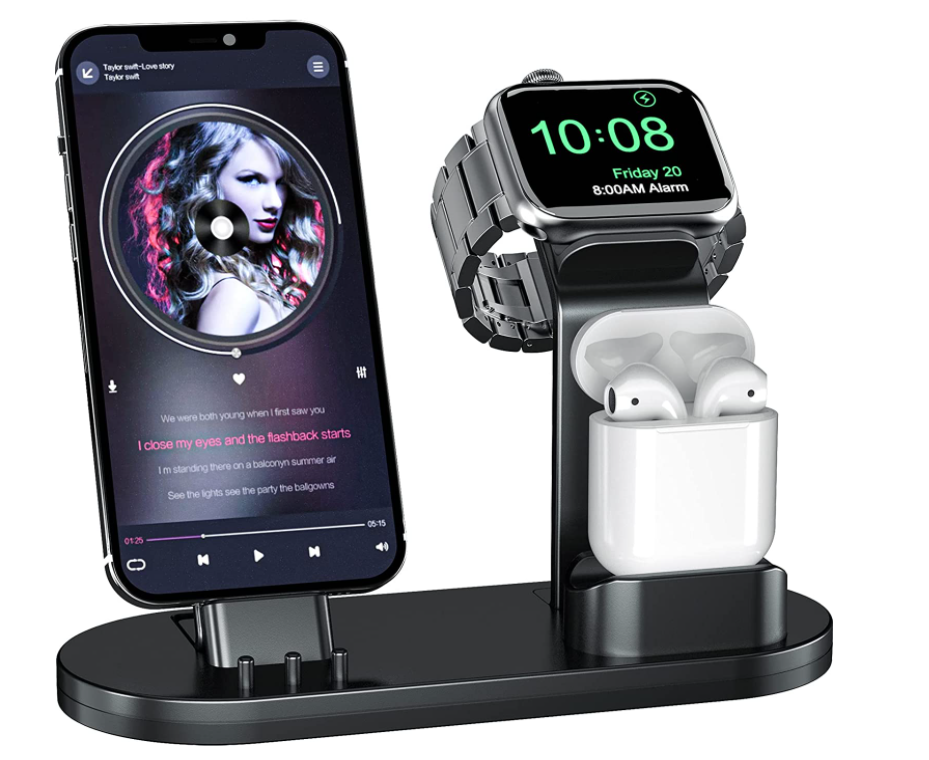 The Apple Watch and the iPhone go together like copy and paste. So if anybody who needs to charge an Apple Watch is almost certainly looking for a good place for their iPhone too. This is where OLEBR's affordable charging stand comes in. And best of all it even packs in a bonus by offering a spot for charging a set of AirPods. Even though it has a wallet-friendly price, this charging stand offers an attractive finish and a sturdy build. With premium silicone material that has a soft finish to protect your devices against scratches. But you'll need to supply all the cables yourself. That should be no surprise with a price tag this low.
Twelve South Travel case
A compact travel companion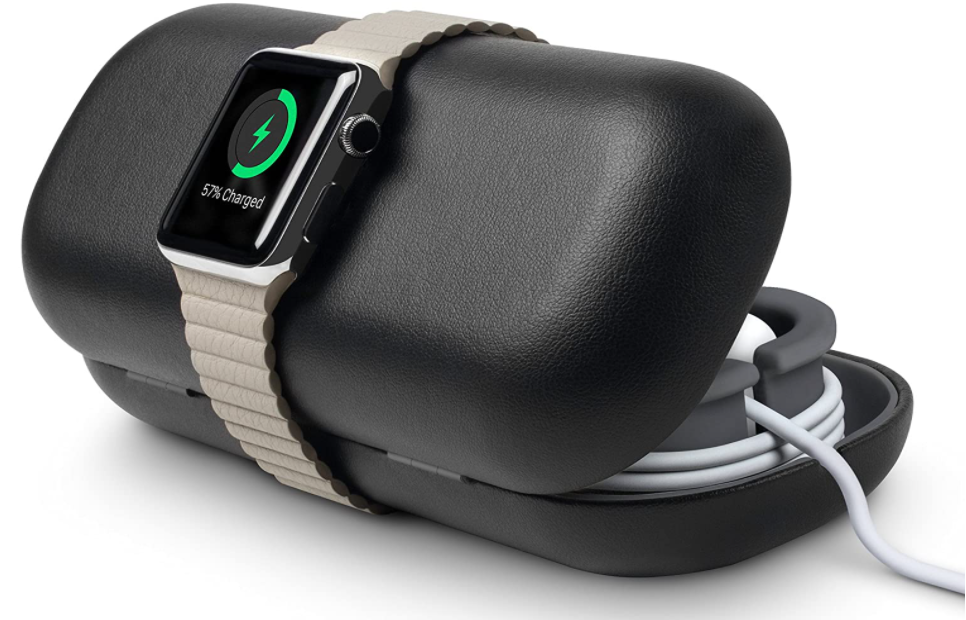 Twelve South's TimePorter is a simple but clever Apple Watch accessory for frequent travelers. It effectively combines a storage case and an Apple Watch charging base all in one. Furthermore, it is about the size and shape of a typical eyeglass case. It has enough room to store several Apple Watch accessories, such as extra watch bands, cables, and travel adapters. The charging disc slots into an integrated opening at the top of the case. Which feeds power to your Apple Watch when it's draped over the front. The hinges are also stiff enough to keep the case open at an angle, allowing your watch to go into Nightstand mode as it charges.
Satechi USB-C Magnetic Charging Dock
The best portable charger 
This nifty gadget by Satechi will allow you to charge your Apple Watch by simply plugging it into a USB-C connector. This means that you can use the Apple Watch accessory with most laptops, countless battery packs, and even a compatible car charger. It's a perfect match with the MacBook and iPad Pro. Satechi also sells a 5-inch extension cable in case you need more versatility.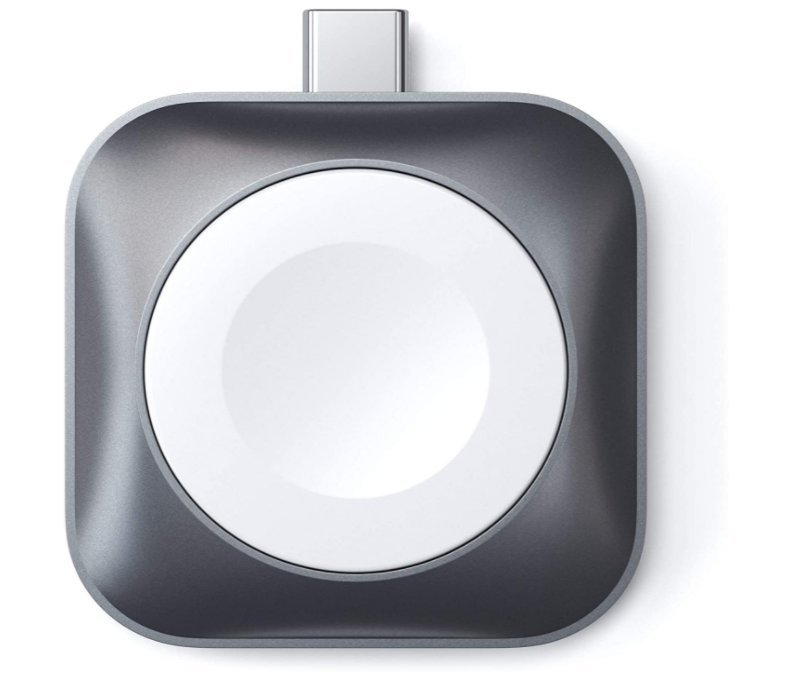 It's a pocket-sized Apple Watch charger, and while it's targeted primarily at MacBook users, it can be plugged in pretty much anywhere you can find a USB-C port. With USB-C ports becoming much more commonplace, it's a handy device to take with you anytime you're concerned your Apple Watch may not get you through the day, and it takes such a small amount of power to juice up the Apple Watch that you don't need to worry about depleting the battery on your MacBook or iPad while using this charging dock. It's the next best thing to having a USB-C connector right on your Apple Watch.
Catalyst's 330ft Waterproof Case
The best waterproof case
Although the Apple Watch is water-resistant enough to take it for a swim, it's not technically waterproof. So if you plan to take your Apple Watch on deep dives or even rigorous outdoor adventures, then you'll want to add a truly waterproof case like Catalyst. It is good for dives of up to 330 feet (100 meters). This makes it a great pick for scuba diving, water skiing, white water rafting, or any other activities that involve deep dives or high-velocity water. And in our view one of the best Apple Watch accessories in the market for divers.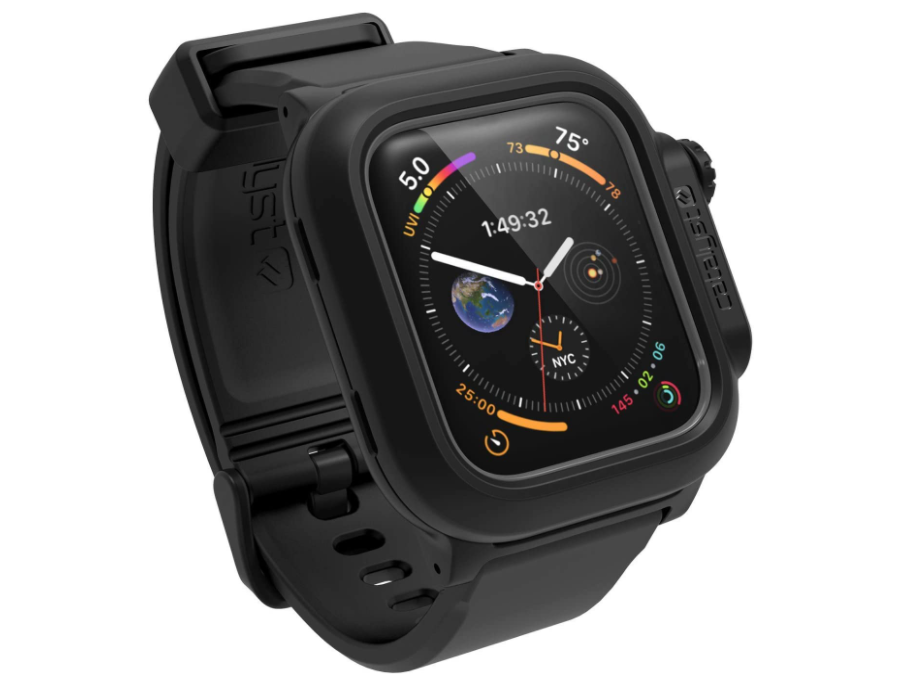 However, it's also a great pick for anybody who just wants a guarantee of total protection against water. And since it covers the entire Apple Watch, including the face, it also offers 6.6-foot drop protection and impact resistance. The Catalyst waterproof case will double the depth rating of your Apple Watch. The Apple Watch accessory also meets military-grade specs for drop resistance. It is available for 44-millimeter Apple Watch models from Series 4 onwards.
Urban Armor Gear Scout Strap
Accessorize with comfort and durability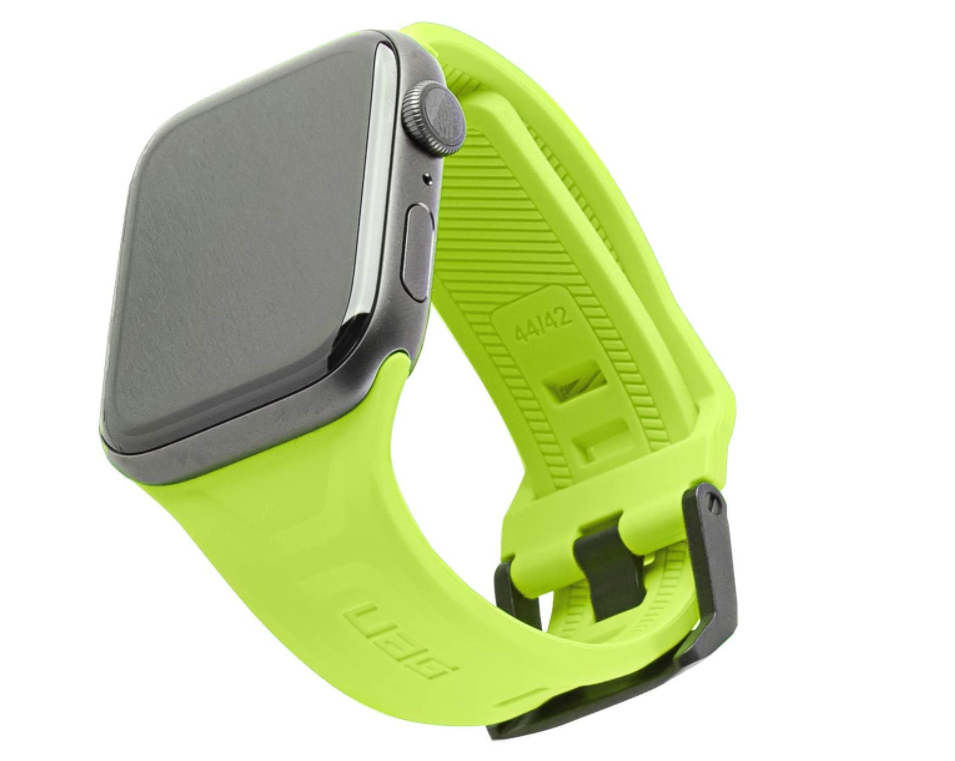 The Urban Armor Gear Scout strap for the Apple Watch deserves a spot in every collection because it's both comfy and durable. The Apple Watch accessory has stainless steel hardware bits and secure closure. Each Scout is crafted from antimicrobial silicone with excellent tactility. The strap is available for all Apple Watch case sizes in a multitude of colors.
Griffin Survivor Tactical Case
A sporty case that adds protection
Griffin knows all about extreme phone defense. And the company recently transferred its protective case smarts over to the Apple Watch, with decent results. The Survivor Tactical Case boasts a tough screen guard to keep your watch's display safe from scratches without compromising the display's touch responsiveness. This makes it one of the best Apple Watch accessories. And a molded TPE/polycarbonate body clips over the case to protect the Digital Crown from above, while remaining accessible from below.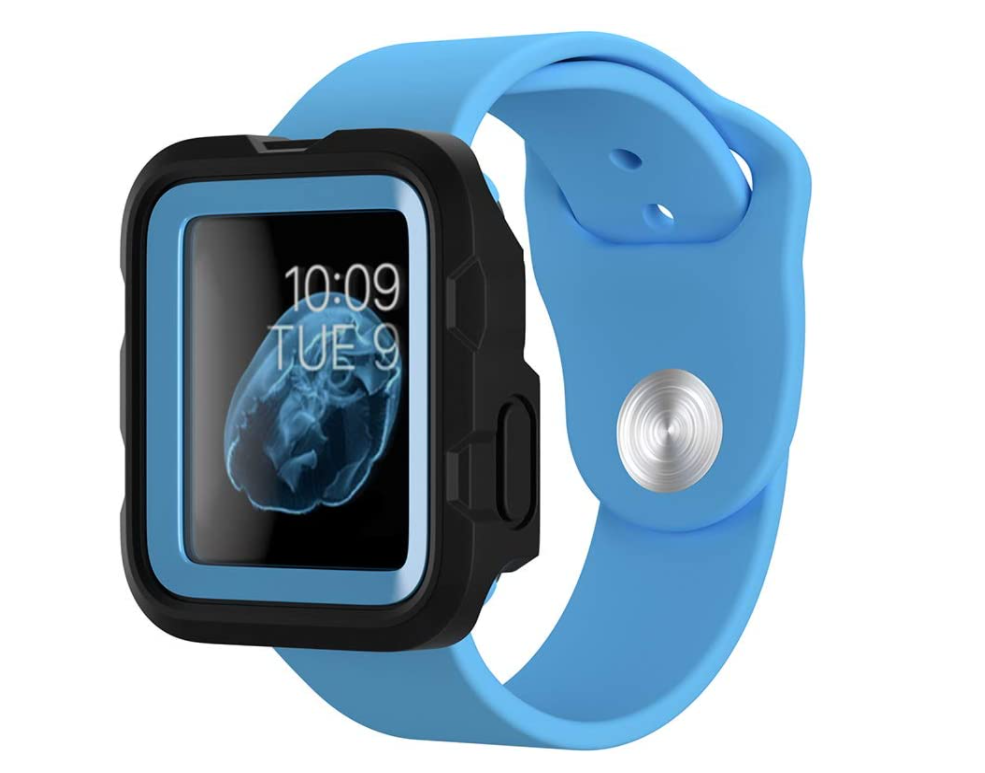 This clip-on case from Griffin is perfect if you need to temporarily add a little protection to your Apple Watch. The Survivor Case protects your watch's casing, as well as the screen without impacting on Force Touch, which is super useful in a number of situations. It clips over the top of your watch, so it's easy to pop on and off.
Wearlizer Metal Watch Band Clasp
Lets you use normal straps with your Apple Watch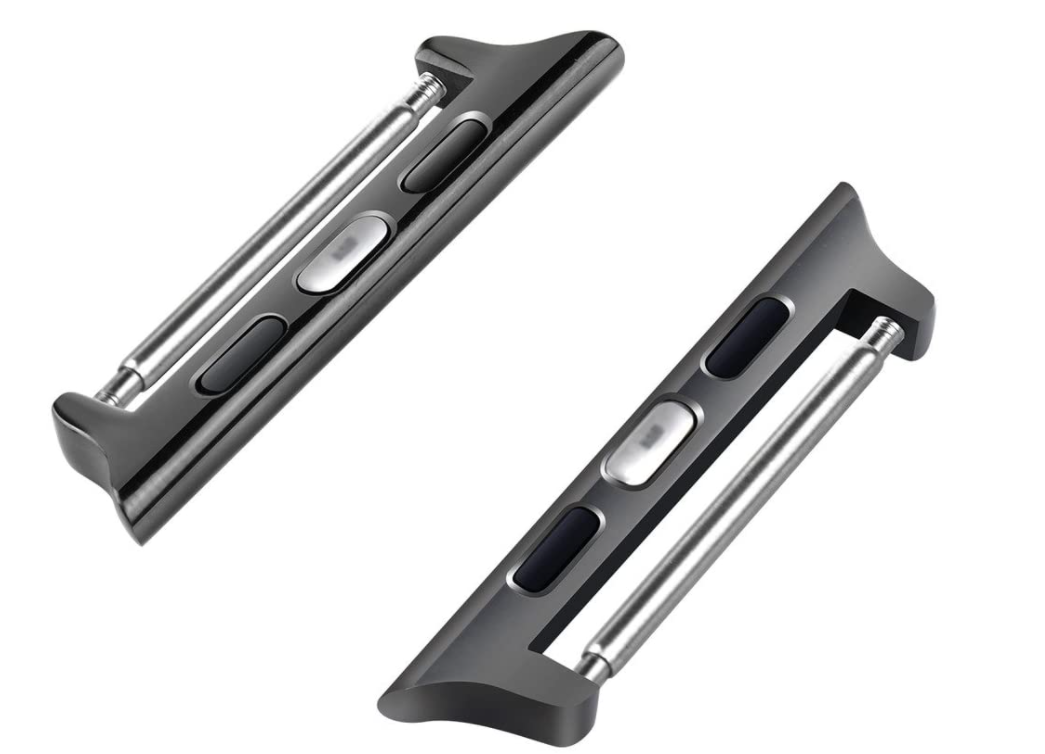 The Webalizer adaptor enables you to attach almost any regular watch strap you want.  It is made of premium stainless steel with two diameter spring bars. These slide nicely into the watch and give a satisfying click when they are in the proper place. It perfectly fits all 38mm 40mm 42mm 44mm quick release for watch bands up to 22mm. 
Take Away
Discovering the best Apple Watch accessories is a fantastic way to transform an already impressive smartwatch into a powerhouse performer. It's tempting to turn to Apple's own accessories, and in some cases, you should. But there's a slew of alternatives that work just as well and are often more affordable. But the quality of these accessories is also an important consideration. You may be able to pick up a replica Hermés leather strap for a pittance. It's best to read user reviews on Amazon or any third-party account.
But to utilize all these amazing accessories you need an Apple Watch! At RefurbMe we have the best deals on new and refurbished Apple watches of all generations. You have deals from Apple Store as well as many third-party sellers. The deals are not just on the price but also on warranty, shipping and return, and many more. You can compare them on our website and chose what suits you the best. 
Apple Watch Regular Series 2
2016 release
38mm Rose Gold Aluminum
Light Pink/Midnight Blue Woven Nylon Band
Good condition, by decluttr
+1 deals
Apple Watch Regular Series 2
2016 release
38mm Space Grey Aluminum
Black Woven Nylon Band
Good condition, by decluttr
+1 deals
Apple Watch Regular Series 2
2016 release
38mm Silver Aluminum
Pearl Woven Nylon Band
Good condition, by decluttr
Apple Watch