With the launch of the new watchOS 9 and its new features, the Apple Watch is getting even more faces to choose from. Apple provides a diverse library of watch faces, many of which are geared toward specific situations and occasions, and the choices can be overwhelming. The good news is that the best Apple Watch faces are already pre-installed on your smartwatch. Keep reading!
Table of contents
Metropolitan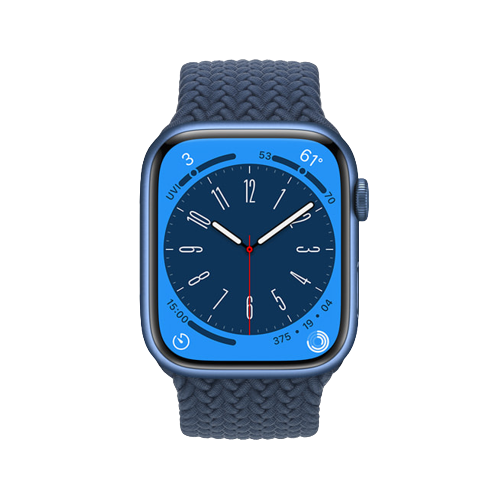 Features: Minimalist design for casual and formal environments
Customizable feature: Font of the numerals on the dial
Complications: Up to 4
Metropolitan is one of the new Apple Watch faces that made its appearance with watchOS 9, featuring a minimalist design with support for up to 4 complications around the corners. It has both a casual and formal feel to it, and it can be displayed in any situation, like in a work meeting or hanging out with friends.
Only available on watchOS 9
Lunar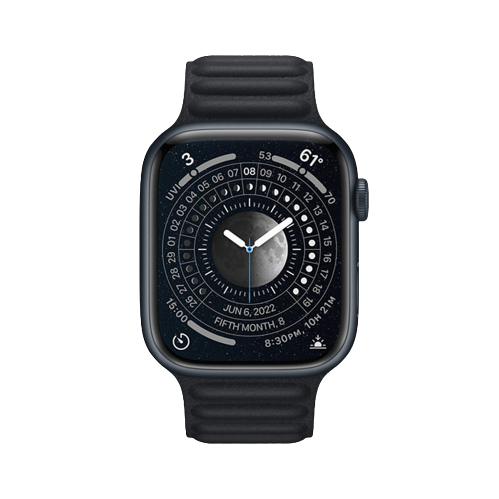 Features: Different lunar calendars
Customizable feature:

Second hand's color | Analogue & digital switch

Complications: 4
Lunar came with watchOS 9 and can keep track of both the lunar calendar and the Gregorian calendar—and it can even depict the relationship between the two. Moreover, you can also choose Chinese, Hebrew, and Islamic calendars and can support up to 4 complications. It's a beautiful Apple Watch face despite showing a lot of information, something that can be overwhelming for users who want a more minimalist approach.
Only available on watchOS 9
Playtime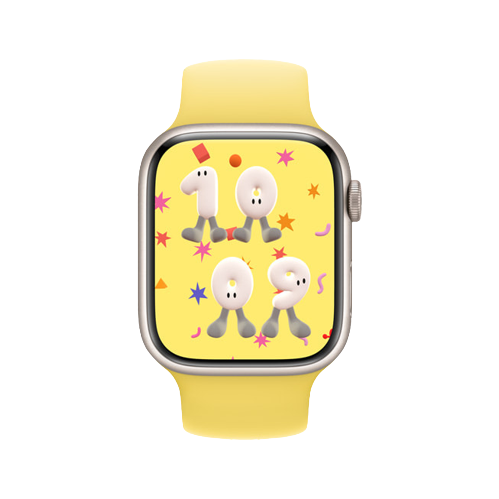 Features: Cute and fun
Customizable feature: Background
Complications: No
Playtime is not only for kids, even if it looks like it. This cool Apple Watch face created in Apple's collaboration with Chicago-based illustrator and artist Joi Fulton is perfect for people of any age. The Digital Crown can be rotated to change the background, and the faces of the characters will react to you if you tap on them.
Only available on watchOS 9
Astronomy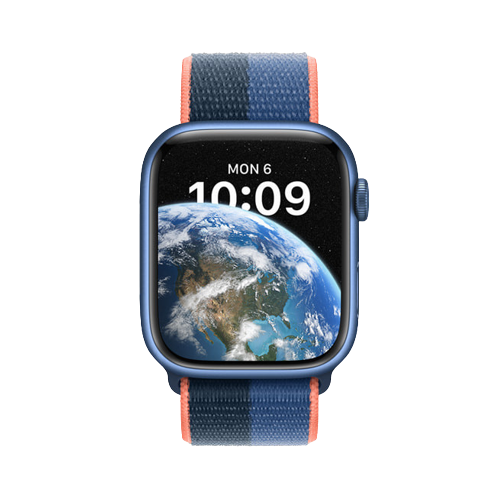 Features: Real-time model of the Earth, Moon, and our Solar System
Customizable feature: Phases
Complications: Up to 4
This is one of the best Apple Watch faces that has been revamped for watchOS 9. It displays a real-time 3D model of the Earth, the Moon, or our Solar System. The Earth shows you the transition between day and night, and you can also follow the moon phases or choose the solar system view to see the position of the planets on any day of the year. Rotating the Digital Crown will also show the passage of time so that you can track the alignment of the planets or the next full moon.
Portraits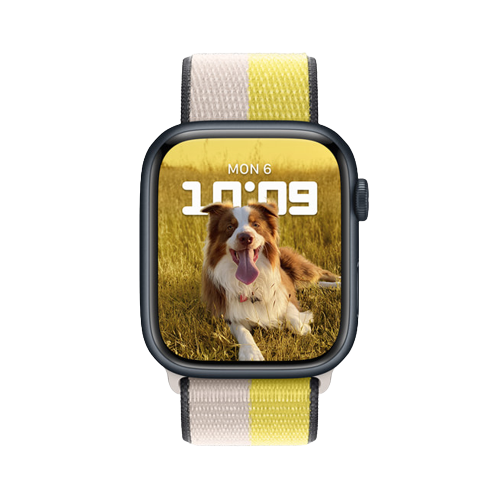 Features: Highlights the photo's subject with a 3D effect
Customizable feature:

Classic, modern, or round design

Complications: 2
Portraits is a beautiful Apple Watch face that lets you choose any portrait mode photo as the background of your smartwatch. You can set two complications in the middle and the bottom and rotate the Digital Crown to bring the photo's subject forward. But, the real thing about it is that it creates a cool 3D effect with perspective motion with an impressive result.
Portraits came with watchOS 8 but got an update with watchOS 9 to highlight the depth effect on photos of dogs, cats, and landscapes, along with the possibility of using the editing mode to add a tint to the background layers of the picture.
Infograph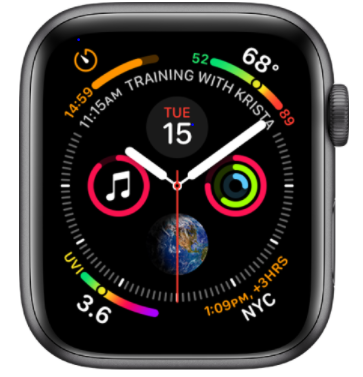 Features: Multi-tasker
Customizable feature: Color 
Complications: Up to 8
This watch face is available only on Apple Watch SE and Apple Watch Series 4 and later, featuring up to eight rich, full-color complications and subdials. You can also check the weather in the top-right with current, minimum, and maximum temperatures on show. The middle offers shortcuts to common apps as well, such as Activity and Music, but you can cut these any way you want.
California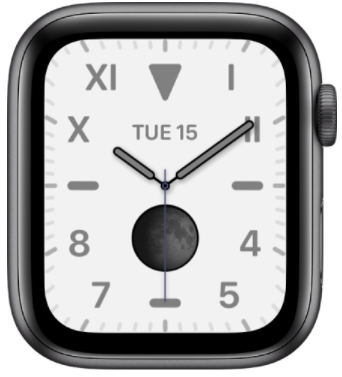 Features: Half Roman and half Arabic numerals
Customizable feature: Color | Numerals | Dials
Complications: Yes
The California Apple Watch face has been an all-around favorite since its release on watchOS 6. It has an elegant design, with either a square or round face, and resembles a traditional, familiar watch face. You can add as much data as you wish or leave it minimal. The complications are entirely customizable, and the time display can be altered for shape and numeral design.
Siri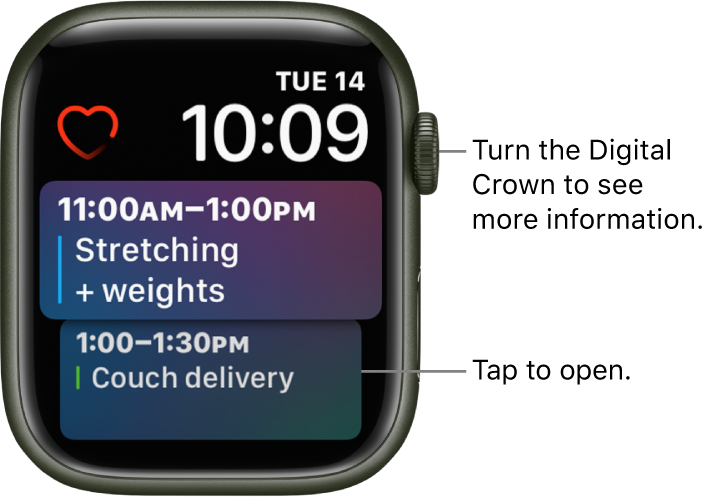 Features: Siri suggestions
Customizable feature: Color
Complications: 2
If you use Siri, you can also have it as a face on your Apple Watch. It will show you cards with information for the day that the software thinks you could use, like the weather, upcoming events, the traffic on your way home, and additional data. You can set up two complications for first and third-party data sources. It's an excellent companion if you use Apple's voice assistant on a daily basis.
GMT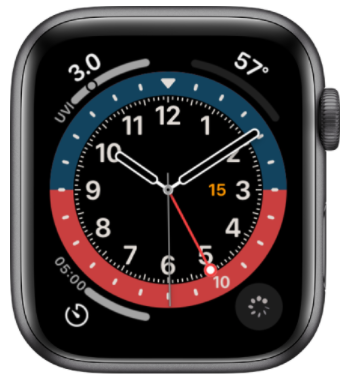 Features: Set up a secondary timezone
Customizable feature: Color 
Complications: Up to 4
The watchOS 7 update came with the GMT watch face that enables you to set a secondary timezone. By default, you get the Rolex vibes from the watch, but the colors are customizable. The Apple Watch face is available only on Apple Watch SE and Apple Watch Series 4 and later. It may come in handy for international travelers or those who work with colleagues around the globe.
GMT face has two dials: a 12-hour inner dial that shows your local time and a 24-hour outer dial that lets you track another time zone. You can choose from a list of city names or add one from your iPhone's world clock list.
Count up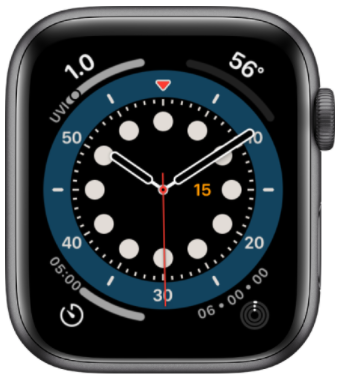 Features: Track elapsed time
Customizable feature: Color
Complications: Up to 4
Count Up offers the easiest way to transform your Apple Watch into a stopwatch and track elapsed time with up to four complications on the edge and the possibility to change the ring's color. It's available with Apple Watch SE or Series 4 and later.
To start timing, just tap the main 12-hour dial to align the market on the outer bezel with the minute hand, and then turn the Digital Crown to set the length of time. Finally, tap Start.
Activity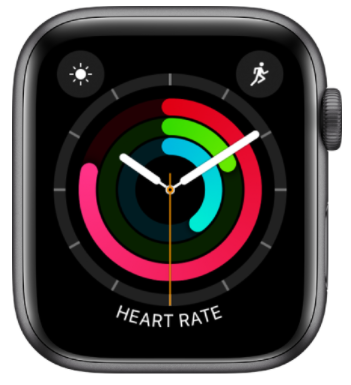 Features: Fitness Tracker
Customizable feature: Color | Style
Complications: Yes
The Activity face is the preferred one for fitness enthusiasts, and it works with activity rings. The Move ring represented by the red bar shows how many calories you've burned until now. The green and blue rings show how many activity minutes you've completed so far and how frequently you've stood up and moved about for at least a minute.
In addition, it is also able to show you the hours you've pushed in case you are in a wheelchair. With up to three complications, this is one of the best Apple watch faces, and it was modernized with watchOS 9.
Simple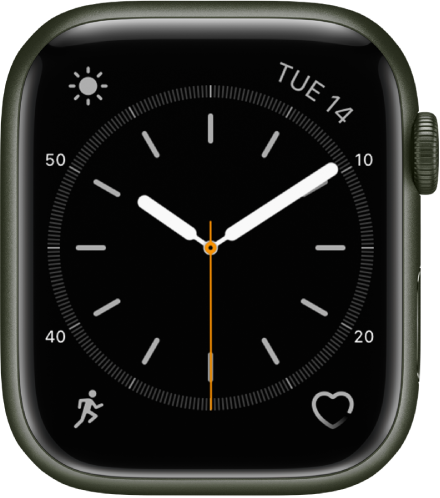 Features: Minimalist
Customizable feature: Color | Style
Complications: Up to 4
As you can imagine, this is the simplest Apple Watch face you can find out there. You can add complications, but if you want the most minimalist design, it can be a better idea to turn them off. In any case, Simple lets you choose the dial design and add the hours' markers.
Motion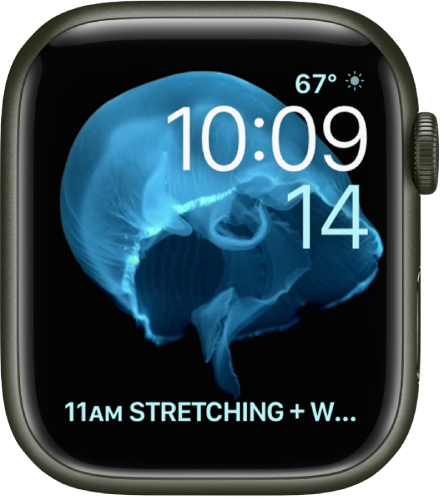 Features: Aesthetic and relaxing 
Customizable feature: Collections
Complications: Up to 3
The Motion face is a modern app that can react to your touch, and it has three collections to choose from. The Butterfly collection has 25 different species that move like real butterflies. Every time you raise your wrist, a butterfly will appear. The Flower collection has nine other animated flowers blooming. The third, the Jellyfish collection, has six different species of jellyfish and shows a different one every time you raise your wrist.
Meridian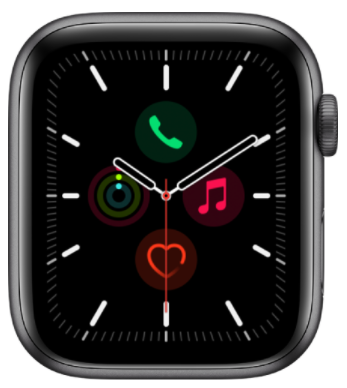 Features: Design and function
Customizable feature: Color | Style
Complications: Up to 4
Meridian came with watchOS 6. It offers a great combination of design and function with an analog look with up to four complications in the middle of the dial. The clean layout on this face gives you an at-a-glance overview of important data you can access immediately. The complications include Date, Weather, Air Quality Index, and Activity and the dial comes in black or white with numerous accent colors to choose from.
Chronograph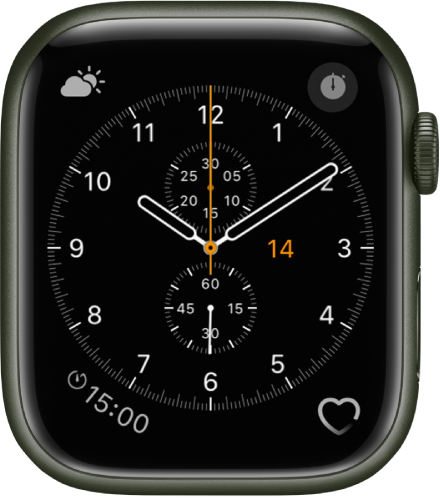 Features: Precision over time
Customizable feature: Color | Timescale
Complications: Yes
With this face, you can tap the bezel around the 12-hour dial, and the watch will transform into a chronograph that measures your speed based on the time traveled over a fixed distance.
You can change to different dials, including 60, 30, 6, and 3-second timers, which you can start by tapping the dial and hitting the green button. This face was one of the best Apple Watch faces on watchOS 7.
Stripes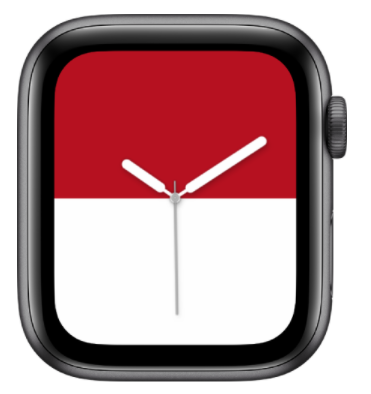 Features: Superbly customizable
Customizable feature: Color | Number of stripes | Direction of stripes
Complications: Only in the full-screen version
Stripes, new with watchOS 7, is a highly customizable watch face. You can set the number of stripes from two to nine and re-order the colors in whatever sequence you want. It is also possible to rotate the position of the stripes, so they are horizontal, vertical, or at an angle from 0 degrees to 345 degrees at 15-degree increments. Like many Apple Watch faces, the full-screen version of the face does not accept complications. However, the circular version does.
Photos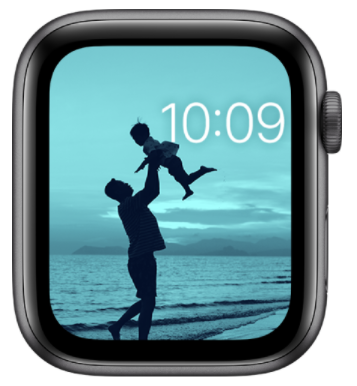 Features: Custom photo
Customizable feature: Color filters | Content | Time position
Complications: Yes
Not convinced about any of the faces? How about using your photos instead? To do so, open the Apple Watch app, and go to Face Gallery. Scroll down until you reach Photos and tap Favorites. Here, you can sync an album, choose individual photos, or include up to 10 in a carousel. Go to My Watch > Photos > Synced Album to find your synced album. Sync a Favorites album to only show your best pictures. You can also limit the number of stored images and apply color filters to your photos directly using the Edit feature.
Modular Compact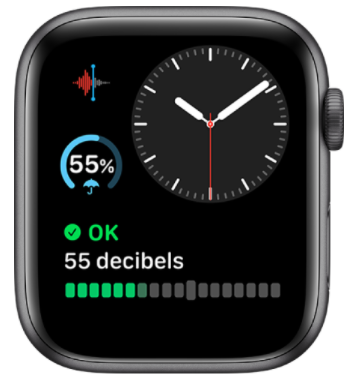 Features: Pack in reams of information
Customizable feature: Color | Dial
Complications: Up to 6
The new Modular Compact face focuses on data. With six complications, the three icons at the bottom can be changed to common contacts so you can make calls straight from the watch. Corner complications are out, but you can make use of the central modular unit to show information like heart rate data or commuting alerts, among others.
If you want even more information than the Utility face has to offer, then the Modular face can be your choice. Modular Compact, Modular, and X-Large faces were updated on watchOS 9 to include a wide range of colors and gradients to match your mood when customizing your Apple Watch.
Artist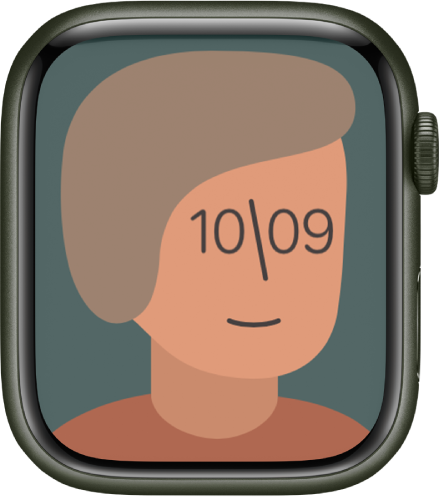 Features: Abstract but aesthetic 
Customizable feature: The face
Complications: No
Commissioned by artist Geoff McFetridge, the Artist watch face shows faces that subtly reveal the time as the eyes and nose. Tap the screen to change and customize the face displayed, and the always-on Apple Watches will show the outline of the drawing when powered down. It's abstract but has a unique look.
Memoji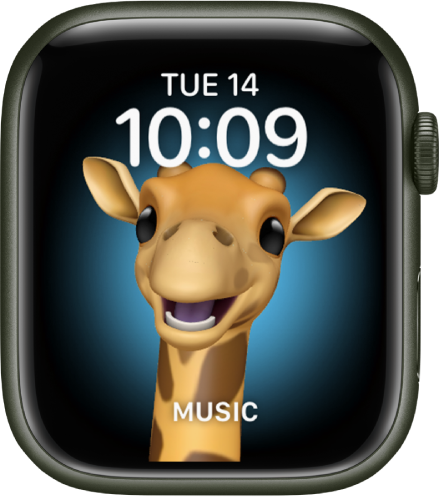 Features: Quirky emoticons on your watch face
Customizable feature: Color | Style
Complications: Yes
If you have a Memoji set up on your iPhone, you can port them onto your Apple Watch. However, if you fancy it, you can have one of the now-familiar stock Memoji characters and customize the small info panel at the bottom. This face includes all the Animoji characters and any Memoji you have created, letting you choose from various accent colors and characters.
Kaleidoscope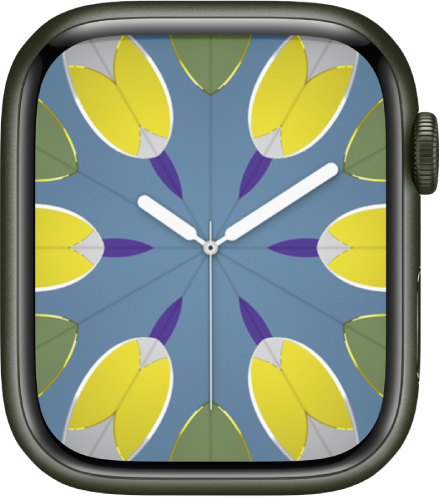 Features: Relaxing Patterns 
Customizable feature: Color | Emoticons | Memoji
Complications: Yes
Kaleidoscope is a beautiful Apple Watch face with patterns that intertwine and change throughout the day. It's also designed for relaxation purposes. When you turn the Digital Crown, the patterns move; the faster you turn the crown, the faster they will. And needless to say, you can use this to get yourself into a relaxed state if you've had a stressful day.
How to add, delete, and edit Apple Watch faces
Add a new Watch face
Tap on the Watch face firmly.
Swipe left until you reach a window that reads New.
Tap on the Plus (+) icon.
Turn the Digital Crown or swipe with your finger to scroll through the list of available watch faces.
Tap the face to add it to your Apple Watch.
Customize a Watch face
Press your watch face until it shrinks down.
Tap Edit on the face you want to customize and swipe to either side to select the feature to be changed. Turn the Digital Crown to choose a new customization for that feature.
Swipe to the left-most screen to customize face complications, and turn the Digital Crown to edit it.
Press the Digital Crown when you are done to save the changes.
Delete a Watch face
Press the current watch face until it shrinks down.
Swipe up to that face.
Tap Remove.
Press the Digital Crown to return.
Where can you buy an Apple Watch?
With watchOS 7, Apple opened the watch face landscape to third parties, who can now create and sell their own faces. Several Apple Watch apps offer galleries of different faces that you can add. Regardless of the faces, an Apple Watch is a good investment.
On RefurbMe, we compare hundreds of refurbished Apple devices every day, including refurbished Apple Watches from Amazon, Back Market, Decluttr, and Apple itself. Our mission is that you can find the best available deals in the market, all of them with a warranty and hassle-free return policies. Here are the best Apple Watches compatible with watchOS 9 in real time to enjoy all the faces you've seen in this post:
+3 deals
Apple Watch Regular Series 4
Cellular • 2018 release
40mm Silver Aluminum
White Sport Band
Good condition, by decluttr
+2 deals
Apple Watch Regular Series 4
Cellular • 2018 release
40mm Gold Stainless steel
Gold Milanese Loop
Good condition, by decluttr
+1 deals
Apple Watch Regular Series 4
2018 release
40mm Silver Aluminum
White Sport Band
Fair condition, by Back Market
Don't forget to check our list of the best Apple Watch accessories if you wish to enhance your experience with the watch even more. Some of them will serve you well if you like to do exercise and want to protect it, or if you need a portable charger or are looking for a waterproof case.
Good luck!