Apple Watch has proven to be a very indispensable and personal addition to the Apple ecosystem over the years. What majorly attracts the customers is the compelling addition the Apple watch makes to the user's lifestyle by reckoning features like health and fitness tracking, notifications and communications, Apple Pay, and HomeKit automation. A budget friendly option to be part of this innovative experience is a Refurbished Apple Watch!
"The Apple Watch is our most personal device ever." -Tim Cook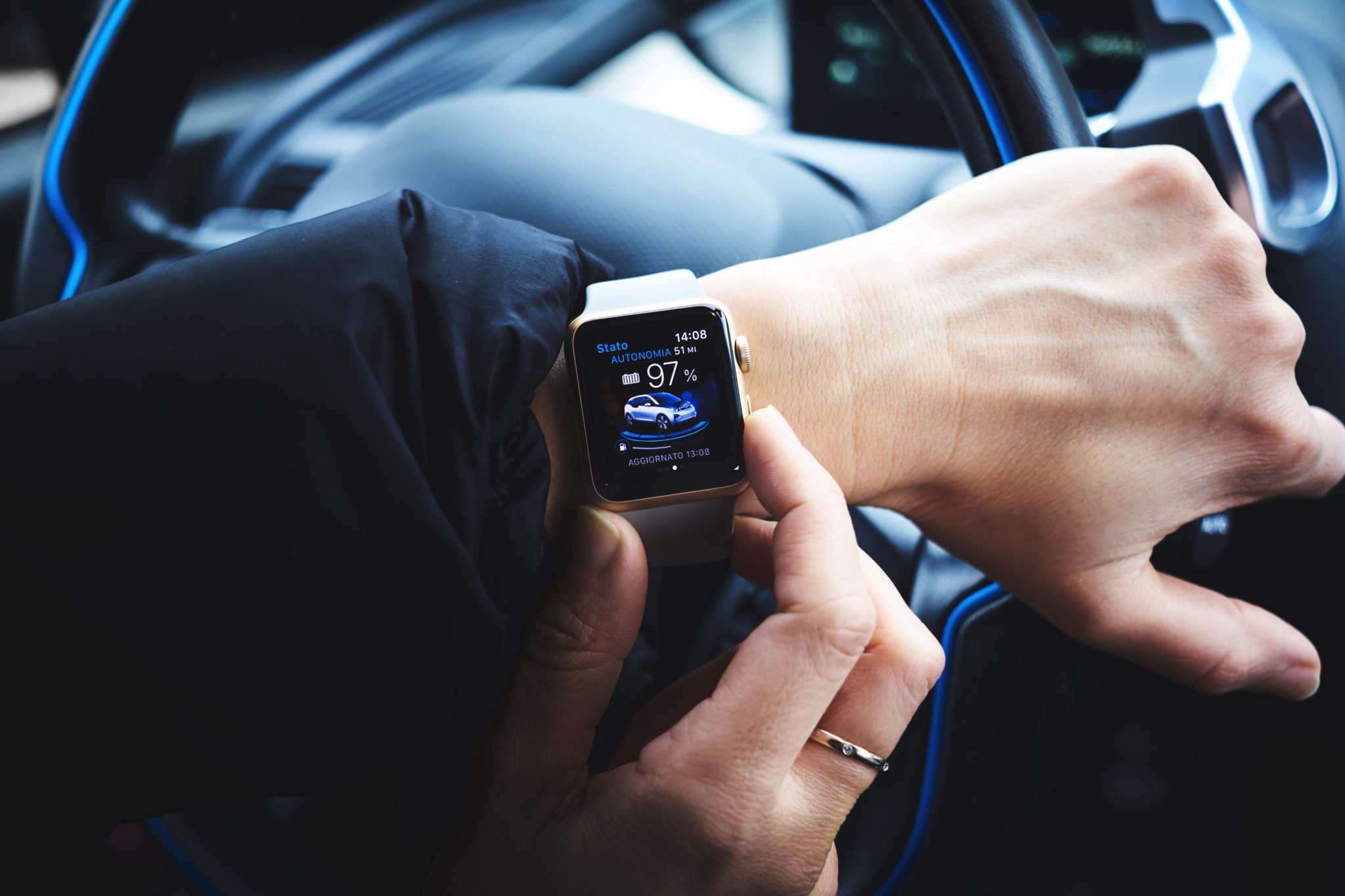 When you buy a refurbished Apple Watch you get the same one-year warranty that you'd get when buying a brand-new Apple Watch, along with all the manuals and accessories that come with the smartwatch. Your experience is identical to that of a first-time buyer, not compromising on any details. You get all the benefits of having a brand new Apple product for usually a 15–20% discount with an apple refurbished certification. 
You can find a refurbished Apple Watch series 3 to Apple watch series 6 with great deals and warranties from these 5 different retailers. We give you a deeper insight into each retailer to make your decision-making making process easier. 
Apple Store
Apple sells certified refurbished apple watches. Sold through the Apple Certified Refurbished program, they have the best quality you can expect from a refurbished product.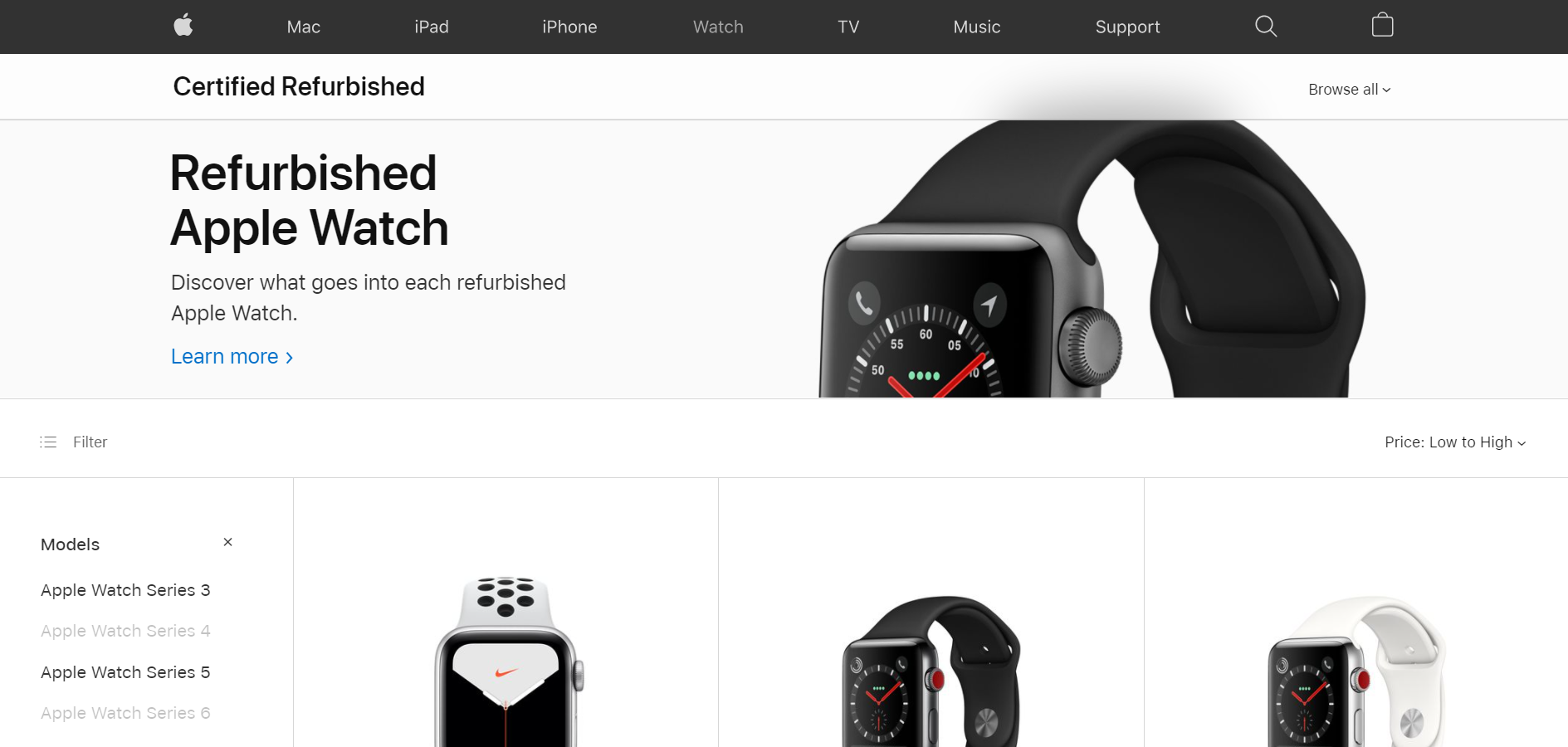 Check Apple Store's RefurbMe Profile →
Testing Process
A refurbished Apple watch goes through a full test. You receive the genuine apple replacement parts(as needed) that have been thoroughly cleaned and tested. The testing includes hardware and software tests. Every device comes with the latest accessories, cables, and operating systems. 
Warranty & Shipping
One very good reason to buy a refurbished Apple Watch through the Apple Store is for the warranty. Apple offers a free, one-year limited warranty on all of its refurbished devices, and also has a warranty extension program, which allows you to purchase more AppleCare coverage for your refurbished Apple watch. 
All Certified Apple Refurbished products are packaged in a brand new white box and are sent to you with free shipping and return with a next-day delivery option as well.
Product & Pricing 
Declutter
Decluttr offers a fast, easy, and free way to sell cell phones, tech, CDs, DVDs, and games. It also offers a great selection of refurbished Apple products from iPhones to apple watch series to many more!

Check Declutter's RefurbMe profile→
Testing Process
The Certified Refurbished program of Declutter makes sure that every refurbished apple watch you purchase off their site goes through an extensive in-house refurbishment process to ensure the quality of the device. Their extensive test consists of over 70 checkpoints divided into 4 categories – functionality, screen & cosmetics, device protection, and battery checks. 
Warranty & Shipping
Declutter offers a free 12-month limited warranty associated with the tech items being sold which includes a warranty over technical defects and faults caused by improper workmanship or materials. It begins the day the user receives their purchase. 
They offer free standard shipping equipped with parcel tracking service and the delivery is within 2-4 business days. 
Product & Pricing 
Back Market
Back Market lists refurbished products from several independent refurbishers. However, it doesn't have an inventory in the market as RefurbMe does, it does have a large selection of Apple watches.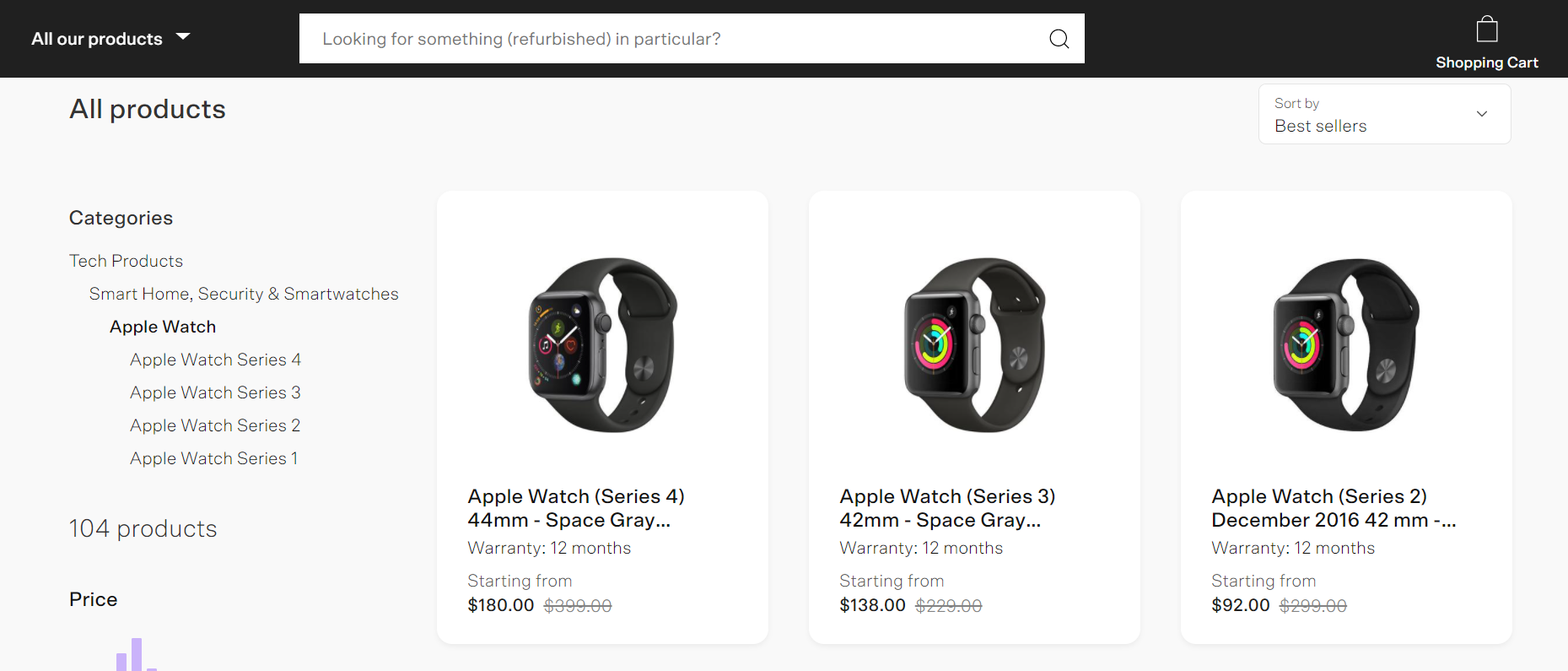 Check Back Market's RefurbMe profile →
Testing Process
Back Market does not refurbish products themselves, their algorithm carefully selects the best offer in terms of quality and price with each re-sellers score in mind. All of their sellers go through a screening process before having being brought onto their site, and they're required to back up their facts before they even get a chance to sell their items. As a result, once they're eligible to join, they are regularly monitored and verified.
Warranty & Shipping
They offer a minimum 12-month warranty with a 30-day money-back guarantee if the user is not satisfied with the product purchased. 
Back Market offers free shipping and several payment methods to ease the purchase experience of the customers.
Product & Pricing 
Mac of All Trades
Mac of All Trades has been selling refurbished Apple products for over 20 years. They are a Google trusted store and pass with flying color with all major critics in the segment. What differentiates them is their low pricing and a high level of customer service.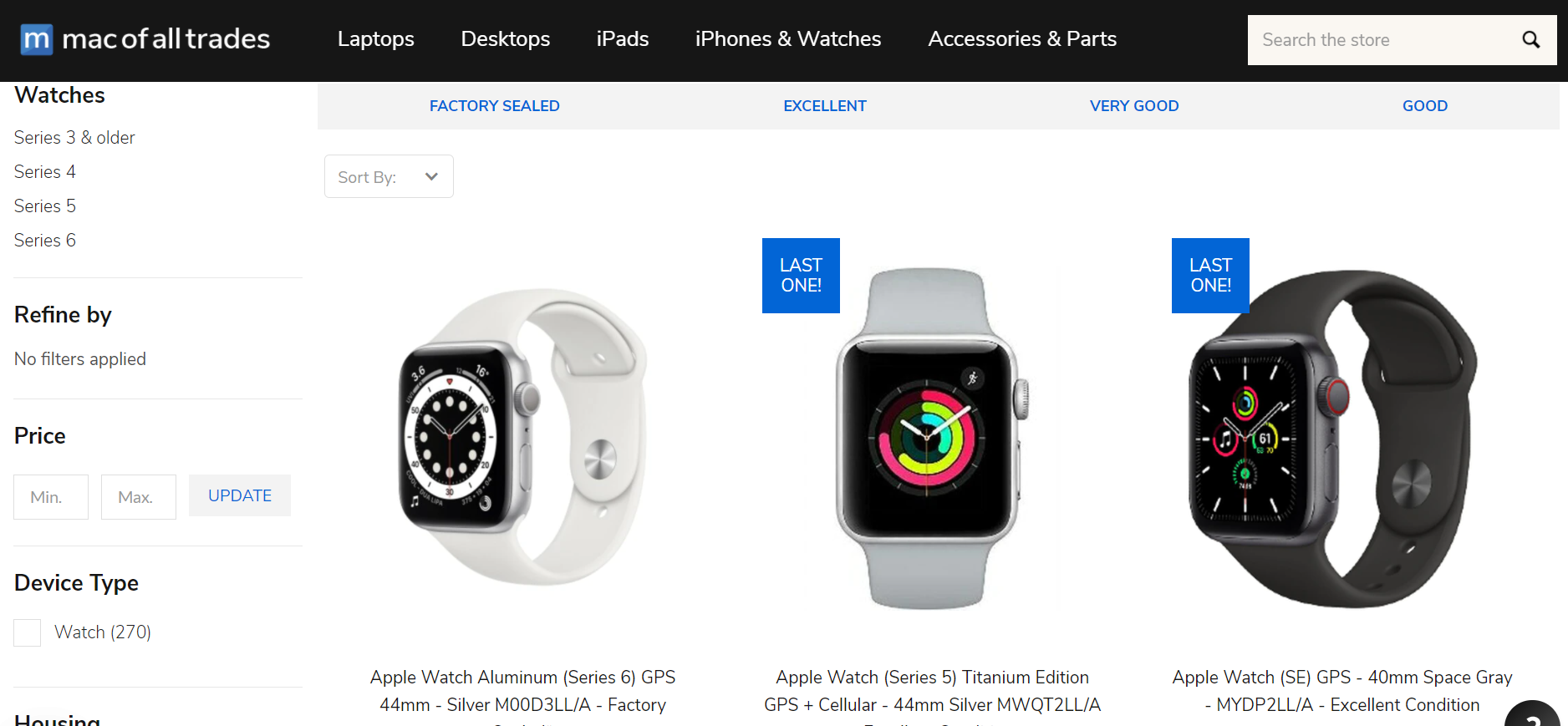 Check on Mac of All Trades' RefurbMe profile →
Testing Process
Each refurbished apple watch is put through a two-stage cleaning process and is fully tested with a quality assurance inspection. They have a processed 40 point visual inspection for any cosmetic or operational issues. All equipment goes through a custom process conducting comprehensive hardware testing. Equipment that has passed all the testing go into the Repack stage where each refurbished apple product is given a final visual inspection, packed, and labeled. 
Warranty & Shipping
A refurbished Apple watch from Mac of All Trades will come with a 1-year standard warranty and 14-day money-back guarantee. Also, users can take advantage of their platinum 2-year warranty on some products. 
All refurbished Apple watches sold by this merchant are shipped for free. Orders are processed and shipped within two business days.
Product & Pricing 
RefurbMe
A one-stop answer to all your refurbished apple product queries! Here at RefurbMe, you can compare the prices of refurbished Apple goods. We show you the best prices and deals on refurbished Apple watches, helping you to save when it comes to your time as well as your money. We make the comparison process easier, and more transparent for you. You have access to all the information that merchants provide when it comes to their standards for wear and tear, warranties, return policies, battery condition, accessories included with the device, and more. (insert link to compare all the listed merchants) This comparison can make your decision-making process easier!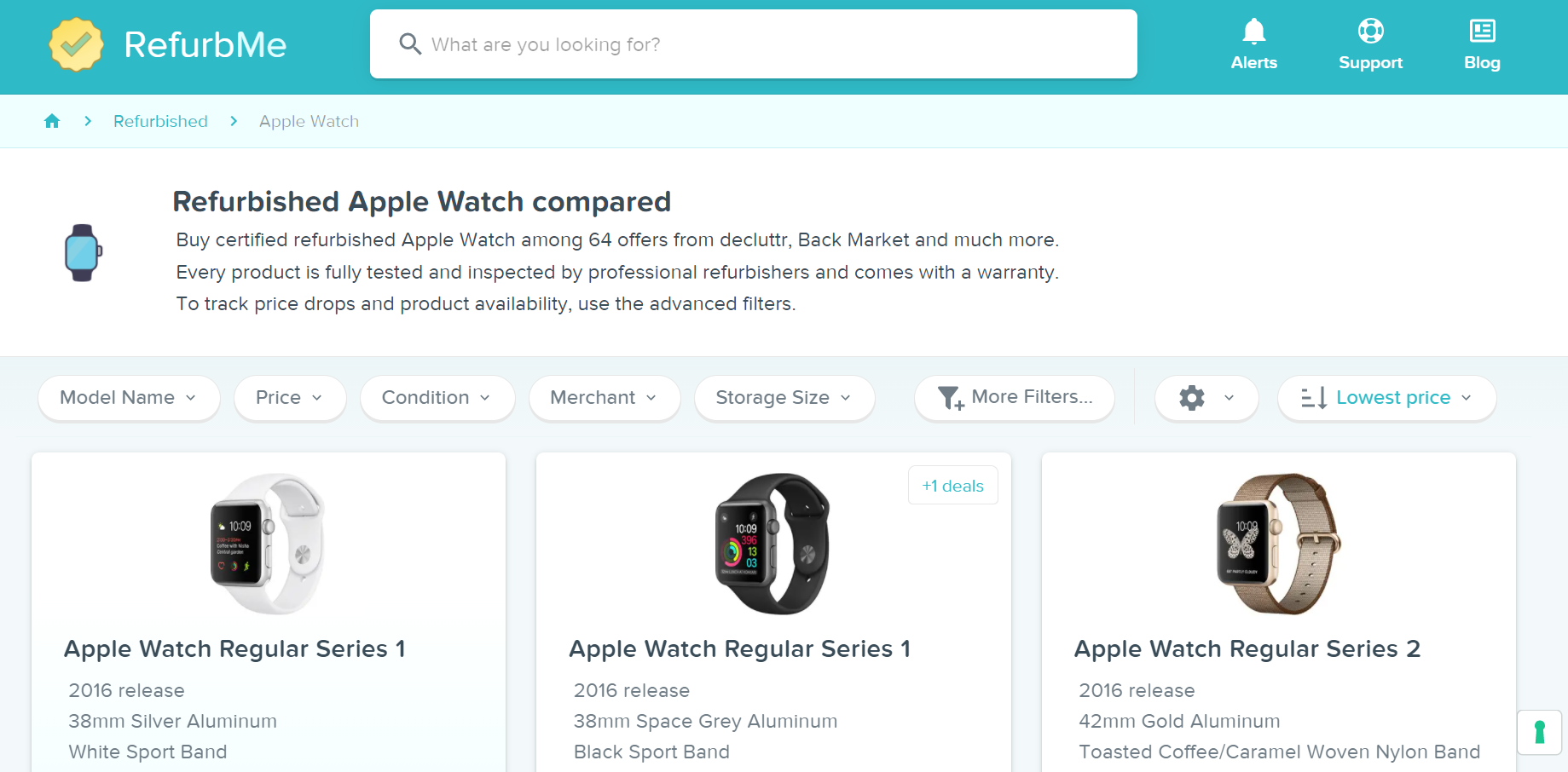 Testing Process
We're not a refurbished retailer and we don't refurbish any Apple watches here. We only show you offers from trusted retailers who test their products and have good track records.
The retailers you see on RefurbMe are people with certified testing programs, trained testing teams, and good reputations. They aren't people repairing things with hot glue guns and soldering irons in a basement.
Compare the testing process of all merchants at once →
Warranty & Shipping
We're not a refurbished retailer so we don't offer our warranty. All of the refurbished Apple watch deals we show come with a minimum 30-day warranty. Many retailers offer the chance to pay and extend that warranty.
Your trust in us matters a lot, all the retailers you see will have been validated by us. So, if it doesn't come with a warranty, you won't find it on our site.
You can Compare warranties of all refurbishers →
Regarding shipping, all merchants listed provide free shipping on Refurbished Apple watches for you to check and make your decision likewise. 
Products & Pricing
Inconsistent inventories are one of the biggest reasons customers turn to the original merchants and spend thousands on their devices. We make it easier for our customer to filter their desired result based on their set budget. Hence, when you want a product, all you have to do is outline your desired requirements for the device, and voila! That's it, you will receive an automatic alert when your perfect device is available for purchase.
RefurbMe lets you also monitor price drops. You can even set up alerts that will let you know as soon as the refurbished iPad you want is back in stock or if a new model is sold refurbished.
Conclusion 
To sum up, getting the best price on a refurbished Apple watch is simple once you have all offers in one place. Our goal at RefurbMe is to save you time searching and comparing offers.
Please share this article if you found it helpful
To know more about Refurbished Apple watches you read the following article.
Refubished Apple watch: Making your wishlist Affordable
To get insights on more refurbished apple products check out the following articles on RefurbMe.
Apple Refurbished