Apple has always been selective about watch faces and has taken a less-is-more approach. But with the watchOS 8 updates, the watch faces have got even more love. While the wearable is gorgeous on its own, doubtless, you'll want to add personal touches before strapping it onto your wrist.
Alongside numerous third-party accessories and beautiful bands available for the iconic wearable, the Apple Watch supports a plethora of striking watch faces to enhance its look. Apple provides a diverse library of watch faces, many of which are geared toward specific situations and occasions, and the choices can be overwhelming. So how do you find, customize, and make them your own? RefurbMe presents a list of 15 watch faces suitable for your needs.
Infograph
Features: Multi-tasker
Customizable feature: Color 
Complications: Up to 8
This watch face is available only on Apple Watch SE and Apple Watch Series 4 and later, featuring up to eight rich, full-color complications and subdials. You can also check out the weather in the top-right with current, minimum, and maximum temperatures on show. The middle offers shortcuts to common apps as well, such as Activity and Music, but, in truth, you can cut these any way you want.
California
Features: Half Roman and half Arabic numerals
Customizable feature: Color | Numerals | Dials
Complications: Yes
The California Apple Watch face has been an all-around favorite since its release on watchOS 6. It is elegant and straightforward, with either a square or round face; California is a crowd-pleaser because it can most resemble a traditional, familiar watch face. You can pack the face with data or leave it minimal. The many complications are entirely customizable, and the time display can be altered for shape and numeral design. 
GMT
Features: Set up a secondary timezone
Customizable feature: Color 
Complications: Up to 4
The watchOS 7 update Watch Face, GMT, enables you to set a secondary timezone. By default, you get the Rolex vibes from the watch, but the colors are customizable. The Apple Watch face is available only on Apple Watch SE and Apple Watch Series 4 and later. It may come in handy for international travelers or those who work with colleagues around the globe. This watch face has two dials: a 12-hour inner dial that shows your local time and a 24-hour outer dial that lets you track another time zone. You can choose from a list of city names or add one from your iPhone's World Clock list, and of course, you can customize the colors to your taste.
Count up
Features: Track elapsed time
Customizable feature: Color
Complications: Up to 4
Count Up puts stopwatch functionality straight onto the watch face. Tap the screen to start a timer, which will be shown on the watch face itself. You do get four complication spots on edge and can change the ring's color. Use this face on your Apple Watch SE or Series 4 and later to track elapsed time. Tap the main 12-hour dial to align the marker on the outer bezel with the minute hand, turn the Digital Crown to set the length of time, and tap the dial to start timing. It offers five complications and various color options.
Activity
Features: Fitness Tracker
Customizable feature: Color | Style
Complications: Yes
The Activity face is the go-to watch face for fitness buffs, one that works via activity rings. The Move ring, represented by the red band, shows you how many calories you've burned so far, while the green and blue rings show you how many minutes of activity you've completed and how often you've stood up and moved about for at least a minute, respectively. You can also configure it to show you "roll" hours. Instead of standing and moving, it will show you hours in which you've pushed (in case you are in a wheelchair). You can also configure it with up to three different complications. This is one of the best Apple watch faces.
Meridian
Features: Design and function
Customizable feature: Color | Style
Complications: Up to 4
Meridian was added to the Apple Watch Face Gallery with watchOS 6. It offers a great blend of design and function, with a clean, bold analog look augmented by the option of four complications in the middle of the dial. The delightfully clean layout on this face gives you an at-a-glance overview of data that's important to you so you can access it immediately. Complications include Date, Weather, Air Quality Index, and Activity. The dial comes in black or white, with numerous accent colors to choose from.
Chronograph Pro
Features: Precision over time
Customizable feature: Color | Timescale
Complications: Yes
It transforms into a chronograph if you tap the bezel around the 12-hour dial. This face adds even more detail to the chronograph in the form of a new tachymeter timescale that measures speed based on time travel over a fixed distance. This watch face is available only on Apple Watch SE and Apple Watch Series 4 and later. The Chronograph Pro shows a tachymeter by default, used to measure speed. However, you can change to different dials, including 60, 30, 6, and 3-second timers, which you start by tapping the dial and hitting the green button. This face was undoubtedly one of the best Apple Watch faces in the watchOS 7.
Stripes
Features: Superbly customizable
Customizable feature: Color | Number of stripes | Direction of stripes
Complications: No
Stripes, new with watchOS 7, is a superbly customizable watch face. You can alter the number of stripes visible from nine to just two and everything in between. Also, you can re-order the colors in whatever sequence you want. It is possible to rotate the position of the stripes, so they are horizontal, vertical, or at an angle from 0 degrees to 345 degrees at 15-degree increments. The full-screen version of the face, like many on the watch, does not accept complications. However, the circular version does.
Photos
Features: Custom photo
Customizable feature: Color filters | Content | Time position
Complications: Yes
If you're not crazy about what Apple has to offer, you can use your photos as a watch face background instead. To do so, open the Apple Watch app, and go to Face Gallery. Scroll down the list until you reach Photos. Now tap Favorites. Here, you can either sync an album, choose individual photos to feature, or include up to 10 in a carousel. Go to My Watch > Photos > Synced Album to find your synced album. Sync a Favorites album to avoid overloading your watch. Using the Edit feature, you can also limit the number of stored images and apply color filters to your photos directly on your watch.
Modular Compact
Features: Pack in reams of information
Customizable feature: Color | Dial
Complications: Up to 6
Another data-heavy option is the new Modular Compact face, which can pack in reams of information. With six complication spots, the three icons at the bottom can be changed to common contacts to enable you to make calls straight from the Watch. Corner complications are out, but you can make use of the central modular unit, which can even include boarding passes from Qantas, heart rate data, and Citymapper commuting alerts. If you crave even more information than the Utility face has to offer, then the Modular face is the way to go. 
Fun Apple Watch Faces
We have also compiled a list of 5 artistic and fun Apple Watch faces if you want a more aesthetic experience.
Artist
Features: Abstract but aesthetic 
Customizable feature: The face
Complications: No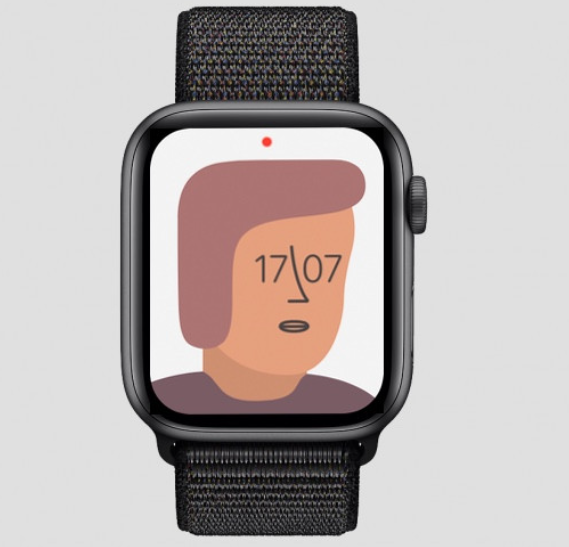 Commissioned by artist Geoff McFetridge, the Artist watch face shows faces that subtly show the time as the eyes and nose. Tap the screen to change and customize the face displayed, and the always-on Series 5 and Series 6 will show the outline of the drawing when powered down. It's abstract but has a unique look.
Memoji
Features: Quirky emoticons on your watch face
Customizable feature: Color | Style
Complications: Yes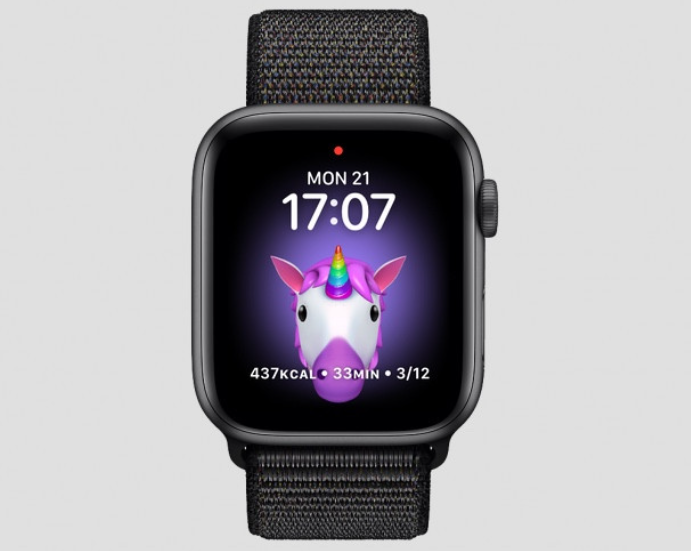 If you have a Memoji set up on your iPhone, you can port them onto your Apple Watch. However, if you fancy it, you can have one of the now-familiar stock Memoji characters and customize the small info panel at the bottom. This face includes all the Animoji characters and any Memoji you have created, letting you choose from various accent colors and characters.
Kaleidoscope
Features: Relaxing Patterns 
Customizable feature: Color | Emoticons | Memoji
Complications: Yes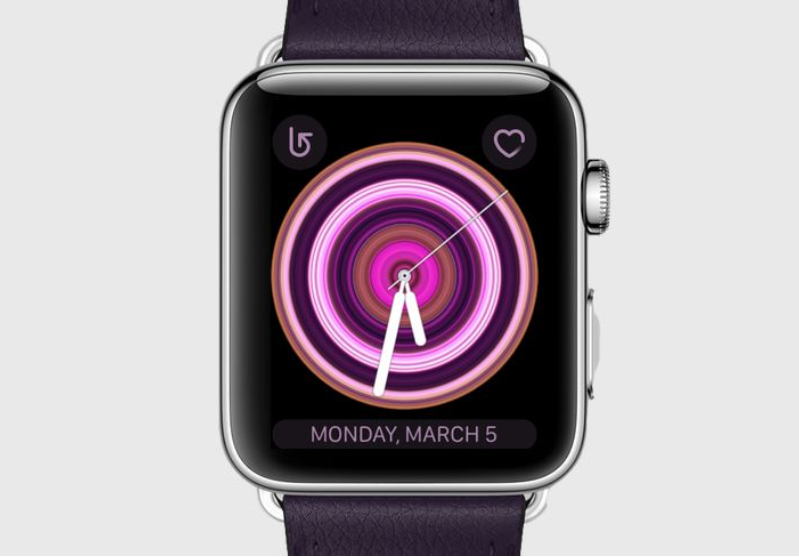 Kaleidoscope is a beautiful watch face with patterns that intertwine and change throughout the day. It's also designed for relaxation purposes. When you turn the Digital Crown, the patterns move. The faster you turn the crown, the faster the patterns will move. And needless to say, you can use this to get yourself into a relaxed state if you've had a stressful day.
Motion
Features: Aesthetic and relaxing 
Customizable feature: Collections
Complications: Up to 3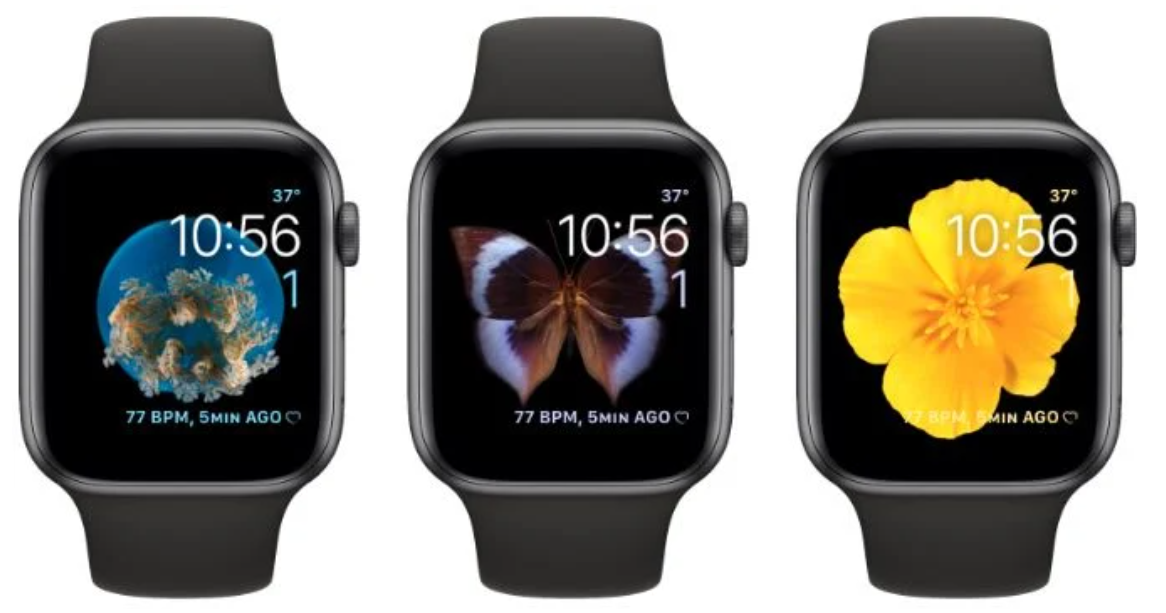 The Motion face is a gorgeous app that reacts to your touch. It has three collections that you can choose from, and the Butterfly collection has 25 different species that move just like real butterflies. Every time you raise your wrist, a different butterfly will appear. The Flower collection has nine other flowers that animate themselves blooming. The third, the Jellyfish collection, has six different species of jellyfish and depicts a different one every time you raise your wrist. Each of these collections features a lifelike animation that can keep you entertained for days.
Astronomy
Features: Real-time model of the Earth, Moon, and our Solar System
Customizable feature: Phases
Complications: Up to 4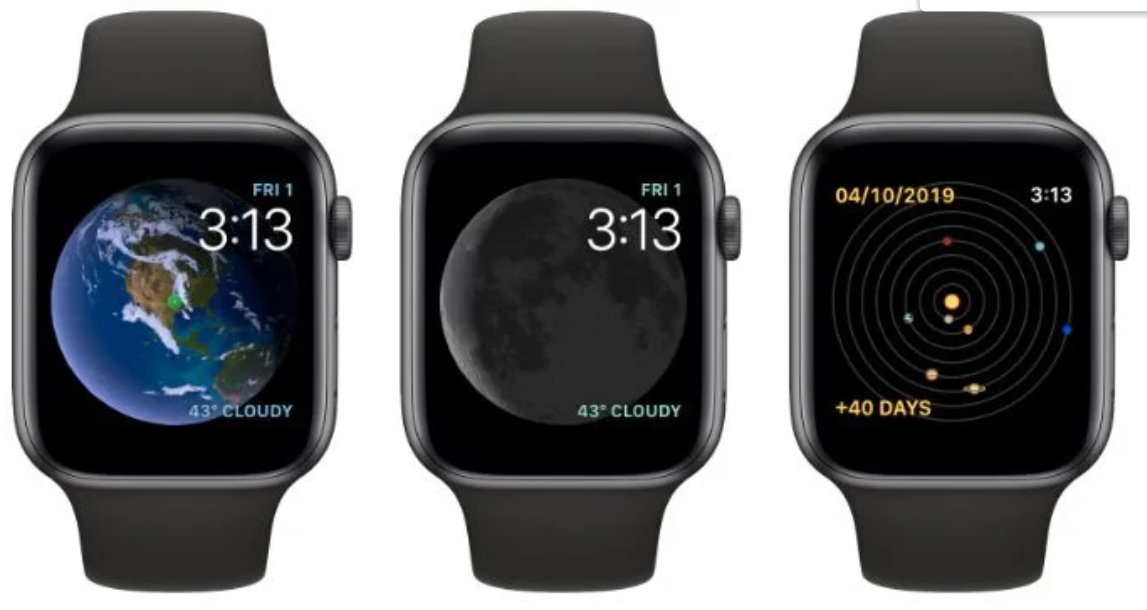 This face displays the time and showcases a real-time model of the Earth, Moon, and our Solar System. The Earth shows you the transition between day and night. You can also follow the moon phases, or you can choose the Solar System view to see the position of the planets on any day of the year. Rotating the Digital Crown will also show the passage of time so that you can track the alignment of the planets or the next full moon.
How to Customize Apple Watch Faces
You can customize your Apple Watch faces and manage your collection from the Watch app on your iPhone or directly on your Apple Watch. To change the Apple Watch face, force touch or long-press the screen to access the face gallery on your smartwatch. From here, you can scroll through your favorites or press the + icon to access the whole gallery. When you select a face, it is added to your favorites, which you can cycle through simply by sliding the watch face left or right. You can also access the full selection in the Apple Watch companion app, where the full Face Gallery is available to add selections to your watch manually.
To customize a face, tap "Edit" on the face you want to change. Swipe to either side to find and select a feature to customize. Turn the digital crown to choose new customization, like colors and markings, for that feature. You can also customize face complications, like weather and activity. Complications are elements that can be added or modified to customize a watch face. You can add or tweak complications for the date, heart rate, music, podcasts, reminders, weather, workout, and various other features and apps. With watchOS 7, you can even add customizations from third-party apps. Swipe to the left-most screen to customize a complication, tap a complication, and turn the digital crown to change it. You can add complications like weather, timer, activity, and more. When you're finished customizing faces or complications, press the digital crown to save your changes.
Where Can You Buy an Apple Watch?
With watchOS 7, Apple opened the watch face landscape to third parties, who can now create and sell their own faces. Several Apple Watch apps offer galleries of different faces that you can add. Apart from the faces, there are many other reasons why an Apple Watch is a good investment option to add to your Apple ecosystem. 
Apple Watch Nike Series 3
2018 release
42mm Space Grey Aluminum
Black Nike Sport Band
Good condition, by decluttr
+6 deals
Apple Watch Regular Series 3
2018 release
38mm Silver Aluminum
Fog Sport Band
Fair condition, by Back Market
+4 deals
Apple Watch Regular Series 3
2018 release
38mm Space Grey Aluminum
Black Sport Band
Fair condition, by Back Market
RefurbMe, through the selection of our refurbishers, brings you the best deals on Apple Watches from several sellers. We have compared new and refurbished Apple Watches from the Apple Store, Amazon, Back Market, decluttr, and many more. Through them, you can compare prices and aspects like warranty, shipping & return policies, among many others. After you've selected the right watch for your needs, don't forget to add some of the best Apple Watch faces for another layer of functionality to your smartwatch.
Apple Watch