Update March 2021: Updated several links, prices, and references throughout this guide.
Buying a refurbished iPad is a great way to save money on Apple's premium line of tablets. By buying refurbished, you can save hundreds of dollars whilst bagging yourself a device that works just as well as one you can buy directly from the Apple store.
If you're on a budget, or just want to save your money, buying refurbished is a smart choice.
Refurbished iPads have been thoroughly tested, they come with a warranty, and there is good availability of stock meaning you can get an iPad as refurbished just months after it was first released.
There are many retailers selling refurbished and used iPads, which is what can make the purchasing decision that little bit more complicated. However, we're here to help. Here at RefurbMe, it's our mission to compare and get you all the information you need to make a guided decision to get a good deal on maybe your next iPad.
In this article, we'll compare 5 different retailers by their testing process, warranty, shipping, and pricing.
BackMarket
Back Market lists refurbished products from several independent refurbishers. While it doesn't have all inventory in the market as RefurbMe does, it does have a large selection of iPad.
Check Back Market Refurb profile →
Testing Process
While Back Market does not refurbish products themselves, their algorithm carefully selects the best offer in terms of quality and price with each re-sellers score in mind. All of their sellers go through a screening process before being brought onto their site, and they're required to back up their facts before they even get a chance to sell their items. Once they're eligible to join, they are regularly monitored and verified to make sure that only la crème de la crème remains.
Warranty & Shipping
All devices sold through BackMarket come with a 12-month warranty: meaning that there are no nasty surprises in store; if you're not happy with your purchase, you can also opt for the 30-day money-back guarantee – so all your bases are covered. Also, all products come with free standard shipping.
Products & Pricing
Decluttr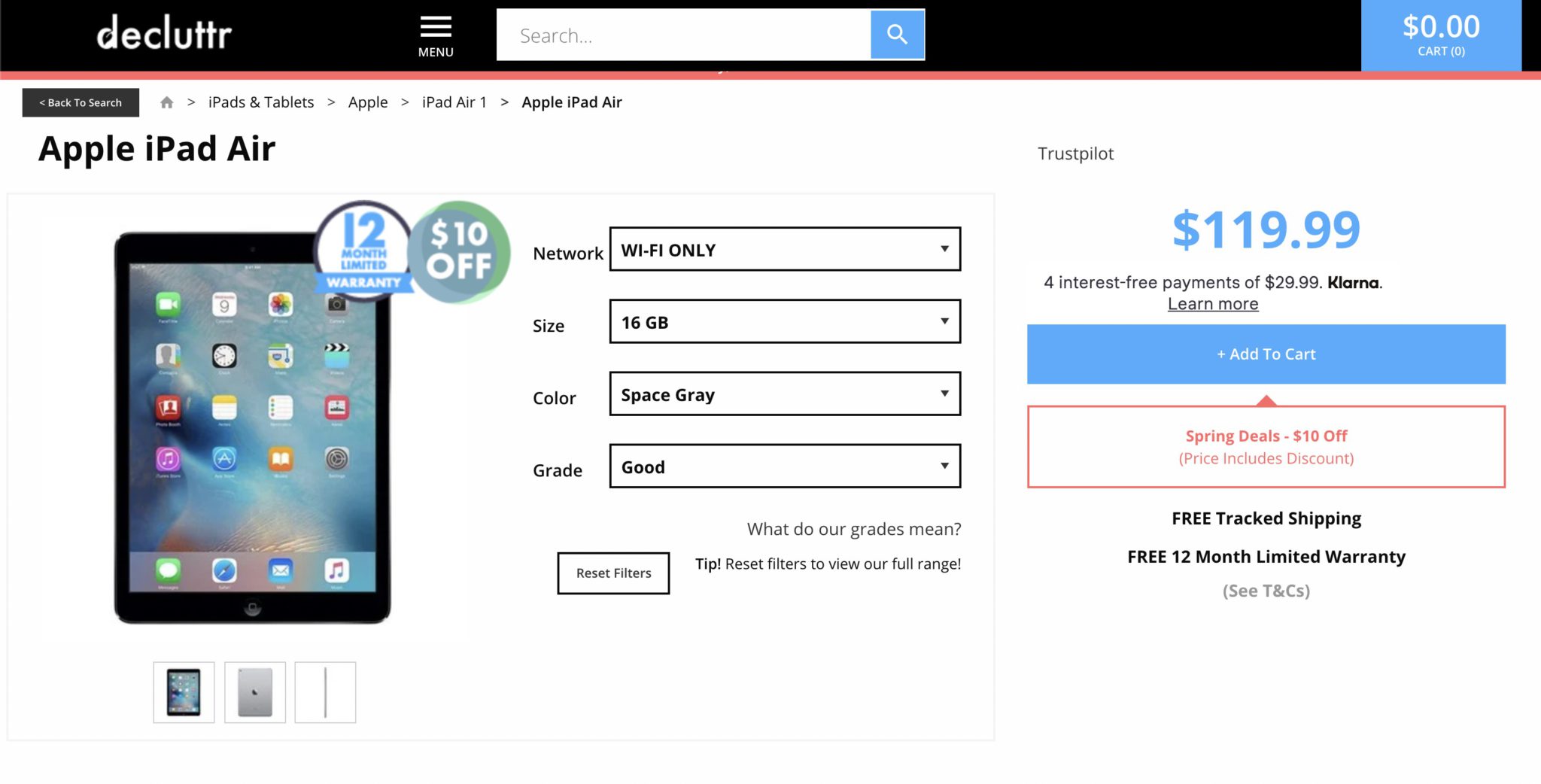 You may know Decluttr as the site where you can buy and sell your books, video games, and DVDs. However, it has also been growing its refurbished tech business and it now sells refurbished iPads, as well as refurbished iPhones, Apple Watches, and more.
Check Decluttr Refurb profile →
Testing Process
The Decluttr Certified Refurbished program helps you to know that you're getting a great quality iPad at a great price. Its iPads are refurbished in-house and go through a 70 point inspection process.
This test offers a full inspection of the battery health, checking the screen for cracks and technical faults, and Decluttr will remove all personal data from the device too. Decluttr Certified Refurbished devices, like your refurbished iPad, also come with a Certificate of Identification and Functionality to prove that they have passed the test.
Warranty & Shipping
The 12-month limited warranty offered by Decluttr will cover you if there are any defects in the iPad or in the repair process. Decluttr will replace or repair your refurbished iPad for free, or refund the purchase price if you are not totally satisfied with it, so you can purchase the device you want without having to worry about the "what if's". If your iPad is going for a repair, Decluttr will also cover the shipping and handling fees.
Decluttr offers as well free tracked shipping on all orders.
Products & Pricing
Decluttr has a good range of refurbished iPad stock available. The refurbished retailer sells refurbished iPad Pros, iPad Minis, and iPads, so whether you want a large tablet, a tablet for the family, or a tablet to do your work on, Decluttr will have something for you.
Mac of All Trades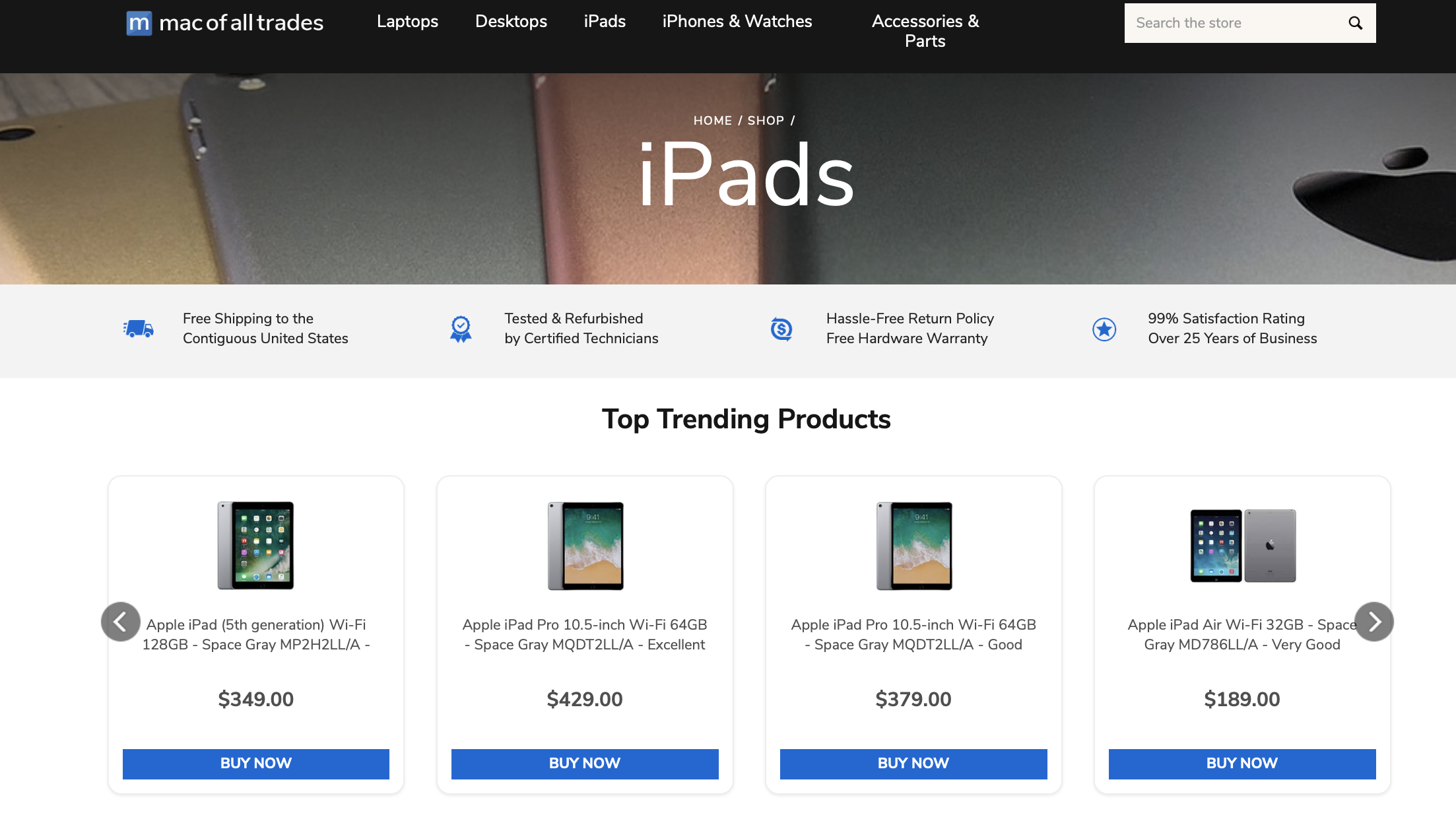 Mac of All Trades has been selling refurbished Apple products since before it was even cool. For over 20 years, the retailer has been offering refurbished iMacs, iPhones, MacBooks, and iPads to hundreds of thousands of happy customers.
Mac of All Trades is a Google Trusted Store, has an A+ rating with the Better Business Bureau, and has been on the Inc. 5000 list for five years running. The only things shinier than Mac of All Trades' reputation are the screens on the refurbished products it sells.
Check Mac of All Trades Refurb profile →
Testing Process
A big part of Mac of All Trades' reputation as a seller of refurbished iPads and other goods is because of its testing process. The retailer's testing process is in four parts, starting with unpacking the pre-owned device, doing a visual inspection, testing the hardware, before erasing the data, and cleaning the iPad.
The iPad will be put through a 40-point visual inspection and then a hardware test as the screen, battery life, memory, graphics, and more are all put to the test. The iPad will then be repaired, if needed, before it is cleaned, shrink-wrapped, and labeled, ready to be shipped out to you.
Warranty & Shipping
A refurbished iPad from Mac of All Trades will come with a 1-year standard warranty and 14-day money-back guarantee. The customer is responsible for return shipping unless Platinum Coverage is purchased (comes with an extra fee). Service is normally completed within five business days of delivery.
All refurbished iPads sold by this merchant are shipped for free. Orders are processed and shipped within two business days.
Products & Pricing
Apple Store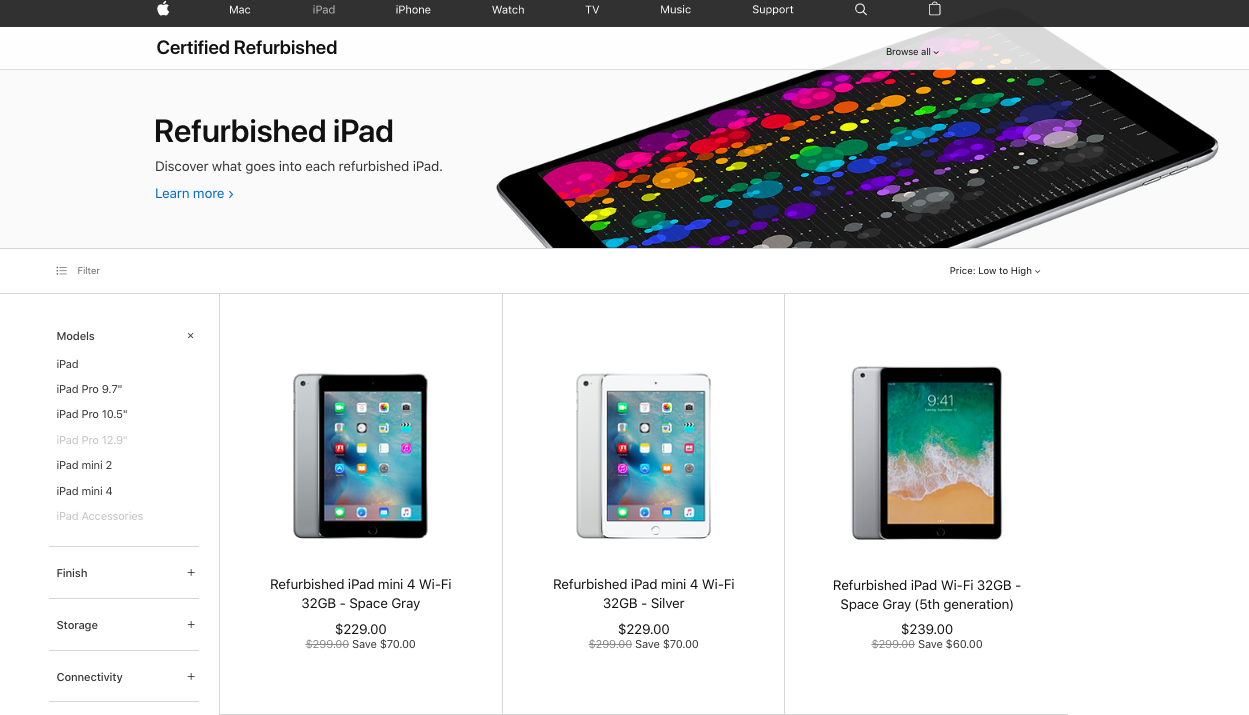 Apple is selling manufacturer-certified refurbished iPad – but they don't come cheap. These iPads are sold through the Apple Certified Refurbished program, and they would have the best quality you can expect from a refurbished product.
Check Apple Store Refurb profile →
Testing Process
Refurbished iPads sold by Apple go through the Apple Certified Refurbished program which is where Apple engineers test, repair, and clean the product before selling it.
The iPad will have genuine Apple replacement parts if needed, and Apple gives every refurbished iPad a new battery and a new outer shell. You'll also get the same official accessories, and charging cables that come with a brand new iPad.
Warranty & Shipping
One very good reason to buy refurbished iPads through Apple is for the warranty. Apple offers a free, one-year limited warranty on all of its refurbished devices.
Apple also has a warranty extension program, which allows you to purchase more AppleCare coverage for your refurbished iPad. This does cost money, however, so you may want to keep to the free one-year warranty if you're on a tight budget.
All iPads sold by the Apple Refurb Store, come with free next-day delivery.
Products & Pricing
RefurbMe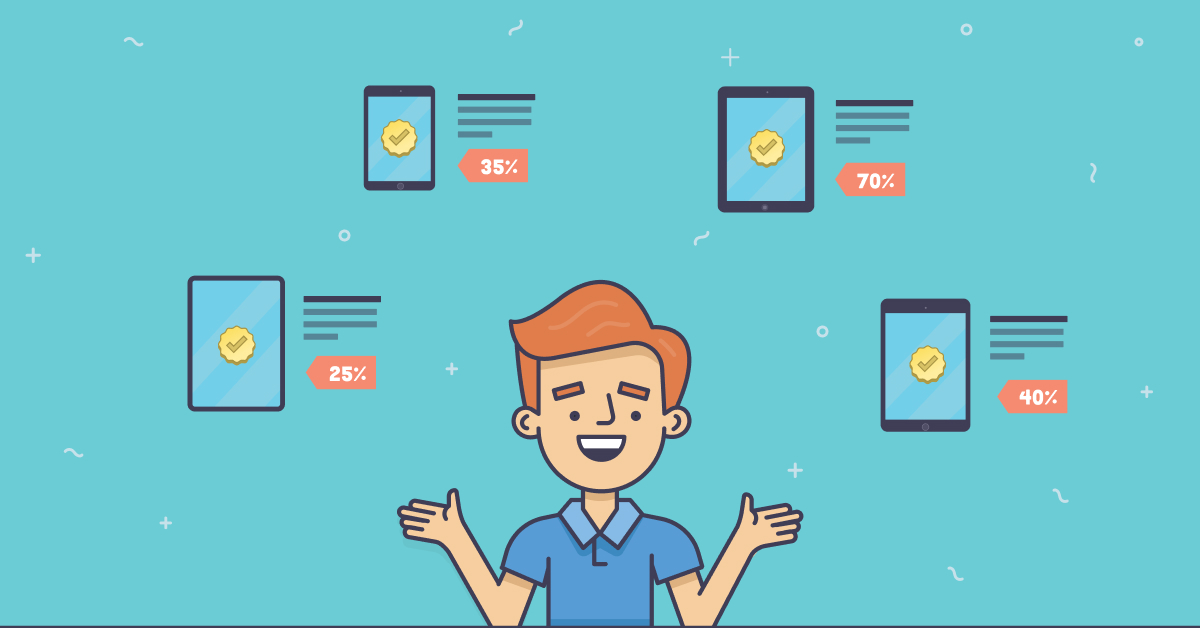 Yes, that's us! Here at RefurbMe, you can compare the prices of refurbished Apple goods. We show you the best prices and deals on refurbished iPads, helping you to save when it comes to your time as well as your money.You can find a quality iPad without having to spend hours searching online to find it.
We make the comparison process easier, and more transparent than ever before. You'll have access to all the information that merchants provide when it comes to their standards for wear and tear, warranties, return policies, battery condition, accessories included with the device and more.
We've made this even simpler for you by adding "Refurb Profiles" for our merchants and retailers so that you know exactly what "good" "fair" and "excellent" mean in terms of the kind of device you'll end up purchasing – and you'll know exactly who has the best deals and the best quality products out there for you to purchase. We've included merchant comparison on our site, so you can easily get the sites in a "head-to-head" to see where you'll get the most bang for your buck. It's never been easier to find out where you'll get the best deals.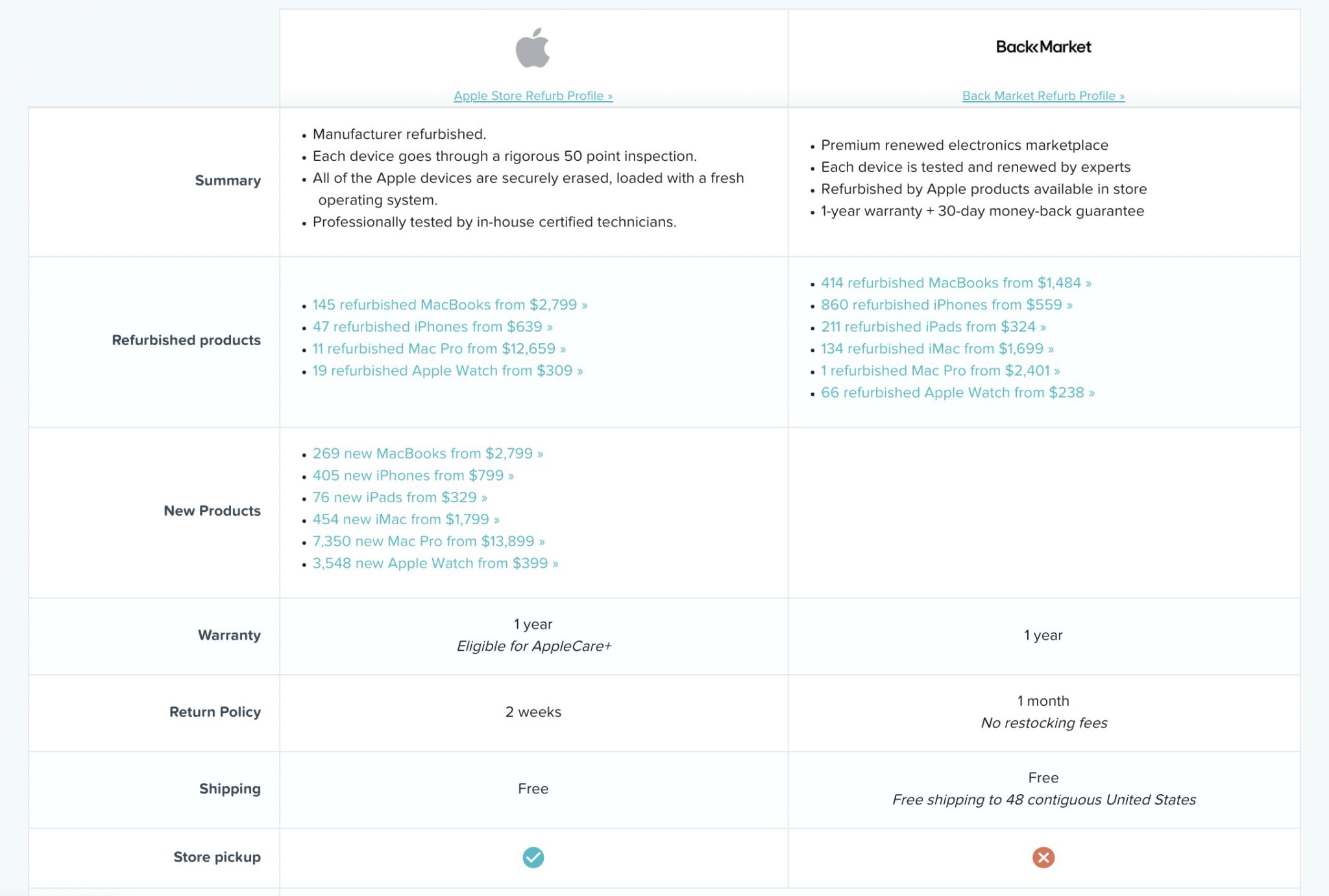 Testing Process
We're not a refurbished retailer and we don't refurbish any iPads here. We only show you offers from trusted retailers who test their products and have good track records.
The retailers you see on RefurbMe are people with certified testing programs, trained testing teams, and good reputations. They aren't people repairing things with hot glue guns and soldering irons in a basement.
Compare testing processes of all merchants at once →
Price
Whether you've got money spilling out of your pockets or you're on a shoestring budget, you can use RefurbMe to find a refurbished iPad that you can afford.
Use the price section on the menu on the left to choose a minimum and maximum price for your refurbished iPad.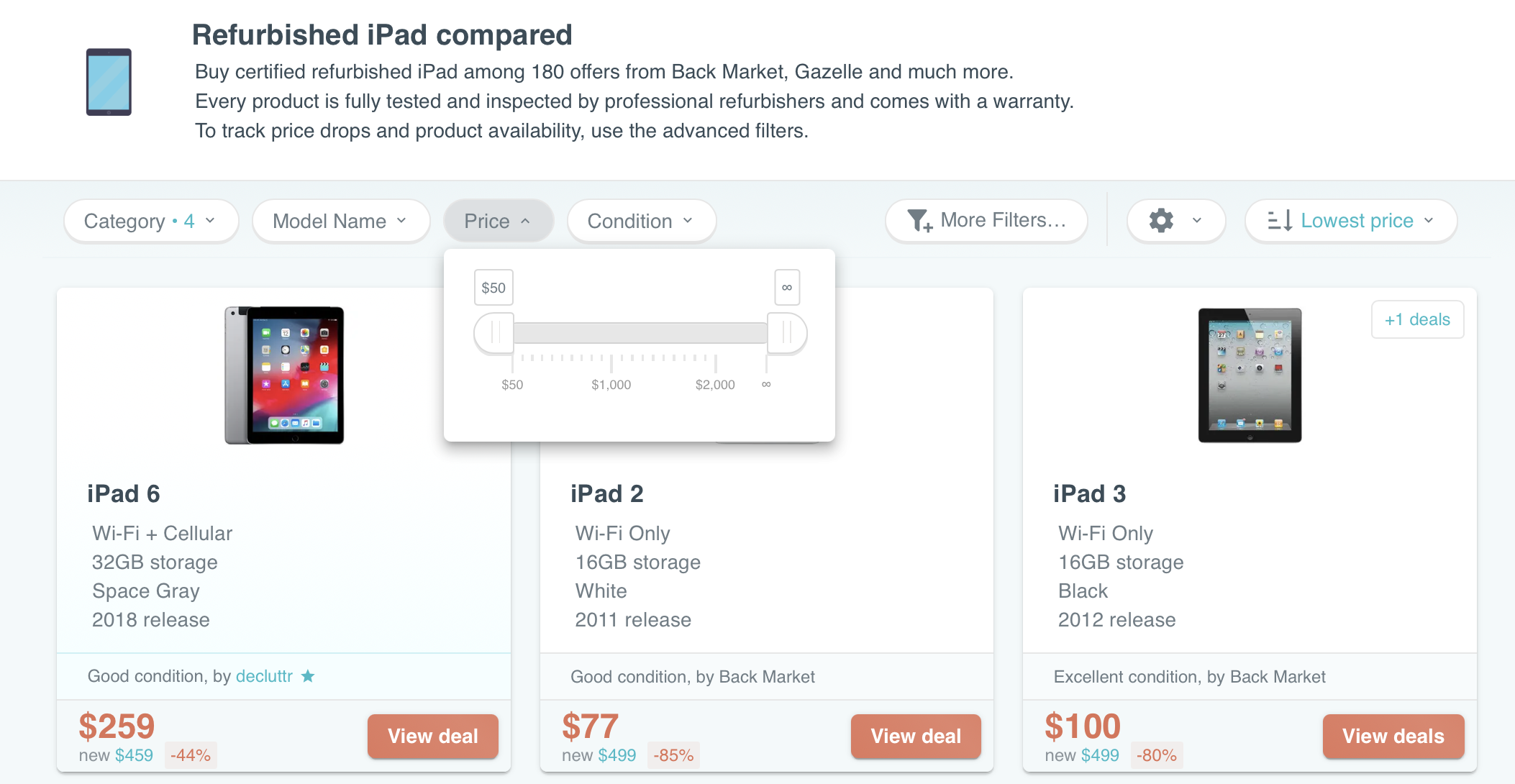 You can also use the drop-down menu at the top to sort the iPads by the lowest price or the highest discount.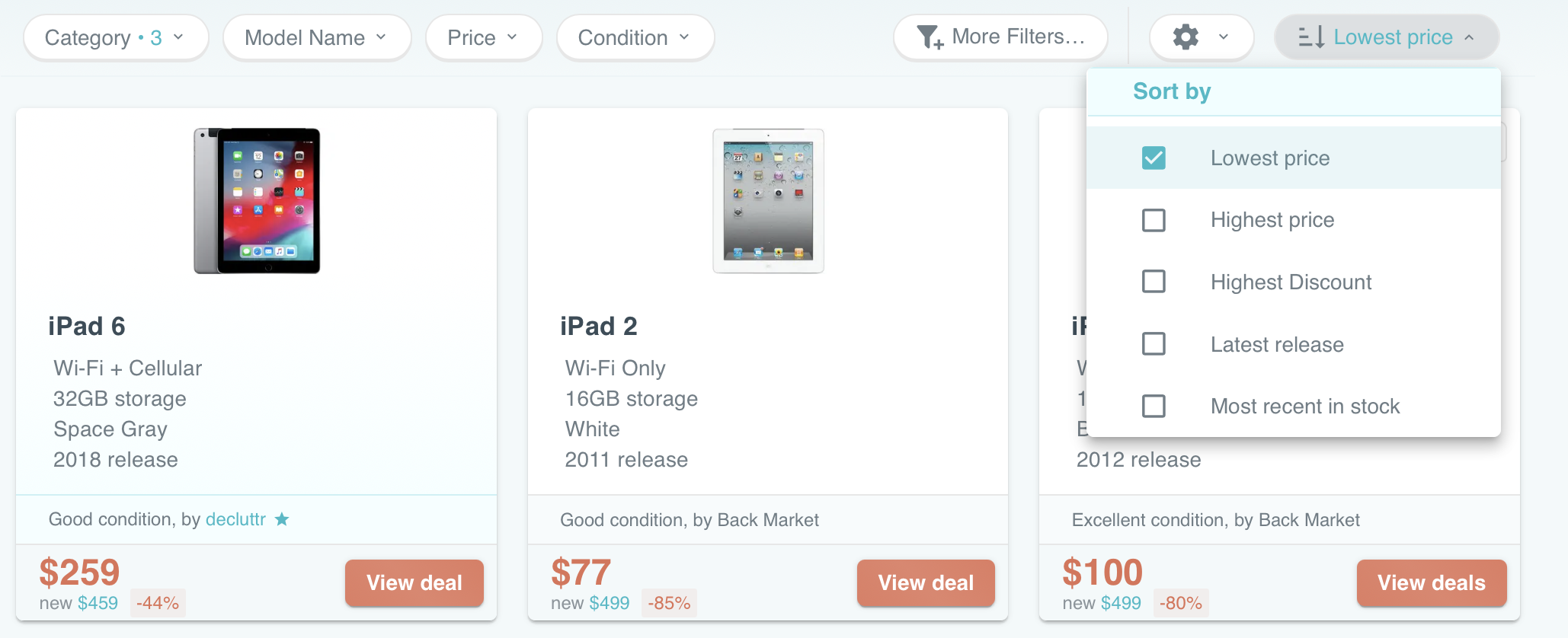 Warranty & Shipping
As we're not a refurbished retailer, we don't offer our own warranty. The refurbished retailers and iPads on the site do come with warranties, though.
All of the refurbished iPad deals we show come with a minimum 30-day warranty. Many of the retailers offer the chance to pay and extend that warranty too.
We know how important warranties are and we want you to be happy with any refurbished iPad you buy through RefurbMe, from a trusted, partnered retailer, so if it doesn't come with a warranty, you won't find it on our site.
Compare warranties of all refurbishers →
Regarding shipping, all merchants listed provide free shipping on iPads.
Products & Pricing
We've made it easier for you to get your hands on the device you actually want, within the budget, you can afford. Inconsistent inventories are one of the biggest reasons that customers turn to the original merchants and end up spending thousands on their devices. When you want a product, all you have to do is outline your desired requirements for the device and we'll automatically alert you when your perfect device is available for purchase. It's that easy!
RefurbMe lets you also monitor price drops. You can even set up alerts that let you know as soon as the refurbished iPad you want is back in stock or if a new model is sold refurbished.
Conclusion
Getting the best price on iPads is simple once you have all offers in one place. Our goal at RefurbMe is to save you time searching and comparing offers.
Please share this article if you found it helpful! You can also take a look at our list of places to buy refurbished MacBooks if you're looking to buy a Mac too.
More Articles from RefurbMe
Buying Guide